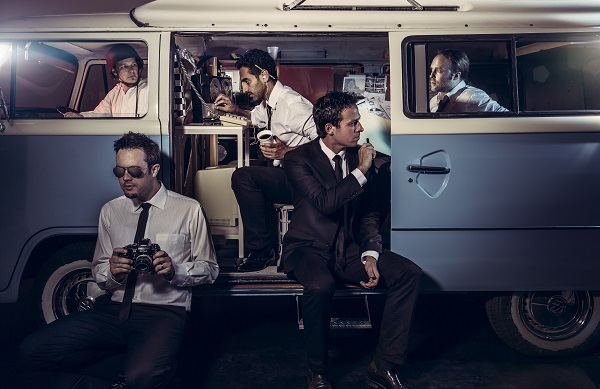 "If it's beards, banjos and ill-fitting jeans you're after then I'm not going to waste your time but if you're looking for a balls out rock and a well-crafted, theatrical album with something to say, let's talk."
It's difficult to fault the company Robot Child keep – with the ghosts of Queen, Pink Floyd, Faith No More, and Muse haunting their sound, Waleed Aly tearing up the guitar solos(RN Drive, The Project), and Jeff Wortman providing the soaring vocals (former host of Triple M's Peanut Gallery).  The debut album itself was mixed by Aria Award winner, Forrester Savell. (Karnivool, Dead Letter Circus, The Butterfly Effect).
We had Robot Child vocalist Jeff Wortman answer some questions about this new and exciting rock band and what they're all about… so turn on the ignition and I present to you, Robot Child.
Let's start with the basics; for those that aren't aware of you, can you please give us the abridged version of the Robot Child story, how you all came to be and the decision on the name of the band?
We're an exciting five piece rock band from Melbourne. Our first album, 'One More War' is theatrical, political and ambitious.
Waleed (guitarist) and I started a cover band at the age of 17 to pick up chicks. High School romances can be hard to come by for two guys whose main interests are Mario Kart and Musical Theatre. It did the trick though.
Some years later, around the time when most guys have a quarter life crisis and decide to run a marathon, we started making music again. However this time, the aim was to write good songs and produce an album.
The name was chosen because it was better than the alternative which was 'Icabod's Xylophone Case'.
Can you now please introduce each band member including yourself, and give us a rock 'n' roll fact or myth about each of you?
Jeff Wortman (me): A powerfully trained singer whose voice has been likened to Chris Cornell. Former host of Triple M's comedy show, The Peanut Gallery.
MYTH: Last week was devastated to discover that Chevy Chase doesn't actually sing the vocal in 'Call Me Al'.
Waleed Aly (guitar): Waleed is a super talented guitarist in the classic guitar hero tradition… Except for the fact he doesn't do the sex and drugs part, preferring to spend his spare time hosting RN Drive, The Project, writing his column for Fairfax and/or teaching at Monash University.
FACT: Regularly interrupts rehearsals to discuss 'construction of national identities under conditions of globalization'.
Dan Slater: A tight, versatile drummer with diverse musical taste who also teaches music. The band found it's sound when Dan joined in 2010.
FACT: recently received his first royalty cheque from APRA for $5.25 and bought the entire band big boss cigars to celebrate.
Marty Holt: (bass) Was recruited when he dazzled Wortman and Aly playing bass in the Australian Premiere of 'The Wall' with Nuworks Theatre. Considered the MacGyver of the band for his ability to improvise quickly when dealing with technical issues.
MYTH: Phillips approached the band with a view to using Holt's song 'Running Through My Head' as part of a national campaign to launch their new line of noise cancelling headphones.
Dave Hartney: (piano) Keyboard player and music teacher with a rare ability to seamlessly work Beatles references into everyday conversation.
MYTH: Once received a free lunch when he was mistaken for Lars Ulrich of Metallica.
You're about to release your debut album in June, so instead of giving us a standard review, let's say if you had to give us your best door to door sales pitch to try and convince someone to listen to it before they slam the door in your face, what do you say to them?
If it's beards, banjos and ill-fitting jeans you're after then I'm not going to waste your time but if you're looking for a balls out rock and a well-crafted, theatrical album with something to say, let's talk.
The album is called 'One More War', what was the idea behind calling it this?
I think it means something a little different to everyone in the band but to me it's about society's ambivalence towards really serious issues as a result of desensitization though social media. That was definitely the thinking behind the cover art, the social media reference (+1) trivializing an iconic wartime image.
First single and video 'Ignition' is a monster, is there a story behind this track and why it was important for you to use that somewhat as the bands introduction to the music world?
Paulie Stewart asked us to contribute a song to an album called 'Just Music' which was a fundraiser for Jesuit Social Services. They work with disadvantaged young people, especially those within the justice system. Ignition was written as a sort of call to action for those kids. It's set in a jail and the chorus 'show me your fire' implores the main character to rise above his current situation and not let it define his life.
It's a fire up song which made it a natural choice for single but I think it also captures what Robot Child is about. It has big slamming guitars, a theatrical piano break and soaring vocals.
In terms of your song writing, what do you consider to be the most important ingredients that make up one of your songs?
68 layers of guitars and a couple of high notes that will ensure I have an early onset of vocal nodules.
With a debut album many bands stress over of course getting everything perfect, how hard was it to decide on what ended up on the final result?
There's more than one perfectionist in the band so we just didn't settle for anything. Everything had to be exactly as we imagined it. We were all very conscious of the fact that making an album might be something we only got to do once in our lives and so it had to be something we could be proud of.
We really pushed the limits in recording. There were a lot of guitar and vocal parts and piano was a tricky element to deal with in the mixing process. We enlisted Forrester Savell (Karnivool, Dead Letter Circus, The Butterfly Effect) to use his black magic and give the songs their huge sound and sparkle.
Lyrically and musically, currently what or who inspires/influences your music the most?
There's definitely a Muse influence. We're all Queen and Pink Floyd fans too… and Marty would probably try and crowbar a Queens Of The Stone Age reference in there as well.
On the other side of that, what bands did you grow up listening to and how did they help create the style of music that can now be heard throughout your music?
Waleed and I have been Queen tragics since high school. We had a race to see who could be the first to own the entire discography (in the days when people paid $30 for a cd). I won but Waleed tried to get me on a technicality, claiming that the Flash Gordon Soundtrack was required to complete the set.
Being Queen fans, we're not afraid to have fun with our song writing or mix different musical styles. There are jazz, punk, heavy metal and rock song on our debut album.
In terms of touring, you've recently been on an East Coast tour but can we expect some shows in support of the album and to entice people, how would you describe a typical Robot Child live show?
We'll definitely do another tour hopefully around the middle of the year. In July we are co- producing a Musical with Nuworks Theatre in Melbourne based on the album tracks and that is definitely the direction we want to take our live shows. After that hopefully we can visit Sydney, Canberra and Queensland again and get the Adelaide this time too.
For a bit of fun, say you get the chance to open for any artist or band in the world, who would they be and why?
Well that's an easy one. It would have to be Queen… and they ARE touring Australia now as it turns out. Waleed actually plays a genuine replica of Brian May's red special that I think he had imported. Naming us as their support act would be a fairy fellers master stroke.
If you could cover one song in your live set that no one would ever expect, what would it be and why?
We're going to play Pink Floyd's 'Comfortably Numb' at our album launch because The Wall was an important part of Robot Child's story. It bought us together with our bass player Marty and learning the songs for that musical definitely informed some of our own song writing at the time. There are shades of Gilmour in our album track 'Lusty and Loud' for example.
What kind of movie / TV show soundtrack do you think your music would be best suited to and why?
I'd like to hear Ignition used for a sporting event. It would be perfect for a game of footy or League coming back after an ad break.
Lastly, with 2014 well underway, here's a chance to gaze into your crystal ball and see the future. So, by the end of 2014, Robot Child will:
1. Have achieved more album sales than Rob Mills' 'Up All Night. He's the yard stick over which or under which artists fall.
2. Have recorded a 'capture the moment' song. Remember how exciting it was when The Living End released Roll On at the time of the Waterfront Dispute in 1998. We need another song like that!
3. Opened for Queen!
Robot Child's debut album, One More War, will be launched at The Caravan Club, Melbourne, on June 14. 
Essential Information
From: Melbourne, Australia
Sounds like: Heavy Rock, Prog, Jazz, Classical
Band members: Jeff Wortman (vocals), Waleed Aly (guitar), Marty Holt (bass), Dan Slater (drums) and Dave Hartney (piano
Forthcoming Release: One More War (out June 6th)
Websites: robotchildband.com
facebook.com/robotchild
twitter.com/robotchildband
youtube.com/robotchildband