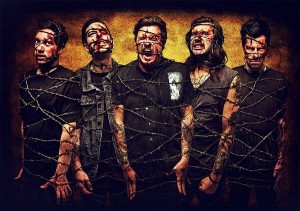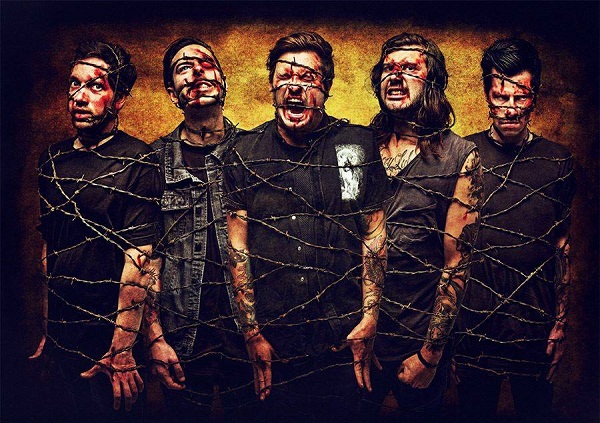 2014 has been a big year for Buried in Verona. Album number four,Faceless, debuted at #15 on the ARIA charts and was followed by a national tour in April, with Brisbane and Perth shows selling out. The band is currently treating European crowds to their brand of relentless riffage and in your face lyrics.
Hot on the heels of their Euro jaunt with Born of Osiris, Buried in Verona will pick up right where they left off and treat their loyal Australian fans to a massive run of shows throughout July and August. Now's your chance to catch afine-tuned wrecking machine in all its glory. A band that tours for three months straight has a certain dangerous edge to their live show – adding a whole new level of intensity to the razor sharp precision that is Buried inVerona.
Joining BIV on The Mid Year Mayhem tour are New Zealand's Antagonist A.Dwho's modern hardcore with old school ethics approach has earned them high praise for their honesty and sincerity. Outspoken vegans, the band venomously attack the cancerous nature of western culture and its ultimate demise should it continue its unchecked destructive current ways. Its bleak, brutal and the truth.
Hailing from Sydney's Northern Beaches, Stories are fast becoming one of the scenes hottest properties. Blending peace with chaos into a uniquely heavy signature sound, the band have proved themselves time and again on tours supporting the likes of In Hearts Wake, Counterparts and Veil of Maya.
The 12 date tour kicks off in Brisbane on July 17 and includes a stack of All Ages shows, so everyone has the opportunity to shake off the cold and get involved in the mayhem.
Tickets on sale 9am Friday May 23
Thursday 17 July The Brightside, Brisbane 18+
Tickets from www.tickets.destroyalllines.com, www.oztix.com.au 1300 762 545 or Oztix outlets
Friday 18 July The Lab, Brisbane AA
Tickets from www.tickets.destroyalllines.com, www.oztix.com.au 1300 762 545 or Oztix outlets
Saturday 19 July Masonic Hall, Blacktown AA
Tickets from www.tickets.destroyalllines.com, www.oztix.com.au 1300 762 545 or Oztix outlets
Sunday 20 July Bald Faced Stag, Sydney Lic/AA
Tickets from www.tickets.destroyalllines.com, www.oztix.com.au 1300 762 545 or Oztix outlets
Wednesday 23 July Small Ballroom, Newcastle 18+
Tickets from www.tickets.destroyalllines.com, www.oztix.com.au 1300 762 545 or Oztix outlets
Thursday 24 July Magpies, Canberra Lic/AA
Tickets from www.tickets.destroyalllines.com, www.oztix.com.au 1300 762 545 or Oztix outlets
Friday 25 July Phoenix Youth Centre, Melbourne AA
Tickets from www.tickets.destroyalllines.com, www.oztix.com.au 1300 762 545 or Oztix outlets
Saturday 26 July Evelyn Hotel, Melbourne 18+
Tickets from www.tickets.destroyalllines.com, www.oztix.com.au 1300 762 545 or Oztix outlets
Sunday 27 July Fowlers Live, Adelaide Lic/AA
Tickets available from Moshtix on 1300 438 849, www.moshtix.com.au and Venue*Tix on (08) 8225 8888 or www.venuetix.com.au
Friday 1 August Prince Of Wales Hotel, Bunbury 18+ *
Tickets from www.tickets.destroyalllines.com, www.oztix.com.au 1300 762 545 or Heatseeker outlets
Saturday 2 August Amplifier Bar, Perth 18+ *
Tickets from www.tickets.destroyalllines.com, www.oztix.com.au 1300 762 545 or Heatseeker outlets
Sunday 3 YMCA HQ, Perth AA *
Tickets from www.tickets.destroyalllines.com, www.oztix.com.au 1300 762 545 or Heatseeker outlets
* Buried In Verona only
www.destroyalllines.com
www.killyourstereo.com
www.facebook.com/thenotoriousbiv
www.facebook.com/antagonistad
www.facebook.com/StoriesAUS