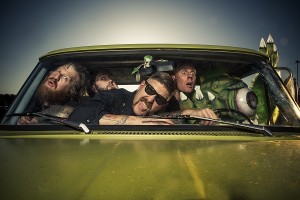 ONCE MORE 'ROUND THE SUN OUT FRIDAY 20 JUNE
Heavy rock icons Mastodon, has announced details about their upcoming new album, their first since 2011's The Hunter. The band's sixth album will be called Once More 'Round The Sun and will bereleased on June 20th. It was recorded in Nashville with Grammy Award-winning producer Nick Raskulinecz, who is known for his work with Rush, Deftones, Foo Fighters, and Alice In Chains.
The new album's eyecatching, mind-bending artwork was created by renowned Oakland based artist – Skinner –  and first single High Road, was released last week.
For hardcore Mastodon acolytes, the band will be releasing a stunning Deluxe 2LP Vinyl Edition of Once More 'Round The Sun.  This limited edition will include two discs pressed onto 180g black vinyl housed in a quadruple gatefold vinyl jacket featuring artwork by Skinner, plus a CD of the complete album. The package will include four exclusive lithographs derived from the album artwork.
The album is the follow-up to Mastodon's critically acclaimed album The Hunter, which entered the Billboard Top 200 Album chart in the Top 10 and found its way onto several Year End/Best Of critics' lists, including Rolling Stone, Spin, Revolver, Decibel and many others in the U.S. In the U.K. The Hunter dominated all "Album of the Year" charts including Metal Hammer, Kerrang, Terrorizer, Classic Rock, Total Guitar, Trash Hits and Rock Sound Magazine.
Mastodon recently toured Australia as part of the 2014 Soundwave line-up, and also performed two epic side-shows with Gojira.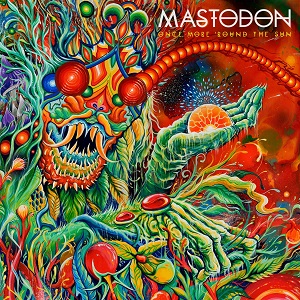 One More 'Round The Sun track listing:
1. Tread Lightly
2. The Motherload
3. High Road
4. Once More 'Round The Sun
5. Chimes At Midnight
6. Asleep In The Deep
7. Feast Your Eyes
8. Aunt Lisa
9. Ember City
10. Halloween
11. Diamond In The Witch House
MASTODON:
Troy Sanders — Bass Guitar / Vocals
Brent Hinds — Guitars / Vocals
Bill Kelliher — Guitars
Brann Dailor — Drums / Vocals
ABOUT SKINNER:
Skinner is a self-taught artist living in Oakland, California who has meticulously crafted a balance of extraordinary mural work, bizarre and antagonistic installations while maintaining a prolific commercial career. Influenced by 80's pop culture, human struggle, myths and violence, dungeons and dragons and the heavy metal gods, Skinner's mind is one of psycho social mayhem fueled by a calculated chaos. His work has been shown all over the world in various museums, universities and galleries. He has been an ambassador of the alternative arts movement in countries ranging from Russia, Cuba, Japan, Europe and all across the United States. Pay him a visit and see the chaos in action. Go to:  http://www.theartofskinner.com/
FOLLOW MASTODON
OFFICIAL WEBSITE | FACEBOOK | TWITTER | YOUTUBE