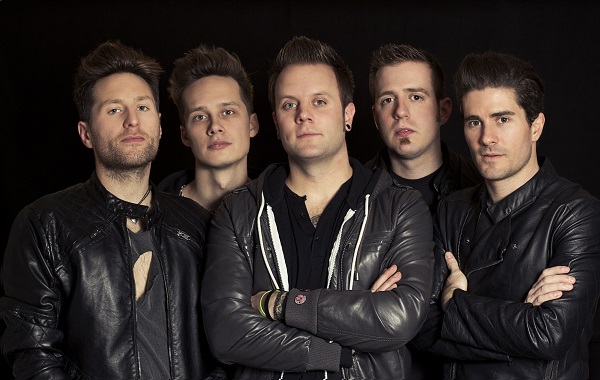 "…I love playing music with my friends and playing music that we wrote together and just the memories of writing and recording, and just looking out into the crowd, it took a few years for me to really kind of step back and appreciate what our music has done for some people."
From tour release: STORY OF THE YEAR are returning to Australia in June to celebrate the Tenth anniversary of 'Page Avenue'. One of the most revered and beloved rock albums in recent memory will be performed in its entirety, with hits such as Until The Day I Die, Anthem Of Our Dying Day and Sidewalks. In addition, a slew of fan favourites and a few surprises will be performed in one massive night.
We had a great chat with Josh of Story Of The Year about the band's upcoming Australian tour, as well as previous tours and memories and also the prospect of a new SOTY album… read on…
You're heading to Australia in June as a part of the 10th anniversary celebration of 'Page Avenue' and will be performing it in its entirety, how was it going back and revisiting all these songs, some you may not have played at all live before?
I mean some of the songs we've continued to play throughout the years so those weren't too big of a deal but there were about maybe five or six that we haven't played too often since then, even a couple of them we've never even played live before. I believe 'Swallow The Knife' we'd only played once and that was in like 2003 *laughs* so it was really cool to go back and relearn the parts I guess. When I'm home and we're not touring I always go back and play along with the songs just to keep up with it so I don't completely forget everything, but it was really cool to get back together with the full band and all play it and get used to playing the songs again. It was a really cool feeling, it's definitely an awesome feeling to play those songs ten years later and see people in the crowd just constantly singing along to every word, it's a really, really awesome feeling.
Now not only live have you done this, but you went back and re-recorded the album as well, what was it like reworking these songs?
It was neat, it was a different kind of thing, because we didn't have to concentrate on coming up with a whole new song, we just went back and broke the songs down and stripped them down to their basics and built them from there. It wasn't like a thing where we wanted to do a strictly acoustic record with a couple of acoustics and a vocal for our ten year anniversary we wanted to do something really special for this because this record means and meant and continue to means a lot to all of us, if not for that record I wouldn't be on the phone with you right now, we wouldn't be able to tour the world multiple times over and play for so many people and we wanted to make it special. So we just took the songs and started with a guitar and said 'ok how's this rhythm, should we change the tempo' or whatever, we just built the songs from there, it wasn't a planned structure for the record, we took it song by song and wherever it took us is wherever it took us.
As well as playing the album in full, of which I gather you're playing the original versions of the songs?
Yeah, we'll sometimes go back and forth, the one that we've done like the 10 year anniversary album is 'Razorblades' we've gone back and forth and we'll do like the quote unquote acoustic version of Razorblades or we'll play it the regular way. I don't know what we're gonna do yet for Australia, it's yet to be decided… *laughs*
So what else can fans expect on this run?
Us jumping off everything and awesome shows, we're gonna play maybe six, seven, eight songs from the other records and what we've been doing and what works better as we've been tinkering with the set is not doing the record in order, we're gonna play all the songs just not in order and we're gonna mix in fan favourites from the other three records. It's worked out really well, we tried it a few times front to back and to me and to the rest of the guys too, it's a cooler idea in theory and it works really well when you listen to the record, and in a live setting I don't think it flows as well. It's kind of weird to play 'Until The Day I Die' second in the set *laughs* and like our two biggest singles are 'Until The Day I Die' and 'Anthem' and to play those two and three in the set and not have them at the end of the show is kinda weird. It just worked out better that we mix up the set, we're gonna play everything so don't worry about that, we're just gonna mix in some other songs too.
You've been to Australia a number of times; do you have a favourite memory of a previous tour you can share with us?
Oh wow… I mean they're all amazing… I'd have to say the first time we came; I mean it's a kind of a combo answer I guess. The first time we came, it was amazing because it was a new experience and we didn't know what really to expect from the people, the fans, the environment and it was such an amazing first time thing for us. Everyone in Australia is super awesome, super polite and the raddest fans, having never been there before, but the shows were amazing, granted the shows were on the International Taste of Chaos, with The Used and Killswitch Engage, and a bunch of other bands, it was a great show and a great package, but the reception we got was hard to put into words how exciting it was and how it made us all feel and how stoked we all were on being there. We were playing in arenas from the first time coming to a country and it was an amazing thing. I understand why but sometimes it's weird to me how happy everyone is down there, I understand why because it's an amazing country and a beautiful place, and if I could move there I would *laughs* I love it there and just that first time we were there, I can't pinpoint a specific moment, but we were there for almost two weeks and it was probably the two weeks on tour I've ever had, it was such an amazing experience, and I'm really good friends with Brandon the original drummer of The Used and Rancid's drummer now and being able to hang out with him, and he'd been there before and took me to a bunch of places and it was just really cool. Then coming back, I think we did that tour in October maybe of '05 and we came back in April / May of '06 and did a headlining run with Flogging Molly and Emery and we played our biggest show to date, even to this day, our biggest headlining show to date in Sydney. Over six thousand people at the show, it was such a wow experience walking out in stage and seeing that many people, them being there for us. I remember going in for sound check and seeing the room and just thinking holy shit, I can't imagine this room being filled and it was, it was crazy.
There was a nice little hiatus there for a couple of years, was there ever any concern that you may not play together again?
No, not really, I mean, for me I kinda was the only one that didn't really do any kind of music stuff. I just had a kid so I really wanted to be home and be with my kid while he was a baby and help raise him with my wife. There were certain points I thought it was taking too long, but understanding the reasoning of waiting until the ten year anniversary it was all kind of loosely planned around that. There was never any concern that we were never gonna play together, we didn't do anything but there was a couple of off shows we did, I think we went to Japan once, and even during the hiatus we went to Australia and played 'Counter Revolution' with Yellowcard and All Time Low, that was kind of in the middle of the hiatus, you know what I mean? So it wasn't like we didn't do anything, I always knew we'd get back together, but it just felt like it took a really long time. *laughs*
So, since 'The Constant' in 2010 which was your last studio album, has there been talk of writing for a new album?
Yes, we are going to be hopefully writing, maybe on tour, second half of the year… Ryan and Adam have their music documentary 'Who killed or saved the music industry?' that they're trying to finish up, they're in the final stages of editing right now, so we're kind of waiting on Ryan to get that done and he wants to get it done before he does anything else, so once he's finished with that I think we're gonna start writing and figuring out a recording schedule and all that stuff. So if all goes well we'll be recording by the end of the year and hopefully have something out by early next year, I hope… it just kind of depends on scheduling and everyone being older now and having families and other responsibilities and things like that, scheduling becomes a bit of a problem, but we're definitely going to.
Now you mentioned before that you guys like jumping off things and seeing you before, it is an entertaining show, what is it that you enjoy most about performing live?
Oh, I just love playing, I love playing music with my friends and playing music that we wrote together and just the memories of writing and recording, and just looking out into the crowd, it took a few years for me to really kind of step back and appreciate what our music has done for some people. When you're in the middle of it all in the beginning and it's a whirlwind and you're going 24/7 and it's hard to put things into perspective I guess? But now having taken some time off and being a little bit older and looking back at things, and to this day people will come out to signings or they'll come and say hi before the show or after the show and they tell us that a certain song or a certain album got them through a certain period of time in their life and it really helped them. It's a very awesome and humbling feeling and I love when we're playing shows and I look out in the crowd and I can see people going off just more than we are, because certain songs or the music means that much to people, and to think that five little dudes from St Louis, Missouri could write music that would mean that much to other people other than ourselves is an amazing feeling that our music could do that for people.
2014 is well underway, so let's predict the remainder of the year, finish this for me, y the end of 2014, Story of the Year will…
*laughs* Story Of The Year will do some more touring, drink a lot of beer *laughs* and we're gonna write another record. I want that to happen so that's what I'm gonna say.
Essential information
From: St Louis, Missouri, USA
Band members: Dan Marsala – Vocals, Philip Sneed – Guitar, Vocals, Ryan Phillips – Guitar, Josh Wills – Drums, Adam 'The Skull' Russell- Bass
Website: http://www.storyoftheyear.net
Latest release: Page Avenue  – Ten Years and Counting
 Catch Story Of The Year on tour in Australia at the following dates:
THURSDAY 26 JUNE – BRISBANE, THE HI-FI – 18+
www.thehifi.com.au
FRIDAY 27 JUNE – SYDNEY, THE METRO – Licensed All Ages
www.ticketek.com.au
SUNDAY 29 JUNE – MELBOURNE, 170 RUSSELL – 18+
www.oztix.com.au  www.170russell.com
Tickets on sale now, presented by Soundwave Touring