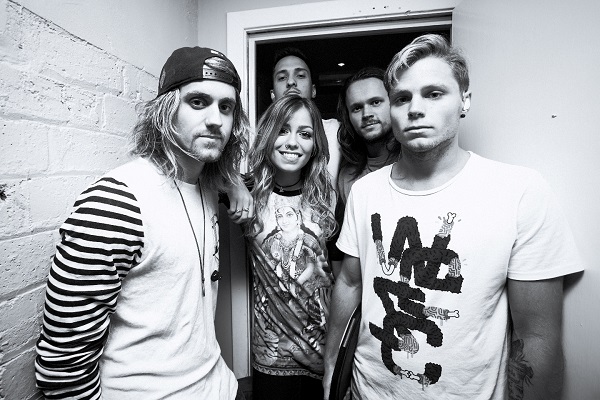 "…so our kind of mission was to make fans out of the rest of the audience and the general response every time I'd go to merch to meet people was 'I've never heard of your band before', and 'I'm buying your album', and 'I really like what I heard tonight' and that's all you can ask for really."
From press release: Sony Music Entertainment Australia and Sony Pictures Releasing are excited to announce that Australia's own TONIGHT ALIVE have released their electrifying new single "THE EDGE," which was written exclusively for the Australian release of the new movie The Amazing Spider-Man 2: The Rise Of Electro, the song is featured on The Amazing Spider-Man 2: The Rise Of Electro Original Motion Picture Soundtrack in Australia, New Zealand, the U.K. and Ireland. The Amazing Spider-Man 2: The Rise Of Electro Original Motion Picture Soundtrack is out now on Columbia Records and Madison Gate Records, through Sony Music Entertainment Australia.
Back in Australia after a tour of the US, we once again had a chat with the always delightful Jenna McDougall about everything going on in TA land, including soundtracks, touring and new albums… yeah, lots happening…
Well what better way to start than by mentioning that you've just had your song 'The Edge' included on The Amazing Spider-Man 2 soundtrack, is that a bit of a pinch me moment for you?
Absolutely, and I don't think I've even taken it in, even now… It's kind of insane, we got the offer and we wrote the song and we recorded it and made a video and it's just kind of a weird thing. It's just different from putting out a record and I don't know, everyone's just been really excited about it and we've had a great reception and it went to number 1 on the Soundtrack iTunes charts and I'm really pleased, it's bazaar really, it's just hard to believe.
The video, is a bit edgier (pun intended) for you guys too…
Yeah we wanted it to be…
I also believe it was pouring rain that day, was that a fun one to make?
Yeah… it created a little bit of stress too as we had to move location and it almost got called off and it almost got moved to Adelaide but then we just sort of said let's just do it in the rain and it worked like that. It was fun, but it was also for me, I guess I just put a bit of pressure on myself and I guess I just knew it was on another level to anything we'd done before and maybe that got into my head a little bit more than it should've. I'm really pleased how it turned out, and everyone on the clip was great to work with, but between you and me it was fuckin' stressful *laughs*
It was a bit of a different look for you too I must say…
It was really different for me and it was fun to experiment with a different side of my personality, I'm used to wearing ripped jeans and T-shirts and I guess for us this was the kind of project that seemed appropriate to try something different for and I think it works in our favour, but it definitely doesn't mean an image change for me at all.
Have you seen the movie and heard your song in it yet?
I haven't seen the movie and I haven't seen the song in the credits, but I've heard some cinemas are actually playing the video before the movie starts which is fantastic.
You've just come back from a nice little tour over in the US with Taking Back Sunday and The Used, how was this leg for you guys?
It was outstanding, every show was sold out and it was just bazaar touring alongside that caliber of band especially growing up listening to them all through high school, they're the bands that were on mix CD's that my friends gave me. Especially The Used for me, they're a band I've loved for years and years and when I was in my first band when I was fifteen I used to cover 'I Caught Fire' and I'm a big fan. It's a really different environment to be in where you want to be respected and you want to be professional and it's difficult to not be a fan when you love someone's work so much, but on the positive side it was amazing to watch them every night and I really felt like I had the opportunity to learn from them and I think I've taken a lot away from that tour because of that.
Do you find that every time you're overseas that your presence gets more and more known?
I guess something that I noticed on this tour is that we had everyone's attention, it sort of seemed everyone was watching, and that's important as a tour like that is completely fresh audience and it was all sold out before we were even announced, so we only had a handful of actual fans at each show, so our kind of mission was to make fans out of the rest of the audience and the general response every time I'd go to merch to meet people was 'I've never heard of your band before', and 'I'm buying your album', and 'I really like what I heard tonight' and that's all you can ask for really.
How long are you home for now before heading back out, I believe you're in the UK in November?
Well we've got three months in Sydney and then the next thing we do is 'Reading and Leeds' in August which is bazaar, and it's amazing that we're even a part of it. It's crazy to take a break and then the next thing we're involved in is 'Reading and Leeds', we're billed on main stage, but anyway, between now and then we'll be writing a new record and demoing in the meantime, so very exciting.
That leads me into the next question, what about album number three, what are the plans for the next one?
well we're on a two year cycle, but we're actually hoping to release it even sooner than the two year mark from 'The Other Side', so we're looking at mid 2015 fingers crossed, so that's kind of best case scenario *laughs*
Can we maybe expect to see some shows while you're here in Australia?
There's nothing planned at this point in time, but I definitely wouldn't be opposed to having a couple of small, even maybe acoustic shows, I'd love that, and we don't play in Australia enough as it is, so a few one offs wouldn't hurt anybody, and we haven't played 'The Edge' in Australia yet, so that could be something fresh for the set.
We haven't spoken since Warped Tour in December, how was that for you and everything since then?
Warped Tour was insane, that's the biggest crowd and best response we've ever had in Australia and again it was something where we were on the main stage and it's kind of bazaar to be that band I guess and I just felt really proud I guess as we were one of only a handful of Australian bands that were on the tour, so that was great fun, and those crowds were the biggest we've played to in our home country, so proud moment for us.
On paper it looks like you've done so much, but surely there is still something you want to do, so what's on your list?
*laughs* That's a fuckin' huge question isn't it… *laughs* as a band, gee… I'm trying to give you a good answer as obviously I could say we've done so much that we never thought we would…
OK how about this, where's a place you've never been to that you want to tour?
Oh, Brazil, we haven't been to South America yet, and ever since the beginning we've had fans contact us over Twitter and Facebook, and without sounding arrogant, begging us to come over there and it's just never been the right opportunity or offer or timing or anything , it hasn't worked out to this point so I hope that this year is the time for that. They're such awesome people.
On the other side of that, can you name one band you'd want to open for?
Rage Against The Machine. Just Rage… they're may favourite band and I've seen them on the internet play so many humongous shows with just seas of people and it gives me chills every time. I'd kill to see them let alone do the support.
Lastly, the year is well underway now, so let's predict the rest of it, so if you can finish this sentence for me, by the end of 2014 Tonight Alive will…
Have written and recorded their best album yet… I've got faith, I'm pretty excited about the new material.
Essential information
From: Sydney, Australia
Band members:  Jenna McDougall – Vocals, Jake Hardy – Guitar, Whakaio Taahi  – Guitar / Vocals, Cam Adler- Bass, Matt Best- Drums
Website:  http://www.tonightaliveofficial.com
Latest release: 'The Edge' – available on The Amazing Spider-Man 2 soundtrack (Sony Music Australia) Out Now!