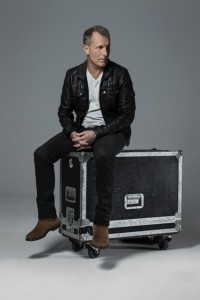 Australian Crawl is surely one of Australia's most loved bands – revered in the same manner as their peers Midnight Oil, Cold Chisel and INXS, they played an integral part in the development of the Australian 'sound' and were one of the truly great rock groups of their time.
From their inception in 1978, Australian Crawl existed for nearly nine years.  The band delivered nine releases between 1980 and 1986, with considerable commercial success.  In terms of Australian groups, only Midnight Oil, The Seekers, Savage Garden and Skyhooks have spent more time at the top of the ARIA Albums Chart.
The group disbanded in 1986, their final show taking place at Perth Entertainment Centre on February 1.  Following the untimely deaths of founding member Brad Robinson and Guy McDonough, hopeful Australian Crawl fans were left with the realisation that a reunion tour was an impossibility.
In August 2014, James Reyne plans to deliver the closest thing fans will ever get to an Australian Crawl reunion, as he assembles an exceptional band to play the songbook of Australian Crawl – a no holds barred, full band, rock'n' roll assault, performing the greatest songbook of Aussie Crawl.
James said today, 'Over the years we have often been asked if this could ever happen? Now is the time. You will never see Australian Crawl again. It just isn't possible. This is the next best thing. We're playing 'ALL CRAWL'.
Back in January of this year, the Australian Crawl catalogue was released digitally for the first time, with 'The Greatest Hits' making it to number one on the itunes chart and number 4 on the ARIA Albums Chart.  At one point, there were five Australian Crawl albums in the itunes top 100, so excited were fans to access their music online for the first time.  In addition to this, James received an Order of Australia for his charitable work and services to Australian music and the arts.
JAMES REYNE plays AUSTRALIAN CRAWL: The Crawl Files Live
Tickets on sale now
August:
Friday 1st and Saturday 2nd – The Palms Crown Vic
Tickets: 1300 795 012 and www.ticketek.com.au
Saturday 9th – The Tivoli Brisbane QLD
Tickets: Ticketmaster 136 100 and www.ticketmaster.com.au
Friday 15th – The Enmore Sydney NSW with special guests DRAGON
Tickets: 1300 795 012 and www.ticketek.com.au
Saturday 23rd – The Astor WA
Tickets: 08 9370 5888 and www.showticketing.com.au
Saturday 30th – The Governor Hindmarsh SA
Tickets: www.thegov.com.au
Oztix: 1300 762 55 or www.oztix.com.au
Venuetix: 08 8225 8888 or www.venuetix.com.au
presented by WS FM, GOLD FM, 4KQ, MIX 102.3 AND 96FM