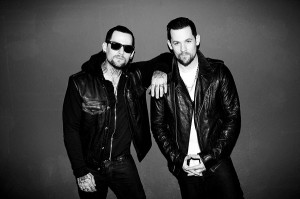 Global music stars Joel and Benji Madden — known for their band Good Charlotte as well as appearing on Australia's highly rated The Voice on the Nine Network — have announced that they have formed a new band The Madden Brothers. Their debut album entitled Greetings From California…, is set for release on Capitol Records via EMI Music Australia October 3rd.
The first single "We Are Done," a soulful, '60s-inspired tune that they wrote with highly acclaimed producer Eric Valentine, will be released June 2 alongside a lyric video.
Having already earned a place in history with Good Charlotte's radio-ready pop-punk sound captured on such albums as their 3x US platinum (2 x Platinum in Australia) breakthrough The Young and the Hopeless and over 10 million combined sales from their 5 albums sold worldwide, Joel and Benji were eager to flex their creative muscles with an entirely new project. "The idea was to not hide behind a band name or a genre, but rather to write some songs, and find someone to record them and help us deliver the truest picture of who we are musically," Benji says. The result is Greetings From California…, which showcases the Maddens' killer knack for melody, radiant sibling harmonies, and heartfelt story-telling.
The album is split into two "sides," the first filled with upbeat, sunny pop-rock produced by their long-time collaborator Eric Valentine, who also produced The Young and the Hopeless and 2004's The Chronicles of Life and Death and has also worked with Queens of the Stone Age, Taking Back Sunday, Third Eye Blind and countless others. It features the lyrically unapologetic "We Are Done,"which Benji says is an anthem about standing up for yourself. "It's for anyone who's feeling unappreciated or abused, or is suffering in any way," he says. "We want to inspire people to speak up."
Side Two is an earthy blend of folk, Southern rock, and '70s-era FM pop produced by Grammy Award-winning producer Joe Chiccarelli, known for his work with The White Stripes, The Strokes, The Shinsand many others. Its centerpiece is "California Rain," which tells the story of the Maryland-born brothers' journey from East Coast to West Coast. It was also the first song they wrote back in 2012, during an inspiring visit with their friend Pharrell Williams, who encouraged them to follow their muse."We went to see him in Miami and Benji brought an acoustic guitar," Joel recalls. "We wrote the song together that night.  It felt like a repeat of us leaving home at 18 for California with just an acoustic guitar. All these years later, it all comes down to an acoustic guitar."
Website: www.TheMaddenBrothers.com
Facebook: http://www.facebookcom/maddenbrothers
Twitter: http://www.twitter.com/maddenbrothers
Instagram: http://www.instagram.com/maddenbrothers
YouTube: https://www.youtube.com/user/MaddenBrothersMusic
THE MADDEN BROTHERS – DEBUT ALBUM – GREETINGS FROM CALIFORNIA… – OUT OCTOBER 3