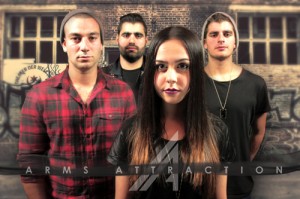 Local Sydney four piece punk rock band Arms Attraction maybe relatively unknown BUT they are about to kick of a national tour with Will Pugh vocalist from US Pop Punkers Cartel after he handpicked them for the job!
'We have been pinching ourselves since we got the call from our management' comments lead singer Mikaila Delgado 'we have almost finished our debut EP and it will be released while we are on the road with Cartel – like it was meant to be!'
To prepare for their tour, Arms Attraction has pushed forward the release of their first single Alive and are offering it as a FREE DOWNLOAD to their fans via www.facebook.com/armsattraction
'We are about to hit the road with a well known band' comments the band's drummer Arky Kalithrakas 'so we wanted to make sure as many people as possible had a chance to hear our music before they saw us support Cartel'.
Arms Attraction formed in high school and have been performing ever since. Brothers Stephen (Guitar) and Arky Kalithrakas (Drums) joined with Jamie Georgiou (Bass) to form Arms Attraction in 2011; with current lead singer Mikaila joining after their original singer was sent back to Hong Kong following an immigration issue.
Arms Attraction has signed with talent management and production studio Oxygen Music where their debut EP is being produced and recorded.
For Fans Of: 5 Seconds Of Summer, Tonight Alive, You Me At Six & Paramore
TOUR DATES
Thurs 15 May @ Hot Damn – Sydney
Friday 16 May @ Youngblood's – Wollongong
Saturday 17 May @ Thriller – Brisbane
Wednesday 21 May @ Academy – Perth
Thursday 22 May @ HQ – Perth (AA)
Friday 23 May @ Black Market – Ade
Saturday 24 May @ Bang – Melbourne
Sunday 25 May @ Bar 12 – Frankston
Arms Attraction is produced and managed by independent label Oxygen Music Group ("OMG"); a full service label offering talent development, artist management, recording and publishing. OMG houses a full services state of the art recording and video production facility.