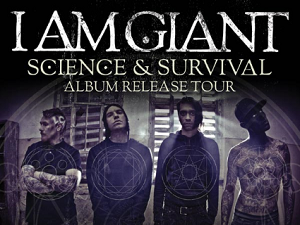 London based kiwi rock band I Am Giant is proud to announce the release of their sophomore album SCIENCE & SURVIVAL on July 4th  via Sony Australia.
To celebrate the release, the band will complete a four-date Australian tour, beginning in Brisbane on August 6th, heading to Perth, Melbourne, and finishing in Sydney on August 9th. Tickets will be available from 9am Friday 9th May.
Science & Survival is the highly anticipated follow up to I Am Giant's critically acclaimed debut THE HORRIFYING TRUTH.  Recorded between France and London, mixed in Melbourne, and mastered in New YorkScience & Survival is a true international effort. Co-produced by Forrester Saville (Karnivool, Dead Letter Circus, Helmut), bassist Paul Matthews and drummer Shelton Woolright, the album features the first two singlesRAZOR WIRE REALITY and DEATH OF YOU.
With the album also being released in Germany, Poland, UK, New Zealand and Indonesia, bassist Paul Matthews says of Science & Survival; "We spent almost twice as much time recording this album than the last one and so there is just more of everything.  It was a real challenge too… We really pushed ourselves and our own expectations to the absolute limits. It's bigger, better, heavier, more intense yet a more intimate I Am Giant.  The album is a representation of how we are feeling – and we can not wait to play the album live for our fans in Australia".
Hand picked to play on the Red Bull Track Tour in Berlin this year  I Am Giant have just been announced to perform at Orange Warsaw Festival in Poland alongside Bring Me The Horizon and Limp Bizkit , Outkast, Snoop Dogg and Queens of the Stone Age.  With their recent tour of Germany and the UK complete, including a spot on UK's Are You Listening Festival, the band will be sure to bring their intense energy to home crowds this winter.
I AM GIANT – SCIENCE & SURVIVAL AUSTRALIA TOUR 2014
Wednesday 6th August 2014
Brisbane, The Rev – QLD
Tickets from www.moshtix.com.au
Thursday 7th August 2014
Perth, Amplifier – WA
Tickets from www.oztix.com.au
Friday 8th August 2014
Melbourne, Cherry Bar – VIC
Tickets from http://www.trybooking.com/
Saturday 9th August 2014
Sydney, Spectrum – NSW
Tickets from http://qbar.iwannaticket.com.au/
Tickets are available Friday 9th of May at 9am