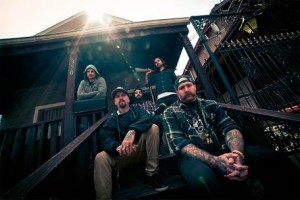 Hardcore heroes Every Time I Die will release a new album From Parts Unknown on June 27 via Epitaph Records in Australia and New Zealand. "Thirst" is the first cut and the video is the first half of a short series. Watch it below:
It could have been easy for Every Time I Die to go on autopilot. After sixteen years as a band they know what works and could go on doing the same thing – but that would be "boring and baseless," according to vocalist Keith Buckley. "Instead of making something that the kids can all sing along to, we wanted to make music that scares them," he adds.
So Every Time I Die brought out the big guns and spent a month recording with legendary producer and Converge co-founder Kurt Ballou at his GodCity Studio in Salem, Massachusetts. "Working with Kurt was stressful in the best way, like when your dad comes to watch you play baseball for the first time and you just want to make him proud," says Buckley. Ballou challenged the band to dig deeper, work quickly, and create heavy but catchy tracks. Vocals transverse from dark and light by swerving from scream to howl to like a fired-up war cry. Guitarists Jordan Buckley and Andy Williams, and drummer Ryan Leger cement their massive riffs, frantic rhythms, into a dozen of the most awesomely devastating songs the band's created so far. Ballou has produced countless classic hardcore records for over 15 years, with recent releases such as Nails' Abandon All Life,Skeletonwitch's Serpents Unleashed, and Modern Life is War's Fever Hunting to name a few.
The album's title was initially inspired by a term used by wrestlers to increase their mystique, From Parts Unknown ultimately references the more hopeful mood that creeped into its lyrics during songwriting. "I didn't even realize I had that more positive outlook in me," notes Buckley. The positive outlook is especially impressive considering that a bout of laryngitis left Buckley laid up for much of the recording and forced him to tear through most of the vocal tracking in a single day. Adding to the already impressive state of this album, Brian Fallon of Gaslight Anthem and Sean Ingram of Coalescelend their vocals to a few tracks as well.
Cathartic and chaotic but always anchored by guitar-fueled hooks, the new album finds Every Time I Die pushing into brighter emotional territory than they've ever explored before.
From Parts Unknown is an album of depth from a band that has more than earned their hardcore chops. It has every marking of legendary status.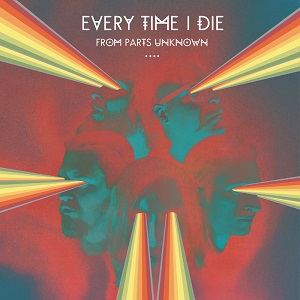 From Parts Unknown Track List:
01. The Great Secret
02. Pelican Of The Desert
03. Decayin' With The Boys
04. Overstayer
05. If There Is Room To Move, Things Move
06. Moor
07. Exometrium
08. Thirst
09. Old Light
10. All Structures Are Unstable
11. El Dorado
12. Idiot
For more information, visit: http://everytimeidie.net/