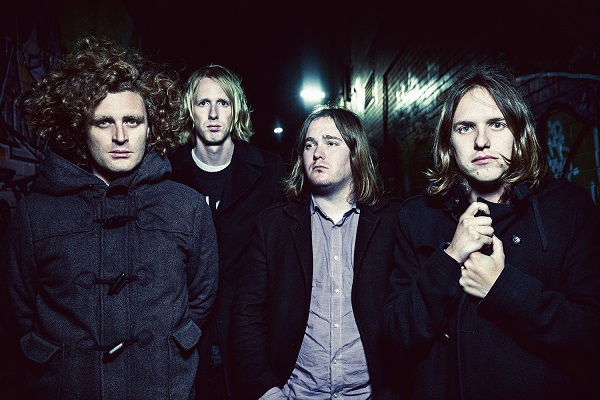 "I think they'll be cool shows, we're going to be playing songs that we don't usually play, like some of the fan favourites from the first two records and I think by then we'll probably have road tested some more of the new material as well. So they are for the fans of refined taste, if such a thing exists…"
From Press Release: One of Australia's most well respected and hardworking entities, British India are not unaccustomed to the draw of the darkness. Having toured relentlessly since inception in over ten years ago, the band have loaded in via the darkest alleyways of the country's dingiest pubs. They've slaved through the night to produce some of the most well-recognised Aussie rock hooks of the past decade, and they've endured chilly winters in their home town of Melbourne where the sun sets before the working day is done. They are the embodiment of the spirit of Coopers Dark Ale. Truly substantial with a legitimate claim to being totally independent.  So it is with great pleasure that these four Melbourne school friends join forces with Coopers to present the Coopers After Dark tour.
Ahead of their first show on their headline tour, we caught up with Declan of British India to fill us in on the tour, new music and their exclusive Coopers After Dark shows (did we mention you can win your way in HERE?)
You're heading back out on the road for some headline shows, what can fans expect at these shows on this run?
I think the old time fans can expect some new songs and the new fans can expect to hear the old stuff that they might not have heard before. The show is just kind of a punk rock show, it's a really visceral kind of pub show, it's not a huge lighting rig or those kind of things, it's all about just having a drink and a dance and just going crazy for an hour. We will be showcasing some new stuff from our fifth record that we just started recording so we're really excited about that.
So no pyro or smoke machines I gather?
*laughs* no there's very little Pink Floyd, think Ramones. I think the live show is the first thing that we really got right back in Melbourne when we first started playing we were playing these little pubs and we really just went on stage and went ballistic, and I really think this has been a hallmark of our shows and it's not something we ever plan on losing.
You're also involved with the Coopers After Dark shows coming up in the midst of the tour, tell us a bit about these exclusive gigs and what goes on at a British India private party?
Well a lot of drinking obviously, it's sponsored by a beer company, so there's no secret that that goes on. I think they'll be cool shows, we're going to be playing songs that we don't usually play, like some of the fan favourites from the first two records and I think by then we'll probably have road tested some more of the new material as well. So they are for the fans of refined taste, if such a thing exists, but I think those shows are going to be great, be really intimate and do some things we wouldn't normally do.
You've been in the studio recording a new single, tell us a little bit about it and when can we expect to hear that?
I think you should expect to hear, all things going to plan, which they never do because it's the music industry, you guys should expect to hear it in about September. We've just recorded two of our favourite songs that we've done recently but I don't think anything's got the word single next to it, maybe only in pencil and in brackets and very small writing, but we're really keen with this record to get it all recorded and a good package deal before we start putting singles out which we've always been rushed before, but I think this time we were kind of in a creative peak after the 'Controller' record I think we were able to take a little more time which was good for us.
At the same time though it's pretty quick as the album only came out last year…
Yeah it is quick, but from in our camp we're a bit more relaxed and a bit more settled with it, I think we're really calling the shots a bit more, whereas in the past maybe we've taken a while where suddenly we're hitting deadlines, but with this one we're a little ahead of the curve which is vastly different to 'Controller' and a huge relief.
So can we maybe expect something a little different this time around?
I don't know about that, like I think the most successful songs on 'Controller' like 'Plastic Souvenirs', 'Blinded', 'I Can Make You Love Me' of course, kind of more sophisticated, complex songs is what we're concentrating on. There's going to be plenty of rock and roll, it's going to be futuristic, but very, very raw. I mean our priority is when we go in to make a record, we're never sitting around saying let's expand our fanbase or let's get this played on a radio station, it's the furthest thing from our mind, we're make more focused on keeping the fans we're accumulated happy and I think we play to our strengths and I think the best thing about British India is our energy, and we definitely don't wanna start going up our own ass and doing things with acoustics and strings as it's not what we like.
Back to touring, I saw you guys open for Fall Out Boy last year, how was that tour for you?
It was just really bizarre, we've never done anything like that before, just support major international acts is something had been missing from our CV for like forever, so it was kind of strange to do it at this point in our career because we didn't need to do it, but it was eye opening and they were lovely chaps and very accommodating. I think it was good for us because we'd also done that Day On The Green festival earlier this year which was to maybe an older audience and Fall Out Boy was to a younger audience and then we do our own shows which is to our audience in the middle, so it was kind of covering all bases.
Sounds like you've got the whole spectrum covered there…
*laughs* Yeah I think so, I don't want to give the impression that we're sitting in a board room planning this out, it's just a happy accident that it happened this way and it's been a really good time since the 'Controller' record came out, like I said before, it was a real creative peak and everyone's really in the same headspace and really enjoying it.
It seems like it never stops for you guys either, almost constantly out playing shows since last October, what is it about playing live that you enjoy so much?
I think playing live in the modern kind of era of music, especially in the music we make, it's becoming the lost part of the pie, back in the day it was all that you had. We get asked the question why do we play so often and why do we play to so many rural places, and I think that question should be turned onto other bands as to why don't they play more and I think the idea of releasing a record and then taking two months off and playing Brisbane, Sydney and Melbourne is just really far from what we thrive on, and we like playing live and we like the touring as well, and the partying and meeting people and all that that goes with it.
Do you have a stand out moment you've experienced with the band thus far?
Oh there's been a couple of moments, there's definitely things like Falls Festival and Splendour In The Grass and you're looking around and there's all these people and you're just like you know holy hell look at this, this is insane. But I also remember playing some house parties, back when we were celebrating our first record coming out back in 2008 or so, I remember we were playing these tiny parties and just loving it, it was really relaxed and we were with our friends and I think that as well is still something that really stands out in my mind really. And of course we got to be on Neighbours which is a huge career highlight and will always be something close to my heart.
As a band for ten years now what do you see as the biggest change or evolution that's taken place within the band?
Gee I don't know, I think I learned to song somewhere along the way, so that was pretty important for me because until then I'd just been shouting my head off. There's been no real kind of finger click moment where it all clicked into place, I think it's all been so gradual, but I think the moment was the first record, when you have a record that people like and you can tour off it really changes everything, as up until then we were just kind of going between Melbourne and Sydney and just watching the crowds be small, then once we hit the airwaves there was a big change and we thought holy shit we can do this for a career, and that seems like a couple of months ago but it's nearly eight years ago.
You've obviously done a lot in your time together, but is there anything that you really want to do that you haven't yet had the chance to?
We'd like to do more international stuff is always on our mind, but our trepidation is that we don't want to be one of those bands that forsakes Australia for the sake of overseas, as I think Australia is always going to be our bread and butter. I think that's still something though that needs to be explored, as we're really proud of the music we make and we think everyone should hear it. I think even here our music should get played more than it does, not in a bitter way, I listen to the radio and there's not a lot of stuff I like and I'd like to hear more genuine music and certainly like the stuff out that we play. I'm not going to say my life is a completed checklist, there's still a lot of stuff we want to do, we'd really like to make a classic album that's really strong from start to finish, which I don't think we've done yet.
Lastly, the year is well underway now, so let's predict the rest of it, so if you can finish this sentence for me, by the end of 2014 British India will…
Have released their best record yet. That's really quite a serious answer and it's what our headspace is now, we're really aiming for that. Apart from that we're going to get really drunk, meet beautiful models and marry them and drive around in Cadillacs…
Essential information
From: Melbourne, Australia
Band members:  Declan Melia – lead vocals, Will Drummond  – bass, backing vocals, Nic Wilson  – lead guitar, Matt O'Gorman  – drums
Latest Release: Controller (Out Now – Liberation Records)
Website:  http://www.britishindia.com.au
Catch British India on tour at the following dates:
Thurs 8th May – Village Green Hotel, Mulgrave VIC
Friday 9th May – The Capitol Saloon, Wonthaggi VIC
Sat 10th May – The Pelly Bar, Frankston VIC
Thurs 15th May – The Prince of Wales, Bunbury WA
Fri 16th May – Judds Pub, Kalgoorlie WA
Sat 17th May – Freemasons Hotel, Geraldton WA
Fri 23rd May – Kings Beach Tavern, Caloundra QLD
Thurs 12th June – Newtown Social Club, Sydney NSW
Fri 13th June – Tattersalls Hotel, Penrith NSW
Sat 14th June – Collectors Tavern, Parramatta NSW
Tickets via Oztix.com.au
COOPERS AFTER DARK PRESENTS BRITISH INDIA
Wed 21st May – The Factory, Sydney NSW
Thurs 22nd May – Crow Bar, Brisbane QLD
Wed 28th May – Transit Bar, Canberra ACT
Thurs 29th May – The Curtin, Melbourne VIC
Wed 4th June – Fowlers Live, Adelaide SA
Thurs 5th June – Ya Ya's, Perth WA
Invite only – more details HERE
Comments
comments