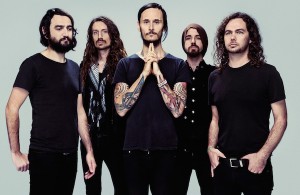 Following on from this morning's appearance on triple j's Like A Version, Dead Letter Circus have announced three intimate shows in which the band will perform as a full band acoustic / unplugged version of themselves.
This morning on triple j's Breakfast Program, Dead Letter Circus covered 'Killing In The Name' by Rage Against The Machine in their first appearance on the Like A Version segment. They also performed an acoustic version of their hit 'I Am' from 2013's breakthrough album, The Catalyst Fire.
While fans of the band may be used to hearing the Brisbane-based five piece performing with layers and layers of guitars and drums, the stripped back translation of their songs is incredibly effective, as heard in the acoustic rendition of 'Lodestar' which the band released last year.
The three shows will take place in small venues in Brisbane, Sydney and Melbourne and are expected to sell out quickly.
A NIGHT IN WITH THE DEAD LETTER CIRCUS
Tickets on sale now
Thursday 4th September 2014
The Globe Theatre, Brisbane, QLD
Tickets: deadlettercircus.oztix.com.au
Friday 5th September 2014
The Basement, Sydney, NSW
Tickets: moshtix.com.au
Saturday 6th September 2014
The Toff In Town, Melbourne, VIC
Tickets: deadlettercircus.oztix.com.au
Dead Letter Circus – The Catalyst Fire is out now via UNFD.