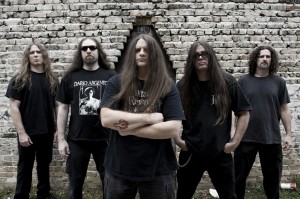 On the eve of their new, yet untitled album, the towering gods of death metal, CANNIBAL CORPSE, smash their way back to Australia for what will be a grisly, hostile start to their world tour in support of this album. With all their trademark blistering riffs, turbulent drums, ruthless and razored vocals, the bludgeoning force of CANNIBAL CORPSE will strike like an ice pick to the back of your head.
The butchery is coming this September!
Unleashing a likely tour de force in maniacal death metal brutality, a celebration of music in it's darkest and most inhuman form, HOUR OF PENANCE have ascended to an even greater height of precision savagery. The blasphemous Italian death metal quartet continue to pull no punches on its sixth album, 'Regicide'! After the success of the support shows with Behemoth last year, HOUR OF PENANCE return with a new level of spite and malicious hate!
CANNIBAL CORPSE with Hour of Penance and guests performing at:
Sept 9th – Capitol – Perth, 18+
Sept 10th – Fowler's Live – Adelaide, All Ages
Sept 11th – The Metro Theatre – Sydney, 18+
Sept 12th – 170 Russell – Melbourne, 18+
Sept 13th – The HiFi – Brisbane, 18+
TICKETS ON SALE THURSDAY MAY 22nd FROM:
PERTH – www.oztix.com.au
ADELAIDE – www.moshtix.com.au / www.venuetix.com.au
SYDNEY – www.metrotheatre.com.au / www.ticketek.com.au
MELBOURNE –  www.oztix.com.au / http://170russell.com
BRISBANE – www.thehifi.com.au/brisbane
ALL SHOWS – www.soundworkstouring.com  and www.primecuts.com.au – paypal only
Buy through the Soundworks Touring or Prime Cuts Music websites with Paypal and receive a free CANNIBAL CORPSE sticker!
www.facebook.com/appareldirect