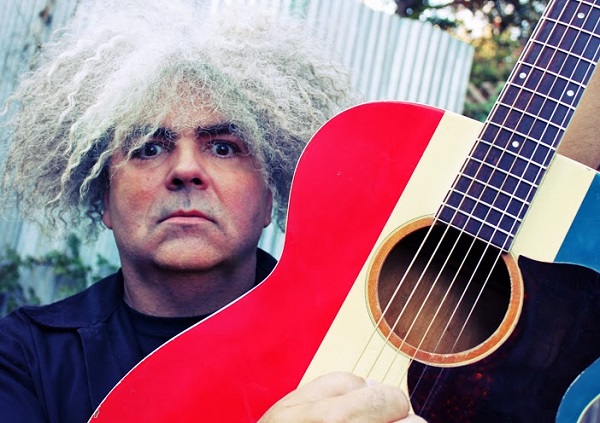 "…now there's something special in what we do, music and musicians in general, it's very old and I honestly think it's the most important art form. I feel fortunate that I can make a living doing what I want to do, it's still a job, it's still work and I bust my ass…"
From tour release: With a career spanning 31 years, 30 albums, and over 2,000 live performances, this tour marks the first time that the monarch of metal has performed acoustically in such a unique and intimate setting. A purveyor of punk rock from an early age, Roger Osbourne (aka King Buzzo) has been a founding member and front man of Melvins since the band's inception in 1983. The far-reaching influence of Melvins' dark and sludgy sound informed the works of many acclaimed grunge and metal bands including Nirvana, Soundgarden, Green River and in many ways nurtured the Seattle music scene itself.
In Los Angeles and between us exchanging how good each other's cities are, we chatted to King Buzzo about his new acoustic solo album and upcoming tour of Australia as well as Melvins news and just what keeps him motivated after thirty years in the business…
You've just announced that you're heading to Australia in August for the first time solo and acoustically…
I'm doing a big US tour first, about forty shows so hopefully I'll have my feet wet by the time I get there, hopefully I'll have the songs down by then *laughs*
I was going to ask that, have you had a chance to road test the acoustic show yet or is the US tour the test?
I'm doing about seventeen shows in the mid-west here, I played last night in Pomona, the wonderful world of Pomona, so I kind of know what to expect. The tour will end up being the best part sixty – sixty five shows.
So tell us about what the show will entail when you head down here…
If nothing I think you can be pleasantly surprised. I don't see why any reason that if people like The Melvins that they shouldn't like this, that's the way I see it. I'm the main guy and I really saw to it that I'm not going to sound like a shitty acoustic version of some other crap you know? Trying to keep the spirit of what I do in all of this, and I think it's working.
So the new album 'This Machine Kills Artists' is truly raw, why was now the right time to pull out the acoustic guitar?
You know I've always written stuff on an acoustic guitar, it's just that I've never played it live, I didn't really didn't do it much in the studio either, but I've always written stuff so it wasn't crazy for me to do that. I've always kind of thought I was gonna end up doing that, I just never did it, I was always busy doing other things, but that's kind of where that's at. The reason why…
Did you have an idea of how you wanted to put the album together prior to making it or did it just emerge as it has?
Well I did this EP first and I kind of just realised that OK, this is kind of a direction I can go in sort of, and then write songs from there, finish it out and actually do a while album which is what I did. Once I get going on something, the tendency is to take it and do as much as I can, once I get that ball rolling. I'm not one to sit around to wait for inspiration to strike, I just walk through garbage until I find it you know…
The title itself, what is the idea behind calling it 'This Machine Kills Artists'?
It comes from Woody Guthrie, but I kind of wanted to leave that particular interpretation of it up to peoples own interpretations and just leave it at that.
You've been to Australia more than a few times, what's your favourite thing about heading Down Under?
It's the most US like place I've ever been *laughs* Australia has always been really supportive of us, even from the first time we went there, so I've always appreciated it greatly. The only issue is that it's a bit of a logistical nightmare to get there, once I get there I'm going to do ten shows, that's probably as many as I could do in Australia, so and from there from Perth I'm going to fly to England and do a European tour as well, so all at once. Then I'll have done Australia, The US and England and then in the Fall, I'm putting out a new Melvins album *laughs* it's almost finished, it never ends.
Do you have a stand out memory of a previous trip here?
Probably the first time I went because everything was new, I don't remember anything in particular, I had a good time, we went to a Zoo in Adelaide that was a lot of fun, we went with The Cosmic Psychos, so you can imagine what that was like. That was a lot of fun. I always enjoy going to Perth and going to The Perth Mint, that's really crazy, for people that have never been there it's a lot of fun. Perth is a long ways, you kind of have to have a purpose to go there, and it's the only time I've ever set eyes on the Indian Ocean and I liked that, and that's one of the benefits of being in a band is I get to travel, but I've never been to Africa or Antarctica but I've been to every other continent. I've seen every ocean and I've done more travelling than most people will ever do, I don't necessarily like all of it, but I don't regret any of it. I've worked very hard to get into a situation where I feel blessed, I always say the more I work the luckier I get you know *laughs*, people don't get lucky just sitting on their couch at home…
With an over thirty year career, what keeps you motivated and inspired musically?
Well there's still that spark, I don't know what it is, I've been married over twenty years now and when I first got married my father in law was a retired commercial fisherman, he had a little boat that we could go out in the ocean in, and one time we were fishing and I caught a 120lb shark, and even though he's done that for his entire life, he was saying that it's still super exciting to him even as a retired fisherman and I never forgot him saying that "It's still so exciting to do this…" and I couldn't agree more, even after all these years there's still the same exact thing that I liked about it all. I was talking to an Indy car driver once and he was telling me that the only thing that gave him the same feeling when he was driving an Indy car was music, now there's something special in what we do, music and musicians in general, it's very old and I honestly think it's the most important art form. I feel fortunate that I can make a living doing what I want to do, it's still a job, it's still work and I bust my ass…
Melvins also released a new album last year, your nineteenth, do you have anything special planned for album number twenty?
Yes we do but I don't really want to let the cat out of the bag, but suffice to say, nobody would have thought that we would do this… I'm very, very excited about it, it's almost done and it's gonna be a great record.
So around September?
October, man, I can't wait… in the last year once this album comes out, will have done the 'Everybody Loves Sausages', 'Tres Cabrones' and the solo record, and then that one it'll be eighteen months and four full lengths *laughs*
Do you sleep at all?
I do, I have a very full life… *laughs*
Then can we expect to see Melvins back in Australia?
I'm not sure when, but I would love to, I'm not afraid of it.
Lastly, 2014 is well underway, so let's predict the remainder of it, so if you can finish the sentence for me, by the end of 2014, King Buzzo will…
Be happy to be home for more than two weeks in a row *laughs*
Essential information
From:  Los Angeles, CA, USA
Forthcoming Release: This Machine Kills Artists – (out May 30 through Ipecac Recordings, listen to 'Instrument Of God' here)
Website: http://www.themelvins.net
Catch King Buzzo on tour in Australia at the following dates:
Frontier Members pre-sale via www.frontiertouring.com/kingbuzzo 
Mon 26 May (12noon AEST) to Tue 27 May (12noon AEST)
(or ends earlier if pre-sale allocation exhausted)

General public on sale from 10am local time, Thursday 29 May

Wed 13 Aug               Adelaide | Enigma Bar                                 (18+)
Moshtix.com.au | Ph: 1300 438 849
Thu 14 Aug                Geelong | Barwon Club                               (18+)
Oztix.com.au | Ph: 1300 762 545
Fri 15 Aug                  Melbourne | Ding Dong Lounge                 (18+)
Oztix.com.au | Ph: 1300 762 545
Wed 20 Aug               Newcastle | The Small Ballroom                 (18+)
Oztix.com.au | Ph: 1300 762 545
Thu 21 Aug                Sydney | Newtown Social Club                   (18+)
Newtownsocialclub.com | Ph: 1300 724 867
Fri 22 Aug                  Wollongong | Anita's Theatre                     (18+)
Yoursandowls.com.au | Ph: –
Sat 23 Aug                 Canberra | Transit Bar                                 (18+)
Oztix.com.au | Ph: 1300 762 545
Sun 24 Aug                Brisbane | Black Bear Lodge                      (18+)
Oztix.com.au | Ph: 1300 762 545
Tue 26 Aug                Perth | Astor Lounge                                    (18+)
Showticketing.com.au | Ph: 08 9370 5888