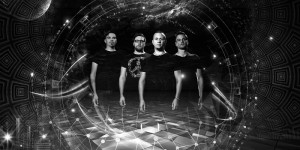 On the back of their highly acclaimed ?2012 debut album The Time Traveller  ('one of the best debuts in Australian history' – LifeMusicMedia), Sydney progressive/alternative rockers Breaking Orbit are ready to release the first track? from their forthcoming sophomore album?, Become The Light and hit the road with post-rockers sleepmakeswaves this July/August.
Become The Light is a stratospheric foray into the versatility of sound. Breaking Orbit's hallmark manipulation of melody guides you through a sonic journey that seamlessly flows from quiet and contemplative to a controlled and intricate brutality. Esoteric and bearing a preoccupation with the human condition, Become The Light emulates? the sheer depth and complexity? of Breaking Orbit's songwriting power.
Breaking Orbit will also join forces with Sydney post-rockers sleepmakeswaves for a national tour throughout July/August, unifying two of Sydney's most energetic and captivating live acts for one electrifying tour.
BREAKING ORBIT
with sleepmakeswaves
Tickets from https://www.musicglue.com/breaking-orbit/tickets/
Saturday 5 July – Cambridge Hotel, Newcastle NSW
Sunday 6 July – Rad Bar, Wollongong NSW
Sunday 13 July – Rad Bar, Wollongong NSW
Friday 18 July – The Northern Hotel, Byron Bay NSW
Saturday 19 July – The Zoo, Brisbane QLD
Friday 1 August – The Corner Hotel, Melbourne VIC
Saturday 2 August – ANU Bar, Canberra ACT
Friday 8 August – Amplifier Bar, Perth WA
Saturday 9 August – Jive, Adelaide SA
Saturday 16 August – Manning Bar, Sydney NSW
www.facebook.com/breakingorbit
https://twitter.com/breaking_orbit