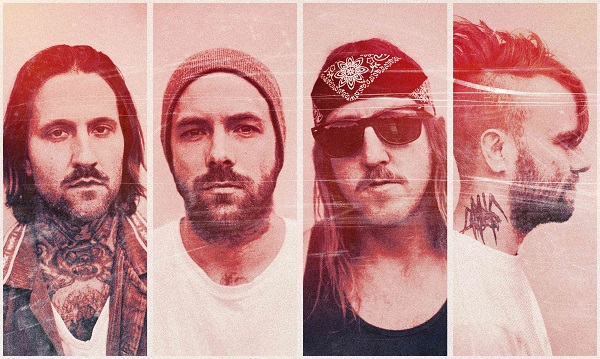 "…we're an honest rock band and we're fans of music, we're fans first, so you see a band who really knows how to play live songs and very energetic, and I think that the music has a real kind of intimate sense of personal freedom and it's really exciting and something to stand behind. There's a lot of different vibes throughout the music and it's a really exciting experience."
From Tour Release: Turning personal adversity into art is THE USED trademark. With 6 successful albums under their belt, they rein as true leaders in their genre including gold-certified release Self-Titled, platinum certified Maybe Memories and latest offering, Imaginary Enemy, their most spirited and vitally essential work of their career.
On a lovely day in his new home of Sydney we chatted to Bert of The Used about the bands upcoming Australian tour with Taking Back Sunday, as well as an insight into the band's new album and more…
The Used are heading back to Australia this August with Taking Back Sunday with whom you've been out with in the States, what can fans expect from a show from The Used circa 2014?
I think if you're a fan of The Used, everything you've grown to love over the years, we're an honest rock band and we're fans of music, we're fans first, so you see a band who really knows how to play live songs and very energetic, and I think that the music has a real kind of intimate sense of personal freedom and it's really exciting and something to stand behind. There's a lot of different vibes throughout the music and it's a really exciting experience.
Now I saw that energy and excitement first hand when you were here in Australia for Warped tour in December. How was that run of shows?
It was good, I mean playing outside and so many excited people and we have so many hardcore fans it's humbling, literally blew my mind just touring around the world this last year, so couldn't be more excited about playing in Australia again, my home, on my home continent…
You also had our Aussie's Tonight Alive on the run in the USA, did you get a chance to catch them play at all?
Yeah every night… they're great, Jenna she has a long career ahead of her, she can truly sing and very fortunate to be able to tour with her, she's just such an amazing person, she's really to there trying to learn all she can, and we had many discussions, and I read maybe too much on tour so we really exchanged a lot of cool ideas and I got her some George Orwell to read and it was just so much fun hanging with those guys. They're really, really down to Earth, just cool people.
Now, I've seen Taking Back Sunday and The Used perform live before, the energy and intensity overload I'm picturing for this show will be amazing, how did it come about that you paired up to tour together?
We've been friends for a long time and we toured together maybe eleven or twelve years ago with Blood Brothers, Taking Back Sunday and us, so we've been friends for a long time and we've done crazy amounts of shows together since then. We also knew we both had a record coming out around the same time, they just got together with Hopeless and they do the distribution for our stuff as well, so yeah, couldn't have worked out better. We started around the same time and a lot of our fans are similar, but it's really like an experience to come out and see two bands that have been doing it for twelve plus years, it's really awesome.
Not only that, but two bands that give their all on stage, Adam from Taking Back Sunday is a great front man as well, it will be insane…
Yeah, and it's all about the show, you know nobody's up there expecting to be treated differently because of what we do, it's about the music and Taking Back Sunday just like The Used, we're fans of music first and it shows. Nobody believes in the ideas of rock stars.
So besides living here now, do you have a favourite memory of Australia and a previous tour here?
Yeah, we played a Crusty Demons rally up in Ipswich, it was fantastic, we were like an hour late and we were driving along the side of the freeway and everyone that was waiting to go to the festival was swearing and cussing at us. The next day we rented a yacht and went out all day and just magical moments, that's when I met my wife, and those kind of moments just stick with you for the rest of your life, just incredible times.
Your newest album 'Imaginary Enemy' is out now, so for those that haven't heard it, how would you best describe the album?
It's kind of a different approach for The Used as far as lyrical content, I think this record is taking a look outside at the bigger picture at what's going on a little bit more than we have in the past, but it's still a Used record with lots of really heavy songs, some really light songs a lot in between, lots a different colours and really a lot of energy and a lot to say about personal freedom. There are a lot of really heavy philosophical questions on this record about deeper issues about what we're doing here and what our time is really about.
So, what does the title represent to you?
Well it represents many things, but indoctrination comes right off the top of my head, I think that we all kind of live in the world when we're all raised to who we were meant to be, I think we're 65 – 70% environment meets DNA and what's been given to us, so we're kind of really thinking where opinions come from and what makes something right right, and what makes something wrong wrong. Bigger ideas on who makes the decisions on where people go in the world and why people go there.
I have to single out 'Cry' as probably the catchiest song I've heard all year, is there a story behind that one?
It was one of the later songs we recorded on the record and before we even started recording we were listening to a lot of 90's, you know, Pearl Jam, a lot of you could really, you could almost say funky stuff, there's a real funk base to a lot of cool grunge that we really wanted to embrace. So we really wanted to throw it to the wall a little bit and maybe land somewhere between funk and disco, but I think what's hidden in our subconscious comes out naturally without us knowing, we end up stealing people ideas all the time, this is a really catchy idea that came out and it's stolen for sure but not on purpose *laughs*…  There's a Beatles song *sings* 'I want you so bad… it's driving me…' and that was an accidental, it's not the exact same melody, but it's catchy enough to be like wow, I really, really like that… *laughs*
The cover art could be considered somewhat controversial, what was the idea behind that image?
Well that goes back to sort of what I was talking about with indoctrination, a yes is always a no to someone else, you can't tell me that a person that grew up idolizing Mohammad Baqir al-Sadr is going to say that that guy is a terrorist, you get the opposite. So we're really looking at what people believe in and why they believe it and these faces that you see are prominent faces on the way the world was shaped and especially in the last 10, 15, 20 years, we're just kind of asking questions, we want more and I think true revolution is about information, and bombs and guns *laughs* kidding…
When creating the album, was there a conscious decision to do anything differently compared to previous albums?
Well it just seems like making our EP, we self-produced an EP called 'The Ocean of The Sky' and had so much fun delving into the semiotics of imagery and really hiding some deep subliminal messages in the subconscious of the songs, so whether what you want to hear what I want to say you're hearing it subconsciously and taking that a little bit further and making it about the simple things that we loved from music, like Rage Against The Machine "Fuck you I won't do what you tell me…" is almost like a nursery rhyme, but that's how I almost learned to stand up and question authority, and it's important, authority demands a representative, authority demands proof of burden and it lays on authority.
Do you feel that there aren't many other artists out there doing that at the moment?
I feel like there's a resurgence coming back… I think 'Occupy' as a kind of small ripple of a movement raised big awareness and I think people understand that. I mean look around the world at the twenty revolutions since 2010 and people do have the power, so I think there's an ebb and a flow to everything and I think we're more on the flow.
The band has come a long way from its beginnings, what do you see as being the biggest evolution that's taken place over your time in the band?
I think coming into what our role is as far as being a band, for us our definition of success was just simply touring and so seeing the effect we can have on people or seeing how a song makes someone smile or a thought into action speaks very loudly in my mind, so what we can kind of focus on is inspiring people to smile and maybe beyond that, maybe looking around at what's going on in the world and understanding that there is hope, always.
I've never heard a bad word about you guys in relation to your fans, that must be something you really pride yourself on…
Well it's not cliché for us that without them there is no Used rock shows, so we owe them then world for literally making my dreams come true, this has been my dream since I was a little kid and it's still my favourite thing to do on the planet and the fact that we still have so much love and respect and support is like I said, it's humbling, truly.
So let's predict the remainder of the year, so finish this sentence for me, by the end of 2014, The Used will…
Have… *pauses* played the majority of the places we hope to play in Russia. We're heading there in three weeks and we're playing in Ekaterinburg and Moscow, Saint Petersburg again, so really looking forward to that, hopefully take it easy on our political message, because it's about the music like I said…
Well don't get yourselves into trouble…
You know it man, I guess you've gotta walk on eggshells wherever you go, or, then again you don't and you can make a statement, we'll see what happens…
Essential information
From: Orem, UTAH, USA
Band members:  Bert McCracken, Jepha Howard, Quinn Allman, Dan Whitesides
Latest Release: Imaginary Enemy (Out Now – Hopeless Records)
Website:  http://www.theused.net
Catch The Used on tour in Australia with Taking Back Sunday at the following dates:
TICKETS ON SALE FRIDAY 16 MAY, 9AM LOCAL TIME
THURSDAY 21 AUGUST – ADELAIDE, HQ – Licensed All Ages
www.oztix.com.au  | www.venuetix.com.au
FRIDAY 22 AUGUST – BRISBANE, EATONS HILL HOTEL – Licensed All Ages
www.oztix.com.au
SATURDAY 23 AUGUST – SYDNEY, UNSW ROUNDHOUSE – Licensed All Ages
www.ticketek.com.au
MONDAY 25 AUGUST – MELBOURNE, 170 RUSSELL – 18+
www.oztix.com.au  | www.170russell.com
Presented by Soundwave Touring