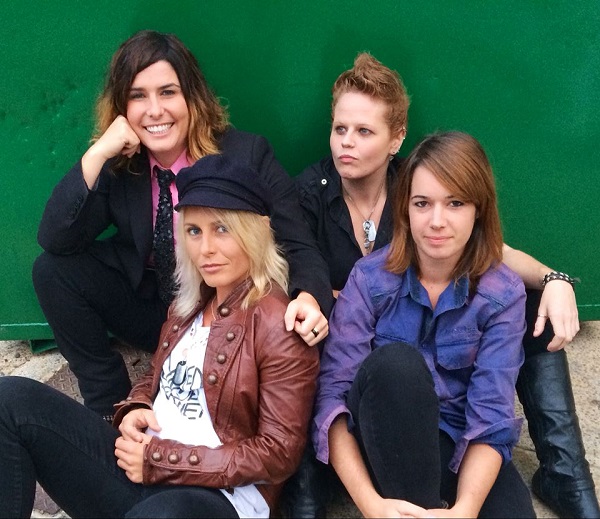 "When we jam and we're on we are a powerhouse that break mirrors, disturb neighbours, breaks up relationships, brings them back together again and then starts a giant round of applause that echoes through the streets of the inner west."
From band bio: Based in Sydney Australia bandintexas consists of four Ladies, three instruments, two mircophones, one megaphone and one of the most captivating live shows you'll ever see. In a single Texan serving you will be taken on a manic musical journey, from the heights of melodic pop rock to the depths of dirty indie punk. Bandintexas's high energy live performances make them a band not to be missed and one that you will surely not forget.
It's always great when a band contacts us, we dig them and then they give us great answers to their questions that show us how much their band means to them, their passion and just shows us why they are then worthy of being one of our best things you've never heard…
Let's start with the basics; for those that aren't aware of you, can you please give us the abridged version of the Bandintexas story, how you all came to be and the decision on the name of the band?
We've been together since 2010. We've always had an all-girl line up. We started as a fun little project jamming in warehouses in Sydney's inner west. Four years later we've played more shows than we can count, we've built a name for ourselves and a loyal following through energetic engaging live shows. We've recently released our Debut EP Bandintexas The ABCD-EP. The first two singles are currently available for free download on www.triplejunearthed.com with film clips out now on YouTube.
Firstly we should say it's really hard to get four women to agree on anything but shortly after agreeing on our first name we started receiving a barrage of threatening emails from a band in Texas of the same name. They insisted we change our name and threatened us with baseless legal action, however as a dream of ours would be to one day play south-by-south west we complied but once again couldn't agree on a name.
After much argument and no agreement we decided we should probably call ourselves "shitty little band in Texas". Then for some stupid reason we decided to join all three words together to form "bandintexas" so no one would ever be able to find us on the Internet and that we could remain truly underground. Nineties style. We are not a band in Texas nor are we banned in Texas but perhaps we should have been.
Can you now please introduce each band member including yourself, and give us a rock 'n' roll fact or myth about each of you?
Singer Kelly Jeanious actually doesn't exist she is hologram like Tupac at Coachella. Having a hologram lead singer prevents the traditional ego concerns that break up bands. Now on to the real people,
Guitarist Sophie Bollen was born with a 6th finger that allows her to play notes no other guitarist could ever conquer. It also allows her to do other special things not mentioned here.
Have you ever seen Batman and our Drummer Lauren Allison Aka LA Drum Machine in a room together? There is a reason for that. She actually is Batman. Please do not print this.
Jackie Latimore our bassist speaks 11 languages including trumpet and once got called a thief by the guitarist from The Donnas after she stole a poster of theirs in front of them and then got them to sign it.
You have just released your debut EP, so instead of giving us a standard review, let's say if you had to give us your best door to door sales pitch to try and convince someone to listen to it before they slam the door in your face, what do you say to them?
Your Cat is stuck up that tree and this music is guaranteed to get it to come down! It's also known to bring families together by promoting musical diversity in the home. Pop sounds for your daughters, punk rock for your sons, good old rock n roll for mum and dads hidden musical past. This EP brings families together at dinner tables across the nation. Join the movement that will make you tap your feet at teatime. Now would you like us to get your cat down, its only $13.52 on iTunes?
I have to ask, it's called the 'ABCD-EP' which is a great name, what was the idea behind that?
Kelly likes to think she's funny. It's a play on words. We all have a sincere appreciation for the alphabet. Despite our grammatically incorrect name and two grammatically incorrect lead singles. White Mouses & Disco Blood Bath.
In terms of your song writing, what do you consider to be the most important ingredients that make up one of your songs?
Let's say energy & passion. When we jam and we're on we are a powerhouse that break mirrors, disturb neighbours, breaks up relationships, brings them back together again and then starts a giant round of applause that echoes through the streets of the inner west.
As band since 2010, how hard was it to pick the songs you've created since then to what ended up on the EP?
To be honest some of the songs were recorded almost that long ago. We've always just been a bunch of mates making music and focused more on the high we get from performing than trying to do things properly and record a killer album to chase that magical dream. I guess the songs we recorded were the ones we enjoyed the most and the ones where we saw our audience singing and dancing the most.
Lyrically and musically, currently what or who inspires/influences your music the most?
We are each so different in our musical flavours so it's hard to align on this and be certain what drives our creations. Kelly is a little bit obsessed with Kathleen Hanna's latest get up "The Julie Ruin" her passion, her politics, her poetry and her wit. Lauren's iPhone screen saver is a picture of Katy Perry. Jackie has made sure that the entire band can sing Adalita's latest solo album word for word and Sophie always has some obscure album she wants everyone to listen to because she is subconsciously leading us to some place of magic.
On the other side of that, what bands did you grow up listening to and how did they help create the style of music that can now be heard throughout your music?
Jackie and Kelly are 90's girl bands all the way. Often in moments of doubt we ask ourselves this question "what would L7 do?" It usually results in rebellion or the whole band dying our hair blonde and regretting it once sober. Kelly Has the Lyrics to Patti Smiths "Pissing In A River" Tattooed down her arms, which must mean something and I think it's clear that No Doubt has influenced some of the beautiful guitar riffs Sophie comes up with. Lauren quotes some of the greatest bands of all time like Zeppelin, Queen and Nirvana. I think we can all align on those.
In terms of touring, can we expect some shows in support of the EP and how would you describe a typical Bandintexas live show?
Yes you can! We're just in the process of finalising all of the dates. Our first show is coming up on Sat June 7th at the Espy in Melbourne, with Sydney, Newcastle and Brisbane dates soon to be announced. Our heart is in live performance; we are defined by our live show. Each show is different. In a Bandintexas set you'll find a combination of eclectic tunes that cross almost each imaginable genre in some way or another, we like to involve the Audience and Kelly's mid song rants rival some of the shows we just caught at the Sydney comedy festival.
We are also known for throwing wild underground warehouse parties, our most recent to launch the EP was called "The Bandintexas Chainsaw Massacre". It was at a secret location and we sold $10 disposable Bandintexas T-Shirts to people as they arrived. We then pumped them with super soakers full of fake blood as they entered a venue full of mannequin parts with the original film projected behind the bands. We don't do this stuff all of the time but we find a good theme gets the crowd's going wild.
For a bit of fun, say you get the chance to open for any artist or band in the world, who would they be and why?
Veruca Salt cause they are just about to Tour and we really want to support them.
Dear Veruca Salt, Please read this article and consider our application. We will play for free and bring party pies. If the Seether really does exist we will also help you fight it. Love Bandintexas.
If you could cover one song in your live set that no one would ever expect, what would it be and why?
Savage Garden – 'I Want You'. Just so we could whisper "Chica-cherry-Cola". Try it. It feels really good. Pretty sure those three words are the reason they made millions of dollars.
What kind of movie do you think your music would be best suited to and why?
Probably a documentary about a dog with multiple personality disorder trying to make its way through Bangladesh.
Lastly, with 2014 well underway, here's a chance to gaze into your crystal ball and see the future. So, by the end of 2014, Bandintexas will:
1. Be getting played all over the radio. So much so we hate ourselves.
2. Have supported Veruca Salt of course (Primarily due to this article) as well as a few other inspirational acts.
3. Recorded a full album of Rock and Roll Hits. So we can talk to you again!
Essential Information
From: Sydney, Australia
Sounds like: indie pop rock
Band members: Kelly Jeanious – Vocals, Sophie Bollen – Guitar/Vocals, Jackie Latimore – Bass, Lauren Allison – Drums
Latest Release: The ABCD-EP (out now)
Websites:
Youtube – www.youtube.com/bandintexas
Facebook – www.facebook.com/bandintexas
Twitter – www.twitter.com/bandintexas
Instagram – www.instragram.com/bandintexas
Free downloads of both White Mouses and Disco Blood Bath at www.triplejunearthed.com/bandintexas