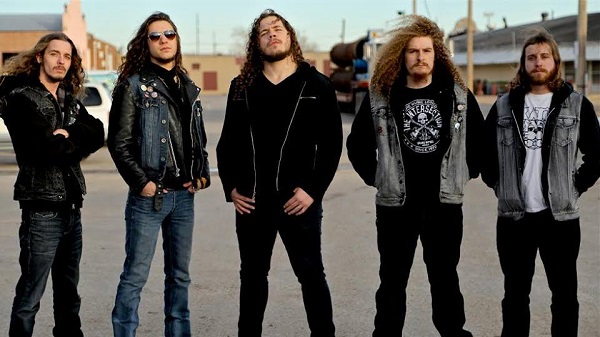 "There's a lot of shitty music out there and "New Southern" has a lot of work behind it. We have spent our whole career up until this point writing it and getting it captured on CD. If you're a fan of blues/rock/metal you should check us out because it's a perfect blend. "
From Bio: What the American hard rock and metal scene needs right now is an infusion of youth and some new blood coursing through its veins. Enter ANTI-MORTEM and their upcoming debut album, New Southern. An Oklahoma quintet whose combined average age is just 21-years-old, ANTI-MORTEM were raised on southern rock & heavy metal and driven by a hunger to make an impact. The band dole out bottom-heavy and groove-laden heavy rock anthems, and as with all the metal greats they've learned from, a modern sense of melody infuses every track. Also present and accounted for is southern swagger, courtesy of the band's roots and upbringing.
We had Zain from Anti-Mortem answer some questions for us about the band, their new album 'New Southern' and more! This album blew us away and Anti-Mortem are most definitely one of the Best Things You've Never Heard!!
Let's start with the basics; for those that aren't aware of you, can you please give us the abridged version of the Anti-Mortem story, how you all came to be and the decision on the name of the band?
The name of the band came from us being young and hearing "Antemortem" and we thought it was cool but we always spelled it Anti-Mortem. We all grew up together in the small town of Chickasha, OK.  Corey and I met in 5th grade and have been friends since. Nevada and Rado grew up in Rush Springs which is close, within 20 minutes from Chickasha. But it all started with us being young and loving heavy metal.
Can you now please introduce each band member including yourself, and give us a rock 'n' roll fact or myth about each of you?
I'm Zain Smith, I play guitar and I love metal. I play drums as well. Lamb of God and Pantera are my favorite bands of all time.
Corey Henderson – he plays bass guitar and he is the "dad" of the band. He has a daughter and he does really well with her and we are all supportive of the situation but he is really funny and awesome to have around.
Nevada Romo – he plays guitar alongside me he helps me write a lot of the songs for Anti-Mortem. He brings a bluesy sound to my metal tone which makes us who we are. He loves vinyls and old school hard rock.
Rado Romo is the front man and he is the young guy in the band (to us anyway). He's a powerhouse of a vocalist and all around smart dude. He writes the majority of our lyrics but me and him write heavy stuff when we work together. He is a perfect blend between the old school thing his brother Nevada does and then my style of heavy metal and grit.
Levi Dickerson – he is the drummer and a total beast. He has great attack and can play to a metronome really well. He is the oldest and most chill by far but he pulls his weight and then some. He is really happy to be touring and getting to play and that's so important.
You have just released your debut album 'New Southern', so instead of giving us a standard review, let's say if you had to give us your best door to door sales pitch to try and convince someone to listen to it before they slam the door in your face, what do you say to them?
I would say that we have been working our asses off to create something to bring the music world back to reality. There's a lot of shitty music out there and "New Southern" has a lot of work behind it. We have spent our whole career up until this point writing it and getting it captured on CD. If you're a fan of blues/rock/metal you should check us out because it's a perfect blend.  
In terms of your song writing, what do you consider to be the most important ingredients that make up one of your songs?
Well you're asking me so I would say guitar solos haha! What's a rock or metal masterpiece without a killer lead that melts faces!
I wanted to ask specifically about '100% Pure American Rage' – can you talk us through the story behind this monster?
Well the music came from working with Bob Marlette. He had been thinking about us and wrote the intro riff. At that point we took it and ran and made it what it is today with the help of Provo from Everybody Panic. We all set out to write an angry song that can make it to radio! On the lyric front, Rado was walking in Walmart one random day and he noticed everything around him was made in China or India, etc. The only American made thing in the store was himself so it pissed him off and inspired him for the theme of Rage.
You worked with Bob Marlette at the helm on the album, why was he the right choice for you and what did he bring to the band that allowed 'New Southern' to sound the way it does?
Our label really dug his hard rock productions and thought he was the guy to use and we trusted what they wanted and it turned out pretty badass. There are pros and cons to everything and we learned what to do and also what to stay away from – the record turned out really good.
Lyrically and musically, currently what or who inspires/influences your music the most?
For me it's a lot of bands off of Nuclear Blast's label like Death Angel, Testament, and Machine Head. I also like Diamond Plate a lot – they are a young thrash metal band from Chicago. Also we have some Oklahoma bands like Anialas and Everybody Panic that rock! And of course the all time favorites are Lamb of God and Pantera.
On the other side of that, what bands did you grow up listening to and how did they help create the style of music that can now be heard throughout your music?
I just remember it started for me when I got a guitar and I started learning AC/DC and Metallica riffs. I fell in love with the sound of it.
In terms of touring, do you have any gigs on the horizon, and if so, where can people come and catch you play?
We are about to tour with Kyng. After that we have some Lacuna Coil dates. Also we are very honored to be playing Download Festival in June and then come home to tour with Machine-fucking-Head in July! Come see us.
For a bit of fun, say you get the chance to open for any artist or band in the world, who would they be and why?
Lamb of God. For sure, because they inspired me to become the musician I am today. I would also love to tour with Hellyeah. I would kill to meet Vinnie Paul and Chad Grey!
If you could cover one song in your live set that no one would ever expect, what would it be and why?
We do a cover of "A Little Too Loose." We cover it because it is about Oklahoma and no one would ever guess that. They also don't know that it is a Mr. Big song off Lean Into It.
What kind of movie do you think your music would be best suited to and why?
Something that kicks ass. Our music fits anything southern or action packed, really. We're shooting to be in the last season of Sons Of Anarchy.
Lastly, with 2014 well underway, here's a chance to gaze into your crystal ball and see the future.  So, by the end of 2014, Anti-Mortem will:
Grow twice the size or more because we plan to kick people's asses at every show. You give us energy – we give it back and some.
Thanks for your time today and May the Rock be with You!
Thanks for having me! PS Pick up your copy of New Southern.
 WIN AN ANTI-MORTEM PRIZE PACK
Want to win a copy of 'New Southern' as well as a signed poster from the band? Well, thanks to Total Assault we have one prize bundle and you can win it here by emailing us to mtrbwy@maytherockbewithyou.com with your name and address and the subject 'Anti-Mortem giveaway' and we'll pick a winner at random! Enter now! Entries close May 16th.
Essential Information
From: Chickasha, Oklahoma, USA
Sounds like: Metal / Hard Rock
Band members: Larado Romo – Vocals, Nevada Romo – Guitar, Corey Henderson – Bass, Zain Smith – Guitar, Levi Dickerson- Drums
Latest Release: New Southern (out now – Nuclear Blast)
Website: http://anti-mortem.com/