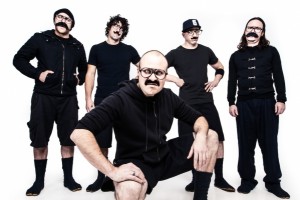 Would you like to see Twelve Foot Ninja, for free? Well, thanks to our amazing friends at Deathproof PR we have a double passes to give away for each of the below shows for the remaining dates of their Trollburger tour.  So all you need to do is shoot us an email with your name, phone number and which show you want to attend and we'll let you know if you are selected as one of the lucky winners.
It's as simple as sending your details to mtrbwy@maytherockbewithyou.com with the subject 'Twelve Foot Ninja giveaway' and we'll go from there.

Entries open: Wednesday April 2nd
Entries close: 24 hours before each show…

Tickets are still available to the below shows, and if you don't manage to win, these are shows that you shouldn't miss… grab them at www.twelvefootninja.com
Tour press release:
Melbourne genre-bending masters Twelve Foot Ninja continue to delight their legions of fans this month, adding TWO new shows to their March/April 'Troll Burger' tour. A famously spot-on, must-see live act, Twelve Foot Ninja have coaxed French electro-metal prodigies The Algorithm over to join them on all shows. All this as the band's record-smashing crowd-funded video for 'Ain't That A Bitch' continues to promote anti-cyber bullying in the most ridiculous, gory, sexy and hilarious manner imaginable. Witness this NSFW masterpiece for yourself HERE as it continues to take over the interwebs.
Catch Twelve Foot Ninja live before they de-camp overseas to resume taking over the world!
TWELVE FOOT NINJA – THE 'TROLL BURGER' TOUR – With Special Guests The Algorithm
Friday April 4 – 170 Russell, Melbourne VIC
Tix via: www.twelvefootninja.com / www.170russell.com / Corner Box Office
Friday April 5 – Pier Hotel, Frankston VIC 
Tix via: www.twelvefootninja.com / www.ticketmaster.com.au
Friday April 11 – The Gov, Adelaide SA (ALL AGES)
Tix via: www.twelvefootninja.com / www.oztix.com.au
Saturday April 19 – Rosemount Hotel, Perth WA Tixvia: www.twelvefootninja.com / www.oztix.com.au / www.heatseeker.com.au
Sunday April 20 – Players Bar, Mandurah Perth WA
Tix via: www.twelvefootninja.com / www.oztix.com.au / www.heatseeker.com.au