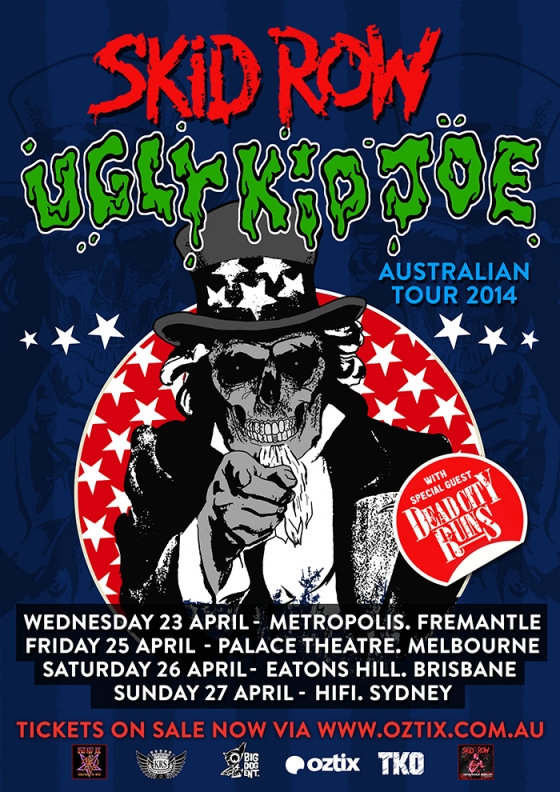 Would you like to see Skid Row and Ugly Kid Joe at one of their shows in Australia? Well, thanks to our amazing friends at Riothouse PR we have a double passes (tickets to the show only) to give away for each of the below shows for their upcoming Australian tour.  So all you need to do is shoot us an email with your name, phone number, show you wish to attend and the answer to the following two questions…
– Who is the current singer for Skid Row?
– Who originally wrote and performed 'Cats In The Cradle'? (Hint, you can find this answer in our interview with Whit Crane of Ugly Kid Joe HERE)
Get them both right and you just may be one of the lucky winners.
It's as simple as sending the answer and your details to mtrbwy@maytherockbewithyou.com with the subject 'Skid Row Ugly Kid Joe giveaway' and we'll go from there.


Entries open: Monday April 14th
Entries close: 48 hours before each show…

Tickets are still available to the below shows, and if you don't manage to win, these are shows that you shouldn't miss… grab them at http://www.oztix.com.au/
KillRockStar Entertainment Presents: Skid Row & Ugly Kid Joe – Australia 2014
Wednesday 23 April Metropolis. Fremantle
With special guests Dead City Ruins
Friday 25 April Palace Theatre. Melbourne.
With special guests Dead City Ruins
Saturday 26 April  Eatons Hill. Brisbane
With special guests Dead City Ruins
Sunday 27 April HiFi. Sydney
With special guests Dead City Ruins