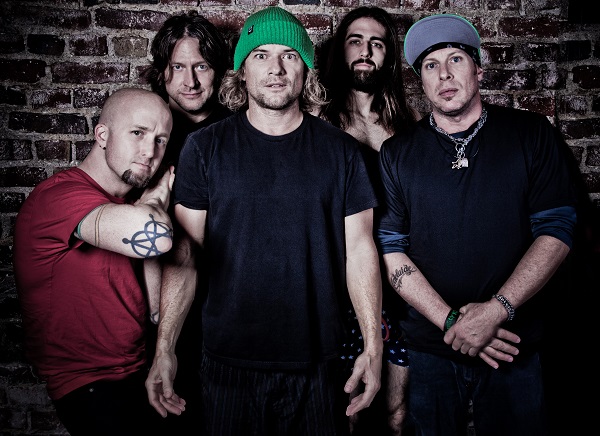 "…we survived the first tier of it in our early twenties when we blew the fuck up around that world and that was a lot to survive and to negotiate from a lot of different angles, so now for me personally I know what to celebrate and I know what to let go of…"
From tour release: UGLY KID JOE's EP Stairway To Hell, their first new music since 1996, will be released in Australia to coincide with the tour. The album features six brand new songs along with three acoustic versions of songs from their past. A special added bonus is a DVD of the band's triumphant performance at England's Download Festival from Summer 2012. Tracks like "Everything About You", "Cats In The Cradle", "Neighbor" and "Milkman's Son" continue to receive airplay around the world, while new singles "Devil's Paradise" and "I'm Alright" show where the band are headed.
After a long time away from the spotlight, we chatted to Whitfield Crane about the band getting back together, their upcoming tour of Australia as well as what the future holds for America's Least Wanted…
I have to start off by saying there was a very big break between releases for the band, so why was it the right time to get back together and release music after so long apart?
I don't know, there's probably a myriad of reasons for that, we all went our separate ways and then at the thirteenth hour on a twelve hour clock *laughs*, we put it back together and it felt good to do it and here we are.
You'd kept busy during the lengthy 'hiatus' but did you think that deep down Ugly Kid Joe would play together again or was there a time when you personally thought Ugly Kid Joe would never see the light of day again??
Yeah I thought it was over after about ten years I was like I guess well it's over and that was that… I was always ready, I love singing so I thought maybe that would happen but it never did, and then for some reason at this late hour fifteen years later it did, and we made 'Stairway To Hell' and it sounds fuckin' awesome. Then we went and toured and have been touring for the last seventeen months around the world and it's been received amazingly *laughs* and you never know if it's going to work… you hope it does, and it's working.
Your newest works, the 'Stairway To Hell' EP is raw, rockin' and has influences written all over it even via the title, when creating it was there a conscious decision on what you wanted to include or did the whole thing just fall into place exactly how you wanted it to?
Well pretty much an organic thing, we have a pretty great talent pool with all the different people that are in or around the band, we all love each other. You go in and we had maybe twelve songs to go through, and some songs make it and some songs don't and the amount of songs that made it were six songs, and of course we threw in the acoustic songs later, but yeah, you can hear our influences for sure, Priest to AC/DC to Black Sabbath, there it is…
After so long away from the band, how did you approach the song writing and what is your inspiration these days?
Oh you know, what do you do as a human being? You mirror everything from language to morality really, so for me I'm in love with the bands I'm in love with and have been from a teen, you know I'm in love with certain bands so what you really do is you mirror that, you're inspired by that and you channel that really, and at least what I do is I put myself into it as well, so it all probably starts with Chuck Berry and Little Richard and goes through a lot of metamorphosis and it ends up with AC/DC or The Stones or whatever. By the time it gets to us, one of the subtleties of why I believe Stairway to Hell is so fuckin' great is that it was a cathartic process, we liked being with each other, we never hated each other at the break up, but I'll tell you this, when you take out the thread that keeps you together in whatever marriage and of course with Ugly Kid Joe it's music, and to put us back together there was such a familiarity and it was beautiful, it was beautiful to be in those moments, so it sounds like that. So the songs are great and I've worked on myself over the years to become an evolved singer and I think I have, and then you have that part of the equation that's almost indescribable, when there's something beyond the obvious that wants it all to work, and I don't know what you'd call that but there's some real magic going on in the process for sure.
What was the idea behind the rerecording of 'Cats In The Cradle' for this new EP?
Hopefully people would remember us, that was my idea… but hey… you sit there and we're our own managers, we're our own producers, the record industry as we knew it is gone and I think that's ok. So when we're sitting there first person, I think it's ok for us to have an idea and apply that idea, so we originally released the six songs through a digital platform including Tune Core and some others around the world and we found out to our surprise that people actually wanted hard copy product or whatever you want to call it, CD's… and we thought that's cool, so obviously you make to that more interested and put some acoustic songs on there, and I remember that we always used to do a beautiful version of 'Cats In The Cradle' that Harry Chapin song acoustically, I think you can even look at a version of that from back in the day on 'Hey Hey It's Saturday!' if my memory banks serve me right… So we did that and hopefully, it's been fifteen years so maybe someone will say 'hey I remember those guys' and then that can be a beautiful Trojan horse to get you in the door to listen to Stairway To Hell.
Well we remember you, because after twenty years you're heading back to Australia with Skid Row for some shows, which in my opinion this is a great pairing, what can fans have in store for an Ugly Kid Joe set circa 2014?
Well we're on fuckin fire dude… we just did a co-headline tour with Skid Row from October 22nd to November 26th in the UK and Europe, that was 29 shows in 36 days and we're on fuckin' point, I'm healthier than I've ever been, I'm sitting here talking to you on Skype in Costa Rica right now getting in and out of the water every day and sometimes you want it, sometimes you want to be there and want to perform and sometimes you don't and right now we're so excited to be performing again in this capacity *laughs* and a kick ass rock and roll show is what you can expect.
So what has the reaction been to seeing Ugly Kid Joe back out on the road?
People are stoked, and the thing is, if you asked me before and I'd let go of this and I had no idea the micro or macro effect that it had on this band, Ugly Kid Joe, I don't know, I'm just some guy right *laughs* and we went out and played these shows and packed these rooms and we talked to people and we meet the fans and you realise that you think of your childhood and think of Sabbath and Priest and bong hits and dropping acid and the whole thing, and for some reason… I don't think we're as cool as those bands but for some people that come to see our shows, we're the musical soundtrack for cool moments in their lives, so it's pretty fuckin cool for me. You hear first person stories of a positive effect you may have had on somebody's life and that's really cool, so it's been a real good ride, we survived the first tier of it in our early twenties when we blew the fuck up around that world and that was a lot to survive and to negotiate from a lot of different angles, so now for me personally I know what to celebrate and I know what to let go of, so we concentrate on making kick ass music and giving a kick ass show, and connecting with people.
You have toured Australia before, some twenty years ago next year; do you have a memory of touring Australia you can share with us?
Australia we were still drunk, we were wasted for about two and half years *laughs* the thing about Ugly Kid Joe, is when we broke… we broke, we broke around the world and we toured for two and a half years and I remember going to Australia and that was our biggest market, and I remember playing 'Hey Hey It's Saturday!' and we were staying at the Sebel hotel, I remember drinking a lot but that leads to a bunch of stuff I don't remember… but I have a really big place in my heart for Australia because it's like California in the seventies, it's my kind of people. Yes, Australia was fun…
I always felt when 'Everything About You' was released, and even though it was a hit and still a great song to this day, that it was hard for the band to be taken seriously, like it was more of a novelty song…
Well it is a novelty song… *laughs*
But then it wasn't until 'Cats In The Cradle' was released as a single that people really stood up and took notice. Was that something you felt you had to 'battle' back in 1992 / 1993 when grunge had really come in full swing and taken over?
100% you know, without a doubt and that song is a novelty song and Cats In The Cradle is a super deep song, if you know the depth of the band and you know all the songs on America's Least Wanted and in particularly if you know all the songs on Menace To Sobriety and then you can make an assessment if what the band is all about, but if you only know two songs then you only know two songs… but yeah, grunge came and killed everything, Nirvana came along and smacked everyone in the face, and that was probably needed, we were probably the last band… well the thing about it is, we never took ourselves too seriously and we still don't, we were cynical of the whole thing anyway, we never put girls in our videos, we never did that, we mocked all that. We were timed in an interesting way and I think it's important for us just to be grateful for having the experience and todays a new day.
Looking back though at when everything did take off for the band, was there one specific moment when you felt that you'd 'made it'?
Yes… well I don't feel like I ever made it, I just don't feel that, there's just different moments when I was so blown away, like imagine me in my Mom's house in my own room, and my room was called the 'room of doom' and it was covered in pot posters and Judas Priest posters and Zeppelin posters and Jimi Hendrix posters  and AC/DC posters and on and on it goes and I would sit there and play air guitar on my tennis racquet and I would break a sweat, my mom thought I was insane and I was and I still am insane, and anyway, there's a whole different bunch of experiences where all of a sudden we really are on tour with Van Halen or we really are on tour with Ozzy, or I'm singing on stage with Ozzy or Eddie Van Halen comes in our dressing room and is playing the beginning of 'Mean Street' all these weird experiences where I went from being a kid in my room of doom just committing to rock and roll to actually being on the stage and being inside the posters I was staring at my whole youth. So I don't know if that equates to making but surely it's just something really neat from just dreaming it to being inside the dream. What is making it? We sold a couple of million records, and we toured around the world, but by no means were we ever rock stars, we were never that. We're working musicians. *laughs*
And opening for Bon Jovi at Wembley in 1995 too must've been a big moment…
Oh yeah that was insane, '95 tour Bon Jovi, Van Halen, Ugly Kid Joe it was AWESOME, 80,000 seats a day, packed out, that was at our peak and we were on fire, that was the 'Menace To Sobriety' tour and imagine that, imagine that they give you a wireless mic and at the moment you're one of three singers singing to 80,000 people, and that's a form of making it I guess *laughs* of course you're the loudest in the room, you can say whatever. Let me tell you this man, I love to perform, you do an interview with someone much like yourself, and you make music and you do a lot of things and I'm grateful to do all of that, the reason I do all of it though is to get to the stage, I really enjoy performing live, and that's the truth. So that to me, if you're actually touring, and there's been a couple of years where I wasn't afforded those opportunities and I thought literally it was all over and that's sad, and to have a reprise or whatever you want to call it, were happy to perform literally around the world, so life is good for Ugly Kid Joe.
From this, do you think we can expect more down the road from Ugly Kid Joe and if so, what's next?
Hmm… we're gonna come your way in April, I'm gonna train in Costa Rica until then, and then I've got some neat stuff on the back burner I can't share with you right now, but some neat stuff that's independent of Ugly Kid Joe, and I'm sure we'll go in in the next couple of months, but it's not good to shove anything or run away from anything, but in my mind everyone's as pleased as they could be with how it's been and once again we can do all this in house and we can produce it ourselves and we can work together as a big giant musical team, So I personally *laughs* want to go and make more music, so hopefully that'll manifest in a little while in a couple of months.
Lastly, 2014 is underway, so let's predict the future. Finish this sentence, in 2014 Ugly Kid Joe will…
Play a show with Black Sabbath… just throwing that out there *laughs*  no, no, let's revamp it, you can keep that one, let's say it out loud and proud… in 2014, Ugly Kid Joe will go on a world tour with main support for AC/DC… that's what I want. Dude, rub the genie bottle, ask the genie, say 'dude, we don't need three wishes, just one' and tell them about the wish please.
KillRockStar Entertainment Presents: Skid Row & Ugly Kid Joe – Australian Tour 2014
Wednesday 23 April Metropolis. Fremantle
With special guests Dead City Ruins
Friday 25 April Palace Theatre. Melbourne.
With special guests Dead City Ruins
Saturday 26 April  Eatons Hill. Brisbane
With special guests Dead City Ruins
Sunday 27 April HiFi. Sydney
With special guests Dead City Ruins
Essential information
From: Isla Vista, California, USA
Band members:  Whit Crane — vocals, Klaus Eichstadt — guitar, Dave Fortman — guitar, Cordell Crockett — bass, Shannon Larkin — drums
Latest Release: Stairway To Hell (EP – Out Now)
Website:  http://www.uglykidjoe.net