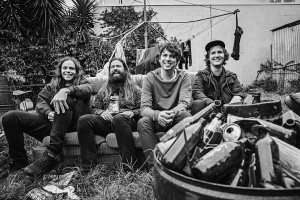 It would appear that over 7 months after releasing their third studio album Hungry Ghost, the steam train that is Violent Soho is still not showing any signs of slowing down…in fact the engine is perhaps chugging at its highest rate to date.
Last Friday Mansfield's (4122 represent) favourite sons put tickets on sale for their biggest headline to date and while we were confident that tickets would sell well, the response the band received was nothing short of overwhelming. Since Friday, Violent Soho have sold out two shows at The Hi-Fi (Melbourne and Brisbane), they also sold out The Gov (Adelaide) in record time and sold out Manning Bar (Sydney) and The Bakery (Perth) in less than 24 hrs with recently announced 2nd shows in Sydney and Perth close to selling out. A result that is truly impressive and testimony to the band's third album Hungry Ghost, which has been highly acclaimed by fans and critics alike since its release last September. It is not yet confirmed as to whether Violent Soho will add further shows to the tour.
Leading on from this we're happy to report that Soho's Hungry Ghost LP re-entered the top 30 of the ARIA album charts last week off the back of the exciting tour announcement. Coming in at #26 in the first chart readings of April 2014, it's another impressive result for the band's LP, which debuted at #6 back in September 2013.
Finally to cap things off, we're today happy to reveal Violent Soho's film clip for current single 'Saramona Said'. A collaboration with Brisbane based directors Dan Graetz and Benjamin Evans (of Graetz Media), the short film follows 4 teenagers who make their way through the back streets of Mansfield until they ultimately stumble into all out chaos. The impressive one shot visual proves to be the perfect accompaniment for the cracking single.

SARAMONA SAID (VIDEO): 
All in all, the good times roll on for Violent Soho who will also be hitting up Groovin The Moo and Triple J's 'One Night Stand' in the coming months.
VIOLENT SOHO – HEADLINE TOUR
With special guests The Smith Street Band
July 2014
On sale now – www.violentsoho.com
Wed 2 July                 The Bakery | Perth                (18+ only)       SELLING FAST
Thu 3 July                  The Bakery| Perth                 (18+ only)       *SOLD OUT*
Fri 4 July                    The Gov | Adelaide               (Lic AA)          *SOLD OUT*
Sat 5 July                   The Hi-Fi | Melbourne          (18+ only)       *SOLD OUT*
Sun 6 July                  The Hi-Fi | Melbourne          (18+ only)       *SOLD OUT*
Thu 10 July                Manning Bar | Sydney          (18+ only)       SELLING FAST
Fri 11 July                  Manning Bar | Sydney          (18+ only)       *SOLD OUT*
Sat 12 July                 The Hi-Fi | Brisbane             (18+ only)       *SOLD OUT*
Sun 13 July                The Hi-Fi | Brisbane             (18+ only)       *SOLD OUT*

HUNGRY GHOST IS OUT NOW THROUGH I OH YOU
www.violentsoho.com   | www.facebook.com/violentsoho

Twitter: @violentsoho
Instagram: @violentsoho4122
www.iohyou.com