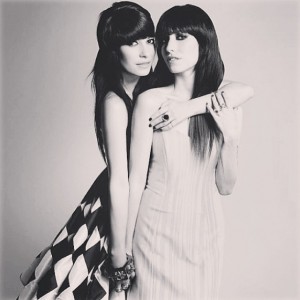 Sony Music Entertainment Australia is excited to confirm the signing of Australian pop superstars, THE VERONICAS, to the global Sony Music Entertainment label. The Veronicas have returned to the studio over the past few months to record tracks for their third studio album set for release later this year.
The Veronicas are an Australian pop-rock duo from Brisbane, Australia, comprising of twin sisters Lisa Origliasso and Jessica Origliasso. Since forming in 1999, their journey to international stardom has comprised of numerous global hit singles over two studio albums, and sales numbering the millions.
The Veronicas burst on the music scene in 2005 when they released their debut studio album, titled THE SECRET LIFE OF… which peaked at #2 on the Australian charts and gained an ARIA certification of 4 x Platinum. It also achieved a #5 chart position and Gold sales in New Zealand. In total, the album spawned five singles, three of which were top ten singles in Australia including "4ever" which peaked at #2 on the ARIA charts, and went on to achieve global chart success including #20 on the US Billboard Dance Chart with RIAA Gold Sales, #7 in New Zealand, top 10 in Scotland, and top 20 in the UK and Ireland.
In 2007, the duo released their second studio album, HOOK ME UP, which also peaked at #2 on the Australian charts and earned an ARIA certification of 2 x Platinum. The album gained international attention by peaking at #1 on the Billboard Heatseeker Chart and #7 in New Zealand. To date, the album has garnered four Australian top ten singles including the album's title track, "Hook Me Up," which was The Veronicas' first #1 single in Australia. Their #2 ARIA single "Untouched" achieved Platinum sales in Australia, the US and Ireland, as well as Gold sales in the UK and New Zealand, selling over 1.7 million downloads worldwide.
As one half of The Veronicas, Jess Origliasso explains, "The opportunity to work with such a successful team that understand and support our freedom as the artists we are, and who have embraced us to help lift us higher than we've known in the past, is nothing short of a privilege and blessing. With Denis Handlin and the Sony Music team worldwide, we finally feel at home to create music and a career without limits."
Denis Handlin AM, Chairman & CEO Australia & New Zealand and President, Asia, Sony Music Entertainment, commented: "The Veronicas are outstanding Australian artists, and I am thrilled to have them join with the Sony Music family.  We are very excited to bring their new album to the fans later this year and to be a part of this next phase in their exciting career."
As well as their coveted ARIA win for Best Pop Release for THE SECRET LIFE OF… in 2005 and their seven career ARIA nominations, The Veronicas have received numerous awards and nominations across the world, including for MTV Europe and Latin America. They have toured the US with the likes of Natasha Bedingfield, Hanson, and The Jonas Brothers and have had their own national US headline tour in 2009. In addition to music, The Veronicaslaunched their self-titled fashion line in 2007.
The Veronicas have proven themselves to be one of Australia's most successful and admired bands, attracting huge international attention and fans all around the world. Their signing to Sony Music Entertainment globally marks an exciting new chapter for the duo.