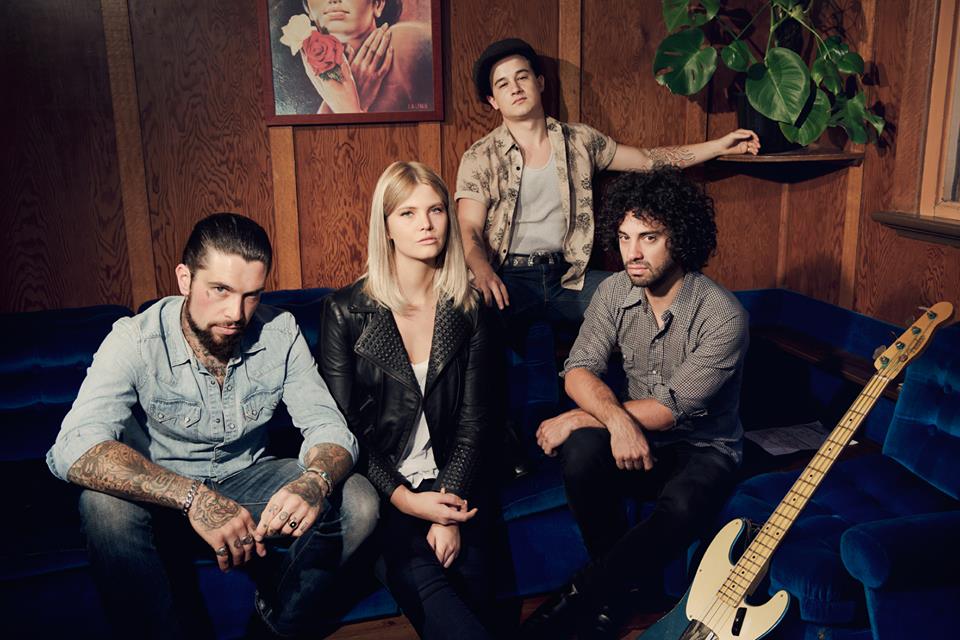 "It'll be a rocker. It'll be a mover. It'll have people playing instruments. It will have lots of beautiful singing. It will sound great. It'll make you look better and feel smarter."
From Bio: 2014 signals the birth of Melbourne's newest band, THE SPIRIT. A four piece with an addiction to classic sounds and the human elements of hand crafted music. THE SPIRIT forge raw, emotive material inspired by 70's Americana. In a time when digital enhancement encourages style over substance, THE SPIRIT make music that connects and stays with you. Music is about the intangible. It's something that is spiritual and best enjoyed with other humans. Created, believed, and realised. This is music for the spirit in everyone.
Mikey Ting from The Spirit answered some questions for us about the band, who they are and what we can expect from them in the future. Definitely a band to look out for…
Let's start with the basics; for those that haven't heard of you, can you please give us the abridged version of the The Spirit story, how you all came to be and the decision on the name of the band?
Luke found Mano and Phoebe from around the local scene with the ambition to start a solo recording project. I went round for dinner one night and Luke and I got an informal jam going – it was pretty clear that we needed to be working together again. So we did. Ditched the solo thing, opted instead for democracy. The name fell into my lap one day after hearing Luke's wife mention how NZ is good for the spirit. It's a one in a million UNTAKEN name and it sparks different ideas for everyone.
Can you now please introduce each band member including yourself, and give us a rock 'n' roll fact or myth about each of you?
Luke Yeoward – Bonsai and all-round horticultural nut/rocker.
PK Neilsen – Prim, proper, classically trained double bass player (and loves VB more than ya Dad)
Mano – Best hair in the biz. Also has a pet turtle, Dribbles.
Myself – Ultra competitive, I don't lose and I know everything = Short man syndrome.
You're set to release your debut album this year, so before anyone hears it, let's say if you had to give us your best door to door sales pitch to try and convince someone to listen to it before they slam the door in your face, what do you say to them?
It'll be a rocker. It'll be a mover. It'll have people playing instruments. It will have lots of beautiful singing. It will sound great. It'll make you look better and feel smarter.
Your debut single 'Forever Gone' is out now, so tell us how this one came together and became the introduction to the band musically…
This is a song Luke has had in the back pocket for a LONG time now. Near the end of King Cannons we took this into the studio and took a crack at it. It's a beautiful song about love and life – unfortunately it never really translated that well and soon after that was that. It's been a good experiment as we try to find our little niche and hone a sound that is uniquely "us". It sounds wanky but it's true. We are still finding our feet musically, we are less than 6 months into this friendship/arrangement – it's still very fresh. But you learn by doing.
In putting the album together, in recording before, have you intentionally set out to do anything differently compared to what you'd done with your previous bands?
The recording process for Luke and I (for King Cannons and now The Spirit) has remained intact. Get people into a room together, play live and find some magic. In terms of the feeling and the sound there's less bravado here. More push and pull, more dynamics and a warmer, rounder sound in general. Having Phoebe's voice is a beautiful texture we've never played with before. But I guess overall, it's a similar process.
In terms of your song writing, what do you consider to be the most important ingredients that make up one of your songs?
A good melody and a strong message.
Both lyrically and musically, what or who inspires/influences your music the most?
Sound-wise, some of the great pop of the 70s – Fleetwood Mac, Tom Petty, Bruce – for tone, rocking and their performance. Soul, Blues, RnB – It's an extensive list I can't possibly do justice here. And it's not confined to music. Basically, every time you experience something earth-shattering and you feel that electricity surging through you. Whatever it is, playing a record, watching a film – most often for me it's outside of music – that's the inspiration/influence.
In terms of a message you want to get across to people with The Spirit, what would that be?
That there is still a time and place for hand crafted, honest music written by normal people.
Live, we just saw you play one of your first ever shows up here in Sydney, it just felt so honest if you know what I mean, so if you had to, how would you describe the live version of the band?
There isn't any fluff. As I said, we're still just getting into this. That was our 2nd ever show. There's a looseness and sense of comfort you achieve when you hit the road enough times. We haven't got that yet so many times it's seat of the pants type stuff. But I think you said it best – it's honest.
For a bit of fun, say you get the chance to open for any artist or band in the world, who would they be and why?
I know Luke would be stoked if Roxette did a comeback tour.
If you could cover one song in your live set that no one would ever expect, what would it be and why?
Michael Jackson – In the Closet. It's provocative, it gets the blood going.
Lastly, with 2014 well on its way now, here's a chance to gaze into your crystal ball and see the future.  So, by the end of 2014, The Spirit will:
1. Have released something beautiful for people to listen to.
2. Go number 1 in EVERY country, EVER.
3. Have been a band for a whole year. Party at Troy's!
Thanks for your time today and May the Rock be with You!
…and also with you.
Essential Information
From: Melbourne, Australia
Sounds like: Guitar, bass, keys, drums and vocals.
Band members: Luke Yeoward, Phoebe Neilson, Mikey Ting, Ryan Mano
Website: http://wearethespirit.com