20 years ago today, The Offspring released their breakout album Smash on Epitaph Records and made history. To celebrate the band will begin playing the album in its entirety on tour in Europe this May, June and early July before finishing with soon to be announced US Smash dates. .
This August, Epitaph will also commemorate the anniversary with a special 20th Anniversary Edition of Smash. The Offspring's Dexter Holland and Noodles, as well as Epitaph CEO Brett Gurewitz, recently shared their thoughts in a retrospective just posted to RollingStone.com, read it here: http://www.rollingstone.com/music/news/the-offsprings-smash-the-little-punk-lp-that-defeated-the-majors-20140408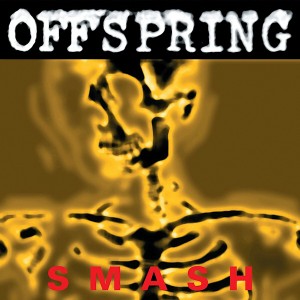 SMASH 20TH ANNIVERSARY EDITION CD/VINYL
– This package will be in stores in mid-August 2014 from Epitaph Records. The Smash 20th Anniversary Edition will include the following:
– LP version containing the original 14 album tracks newly remastered on 180-gram vinyl
– CD version containing the original 14 album tracks from the most recent remastering
– Restyled album package artwork
– Large format 24 page booklet featuring never before seen archive photos by Lisa Johnson
– Firsthand recollections and quotes from the band and others telling the story of that historic time

Smash has sold over six million copies in the United States alone – certified 6x platinum by the Recording Industry Association of America, while selling over 600 thousand copies in Australia – certified 8x platinum by ARIA. Selling 11 million copies worldwide, Smash is the best-selling independent label album of all time.
The Offspring's album Smash was an impactful and immediate hit when released in 1994, making a place for the band in an exciting and significant time for alternative music. The album's first single "Come Out and Play" hit number 1 on Billboard Modern Rock Tracks chart. The following single, "Self Esteem" peaked at number 4, and "Gotta Get Away" hit number 6 on the Billboard Modern Rock Track Charts.