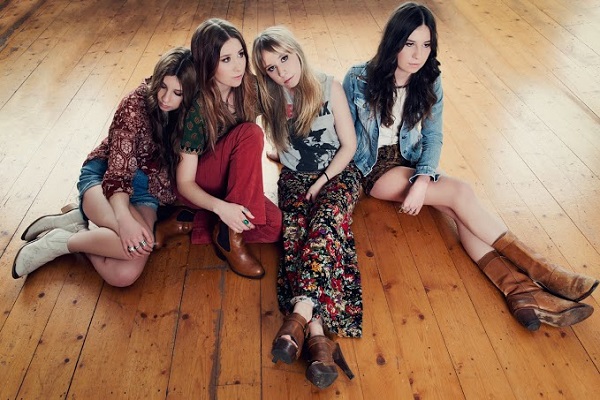 After a breakout year in 2013 and a flying start to 2014 including the release of their highly anticipated self-titled debut album, winning the Best Regional Act award at the inaugural The Age Music Victoria Awards and establishing their single 'Love You Deserve' as a ubiquitous radio favourite, Melbourne-based rock outfit Stonefield today announce a return to the UK with several appearances at the famed Great Escape and Dot To Dot festivals and a new single in live favourite 'C'Mon'.
LISTEN TO 'C'MON' HERE: 
Returning to the UK for the first time since their breakthrough appearance at the Glastonbury Festival in 2011, Amy, Hannah, Sarah and Holly are poised to make this trip equally as eventful with multiple appearances at Great Escape in Brighton, three straight nights at Dot To Dot Festival (Manchester, Nottingham, Bristol) and their first headline London show at legendary venue The Water Rats.
Before they jet off, Australian audiences across the East Coast will be treated to the riff heavy, blues influenced hard rock of the Findlay sisters on the remainder of their 'Love You Deserve' National Tour (remaining dates below) with emerging Melbourne outfit Lurch & Chief.
'The sister-act is loud, aggressive, unyielding, and all the better for it.' – Tonedeaf
'Bringing Blue licks and high-heeled kicks, the audience are in awe once the Findlay sisters enter the fray' – The Music (Brisbane)
STONEFIELD
LOVE YOU DESERVE NATIONAL TOUR
Tickets on sale now
Fri 11 Apr                   Republic Bar | Hobart, TAS                                     18+
Moshtix.com.au | Ph: 1300 438 849

Sat 12 Apr                  Tattersalls Hotel | Penrith, NSW                             18+
Oztix.com.au | Ph: 1300 762 545

Thu 24 Apr                 Oh Hello | Brisbane, QLD                                        18+
Moshtix.com.au | Ph: 1300 438 849

Fri 25 Apr                   Beach Hotel | Byron Bay, NSW                               18+
Free Show

Sat 26 Apr                  One Way Street Party | Surfers Paradise, QLD    18+
Free Show

Thu 1 May                  The Gov | Adelaide, SA                                            18+
Oztix.com.au | Ph: 1300 762 545
Moshtix.com.au | Ph: 1300 438 849
Sat 2 May                   Prince Bandroom | Melbourne, VIC                       18+
Oztix.com.au | Ph: 1300 762 545
UK SHOWS
8/9/10 May                  Great Escape Festival | Brighton, UK                    18+
Tickets via www.greatescapefestival.com

Tue 13 May                The Water Rats | London, UK                                 18+
Tickets TBA

Fri 23 May                  Dot To Dot Festival | Manchester, UK                   18+
Tickets via www.dottodotfestival.co.uk

Sat 24 May                 Dot To Dot Festival | Bristol, UK                            18+
Tickets via www.dottodotfestival.co.uk

Sun 25 May                Dot To Dot Festival | Nottingham, UK                   18+
Tickets via www.dottodotfestival.co.uk
STONEFIELD DEBUT ALBUM AVAILABLE NOW THROUGH WUNDERKIND / ILLUSIVE
www.stonefield.com.au  |  facebook.com/stonefieldband  |  twitter.com/stonefieldband