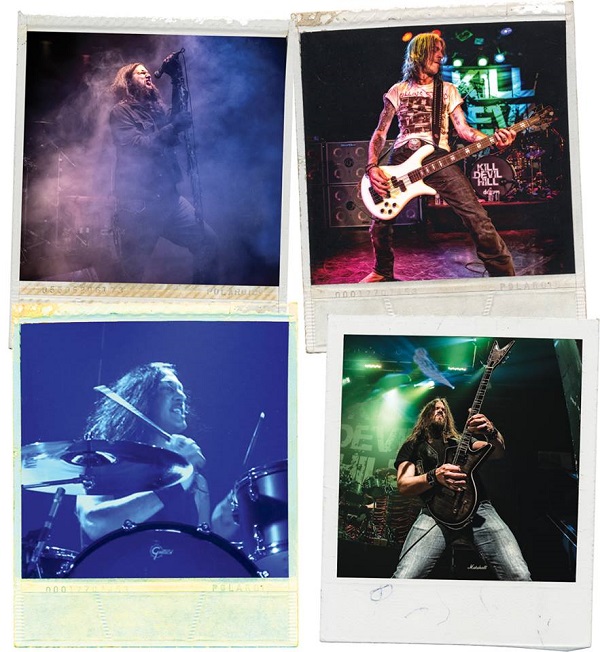 "…It even brings back the hunger days of when Pantera started for me, so that being said, it's all about you're only as good as your last gig and you've got to get out there and kick some fuckin' ass man, that's what I'm known for and I'm not going to fuckin' let you down now… no way."
From Bio: Featuring PANTERA and former DOWN bassist Rex Brown, ex-PISSING RAZORS frontman Dewey Bragg, acclaimed session/touring guitarist MARK ZAVON and now TYPE O NEGATIVE, DANZIG and A PALE HORSE NAMED DEATH drummer Johnny Kelly, KILL DEVIL HILL deliver a crushing sound that combines a contemporary feel with a classic aesthetic that few bands today can rival. The band will be on the road throughout 2014.
Only days away from heading to Australia, we caught up with Rex Brown to fill us in on all things Kill Devil Hill, including the departure of drummer Vinny Appice, Rex's passion for what he does, what the future holds… as well as helping me with hangover cures.
Thanks for your time today, Rex, now of course Kill Devil Hill are heading to Australia for the first time with Killswitch Engage in April, what's the feeling like bringing a new band Down Under for the first time?
I think it's the perfect place to fuckin' do it… you know, we had a problem with Vinny, God bless him, it just came to a point he didn't want to tour, and you have to get out there and fuckin' get on the road man, people can buy the records or whatever, but you're only as good as you are fuckin' live you know? So it just came to a point where his focus was elsewhere, and I've got Johnny Kelly in the band now and he just came in and I'm not bullshitting man… I'm not a bullshitter, number 1, I shoot straight from the fuckin hip, but having Johnny come in and the way he's held himself up and he's playing these songs in only a short couple of months, we're playing these warm up shows before we head over tomorrow and every show is better and better, and it's just unreal and he's just a solid sweetheart, I've known him for years and he just came in and it was kind of funny, I said 'Johnny do you want to come in and jam? Are you familiar with the records?' and stuff like that and he said 'yeah hang on I'll call you back in an hour, I'm booking flights now.' Then he hung up *laughs*. So I had to put the whole thing together in LA so we could get the rehearsals going, pull everybody out of the woodwork and get everything going. It came down to two songs and it was like 'oh my God' he just fits in and it's amazing, I mean the sound is a dream come true, and it is, but that's just cool this band is. He just came in without any fuckin' baggage, nothing like that and here we are man, it's just a breath of fresh air and it's amazing, it's just as solid as it can get, and no disrespect to Vinny at all, but we have to be on the road, man, we are road dogs. That's the problem we had with Vinny.
So was Johnny your only choice and it just worked out perfectly?
No, no, no, no, no… I'd gone around the ringer with well-known people that were in and they were out and they were in and they were out and it was just like I don't want that baggage, I don't need it, I just want somebody to come in and kick ass, and Johnny was right there at the top of our list of people that I was thinking about, and I asked him what he thought of this and he said 'I'll call you back in an hour…' and he had his flight to LA, so that's an indication of the type of guy he is, that's who this dude is… he is a consummate professional and also being a dear friend, we wrote each other all the time. Pantera and Type O Negative toured together back in the nineties multiple times and when I say multiple times I'm talking months on end and he just brings such a great vibe to what we're doing and it's unreal, I have to pinch myself during the night. Tonight is the third of three warm up shows and then we're just going to bring it down to Australia, just set my friend, it'll be fuckin' badass.
You've been to Australia a number of times now both with Pantera and Down, do you have a memory of a previous tour here that stands out for you?
Ahh… you know one of the first days, I was sitting at a bar and I feel this splatter on my leg, I thought somebody had dropped a beer… it's actually this guy standing at the bar and he just flips his fuckin' dick out and starts pissing right there at the bar… and I'm going 'really? No, you're not doing that…' and I was going, well, this feels like home, this feels like Texas, not that we do that in Texas, we get arrested for doing shit like that, but this guy just whips his dick out and starts pissing right next to me man, I had to move to the other end of the bar so I didn't get pissed on again. So that's one little anecdote man, that's pretty amazing *laughs*, I don't know if that happens all the time in Australia, but I've seen it more than once… it was wild dude… I like this fuckin place dude, this is killer… *laughs* that's one of my favourite memories of Australia.
I don't know man, just going on tours around the whole country, and it's so big, and there's just so many different cultures, the English and the Aborigines, just going around and seeing all that man, it's just something you don't see a lot here in The United states. The charm of Australia… you know they called me and said 'Do you want to go to Australia?' I said 'With who?' they said 'Killswitch Engage' I said 'OK let's go…' now I'm not that familiar with the new Killswitch, but I can't wait to meet the guys, It's going to be a fuckin' blast… All indications, it's looking really, really good… we are primed my friend, we're getting ready to come and destroy.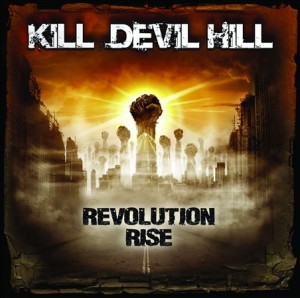 'Revolution Rise' has been out for almost six months now, and after only three years as a band, in making that had the honeymoon period somewhat passed and you truly felt like a band that had it down second time around?
Yeah I think we just wanted to make something that was a little bit bigger, badder, bolder, and also something that explored different territories that we didn't get to hit on with our first one. I thought the first one was really a blueprint of what this band was about. We had been gigging around LA a lot and kind of doing it that was and trying to get a buzz created on the local scene which I fucking hate by the way… that being said it was well how are these songs going to go down live with these… you know, LA is very jaded, everybody is a fuckin' rock star there you  know what I mean? I'm out here now, well a little further down, I'm in Long beach, but everybody's just the fuckin' fake rock star bullshit, and literally we were tearing up audiences for a good six months before we put any of the songs together, they were pretty much in demo form of what became the band. Then I would put different stuff to it lyrically and put my stamp into it and it just evolved into ok now we know everybody's strengths and weaknesses that's how you build on something like that. Vinny was a very integral part of that, but to have Johnny come in, to answer your question, having Johnny step in to where Vinny has left off, it brings back the hunger days of where this first started. It even brings back the hunger days of when Pantera started for me, so that being said, it's all about you're only as good as your last gig and you've got to get out there and kick some fuckin' ass man, that's what I'm known for and I'm not going to fuckin' let you down now… no way.
So is it hard or nerve wracking to somewhat introduce something new to the world?
Somewhat, but I wouldn't say it's overbearing or that I've got something to prove… this band doesn't sound like Pantera, for all the people that think it's going to… fuckin' don't come, don't come to the show, it's not Pantera, it's its own entity and look… I've never played a Pantera song without an original other guy in the band ever, I'm not saying I'm never going to play Pantera but it's just one of those things where, in the olden days of Pantera it was us against the world and fuck all y'all, you know what I'm saying? Fuck the industry, fuck all that, we're going to make our music and we built a real solid fanbase out of that, by doing it our way. I'm not comparing the bands at all, but that's the way I feel personally with this band or I wouldn't be doing it, you know what I'm saying? I could sit on my couch for the rest of my life, it doesn't matter, I don't want to do that, I've got a gift and I want to share it and this band… you steer the course man, you have to reinvent yourself, you have to be out there visibly, you have to be out there in the public eye and give it your all. The only reason I couldn't do that was because Vinny did not want to fucking tour, period. So other than that dude, I'm on cloud nine, I ready to jump through the phone and ready to fuckin' rock.
I truly love that you're so into it for the right reasons…
Yeah dude, this ain't about money, I play in a band because I'm fuckin passionate about music and if you're not passionate about music, you're in the wrong fuckin' place you know? Dude, I've been very lucky and at the same time very cautious, so I try and surround myself with very good people, and these guys look, Mark and Dewey, they're as talented as anybody I've ever met, their number just wasn't called you know what I'm saying? These guys have been through hell and back and now we get a chance to come show you and that's what it's about. Both those guys are very talented individuals, and to put that together and put them in there with me and now Johnny… we're just going to be unstoppable here and it's like jumping off a cliff with a parachute on and pulling the rip right at the last minute when you know you have to… that's what I get off it. If I get the crowd to give back the energy that I'm showing them then I've done my job. That's my high, that's what I get out of it.
Now with Johnny in the band, are you planning on writing new material sooner rather than later?
No, we're gonna tour man, and then we'll go in the studio when it's time. We have tonnes of material, but we have to get this band out, we have to get around and play man, I don't want to waste another fuckin' record, and it's such a goddam good record, I just want to go out and tour on it. I want to take it around the world and piss people off with it… if they don't like it fuck it… if they like it… even better.
2014 is underway, but let's predict the future a little… so finish this sentence for me, in 2014, Kill Devil Hill will…
Kick some ass… now cure that hangover go get a Bloody Mary and you'll be alright. Take that from a pro that quit drinking… *laughs*
Essential information
From: Los Angeles, CA, USA
Band members:  REX BROWN – bass, JOHNNY KELLY – drums, MARK ZAVON – guitar, DEWEY BRAGG – vocals
Latest Release: Revolution Rise (Century Media – Out Now)
Website:  http://www.killdevilhillmusic.com
Catch Kill Devil Hill in Australia with Killswitch Engage at the following dates:
FRIDAY 11 APRIL – BRISBANE, EATONS HILL – Lic A/A
www.oztix.com.au
SATURDAY 12 APRIL – SYDNEY, UNSW ROUNDHOUSE – Lic A/A
www.ticketek.com.au
SUNDAY 13 APRIL – MELBOURNE, THE PALACE – 18+
www.oztix.com.au / www.ticketek.com.au
TUESDAY 15 APRIL – ADELAIDE, HQ – 18+
www.oztix.com.au / www.venuetix.com.au
WEDNESDAY 16 APRIL – PERTH, METRO CITY – 18+
www.oztix.com.au
Presented by triple j's The Racket, Channel V and Soundwave Touring