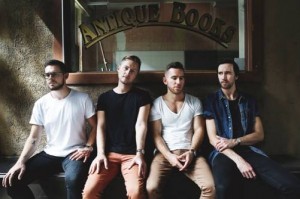 New Empire are pleased to announce details for their upcoming national tour. The Sydney four-piece are set to hit the road on a string of dates to celebrate the release of their latest albumIn A Breath. The album debuted at #28 on the ARIA chart this week.
Click below to view the video for new single 'Say It Like You Mean It':
New Empire (comprised of Kale Kneale, Jeremy Fowler, Nathan Cairns, and Kyle Lane) have mastered the ability to create music as refreshing as their beach-bred roots. Since forming in their hometown of Cronulla, the band have gained a loyal following with their distinctive brand of stadium-ready rock.
In A Breath is the follow up to their attention-grabbing LP Symmetry (2011) – which debuted Top 40 of the ARIA chart and produced Top 20 single 'One Heart/A Million Voices'. New Empire's live energetic shows have seen them support well known international artists Owl City, Neon Trees, Good Charlotte and Simple Plan.
New Empire have well and truly achieved their goal of producing a record listeners can get lost in and explore. The band will be showcasing songs from In A Breath on the forthcoming tour, kicking off in Brisbane and visiting most capital cities nationally. The band have launched a crowdfunding campaign ahead of the Perth show date. Further details on can be found here.
NEW EMPIRE
IN A BREATH NATIONAL TOUR
Presented by The Music and Tone Deaf
Saturday 7 June – Old Museum, Brisbane (AA)
Friday 13 June – Factory Theatre, Sydney (AA)
Thursday 19 June – Northcote Social Club, Melbourne (18+)
Saturday 21 June – SUB, Melbourne (AA)
Thursday 26 June – Transit Bar, Canberra (18+)
Friday 27 June – Heritage Hotel, Bulli (18+)
Saturday 28 June – The Small Ballroom, Newcastle (18+)
Friday 4 July – The Promethean, Adelaide (AA)
Saturday 5 July – venue TBC, Perth (AA)
For ticketing details visit www.newempiretour.com
NEW EMPIRE
New album IN A BREATH – out now via Shock Records