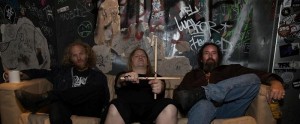 Candlelight Records today confirms June 24th as the North American release date of IX, the new album from CORROSION OF CONFORMITY. Produced by the band and long-time comrade John Custer, the album and lead single "On Your Way" will be available for preorders via iTunes, Amazon, and other popular outlets beginning May 13th.
Blabbermouth has been reporting on the recording of the album since early January. Video footage filmed at the recording studio, including vocalist Mike Dean and drummer Reed Mullin laying down vocal tracks, plus guitarist Woodroe Weatherman tracking some of the albums killer riffs, has been seen by fans around the globe. "The making of IX was drawn out because of us having to step away to do other projects," comments Dean. "I think being forced to step away kept us hungry and then being back on the case with deadlines casting a shadow gave us a 'failure is no option' vibe and that really helped the final product."
"This album is another step forward for us," adds Weatherman. "It seems like we keep heading more and more toward our rawer live sound with the studio recordings."
Having recently returned from a successful European tour, the band is gearing up for the album's release and a year full of nonstop touring. "CORROSION OF CONFORMITY are very much firing on all cylinders," noted Terrorizer Magazine preceding the trio of English dates that were part of the larger Euro tour that had the band visiting ten countries for the first time in more than a year. "We had some good shows," shares Dean. "To go back to Paris for the first time in years, without a new album, and have the type of response we had just shows me that there is new interest in the more creative heavier rock. And that this younger group of people is actually checking us out is huge to me."
The band surprised European audiences with some new material from IX. "We had 'On Your Way' in the set and people were jamming along," notes Dean. "It's uptempo but syncopated. I thought it fit right in even though technically we were still working it out." "We did sneak in some new material on the European tour," asserts Weatherman. "It's great to see folks digging on stuff they have never heard before."
Quiet for nearly five years after the release of 2005's In The Arms Of God, CORROSION OF CONFORMITY regrouped in 2010. These original jam sessions quickly gave way to the trio's participation at late summer's The Power Of The Riff Festival and later 2011's Maryland Death Fest. The band's commitment to the stage, with hundreds of shows performed since 2010, is surely contributing to their chops in the studio. Without doubt, Dean, Weatherman, and Mullin have revitalized their sonic muse. And media and fans concur. "Corrosion Of Conformity displays a command of style far beyond anything their 1985 selves could have imagined," noted Decibel Magazine on review of 2012's self-titled album. Added Pitchfork, "the trio sounds as commanding as it ever has."
CORROSION OF CONFORMITY released their self-titled album via Candlelight Records to high praise late February 2012. It was the first new material by the North Carolina trio since 2005. "Corrosion Of Conformity is what you want out of a comeback record – not just a reclamation of lost vigor but a meaningful update on a vintage sound," said Pitchfork. The album debuted on Billboard's Top 200 Chart at position 157 and impacted CMJ's Loud Rock chart at position 8 on its debut week before working its way up to position 1. It remained on the magazine's popular radio chart Top 10 for eight consecutive weeks. The label reissued the band's Eye For An Eye (including previously unavailable EP Six Song With Mike Singing) early November 2012. Blabbermouth called it "one of the hallmarks of street 'core.'" It was followed by the free release of Scion A/V's Megalodon EP. Writing for IX started in the early months of 2013 with demoing and recording starting by summer's end. Completed in January, IX clocks in at nearly 45 minutes. Sludge, doom, punk… it's all in the grooves that fans have come to expect from the band.
Preorders for both CD and vinyl formats will be available shortly via Candlelight's official web stores. Watch for special bundles via the band in the coming weeks.
IX Track Listing:
1. Brand New Sleep
2. Elphyn
3. Denmark Vesey
4. The Nectar
5. Interlude
6. On Your Way
7. Trucker
8. The Hanged Man
9. Tarquinius Superbus
10. Who You Need To Blame
11. The Nectar Revised
CORROSION OF CONFORMITY has confirmed a number of limited performances on the east coast this month beginning this Friday at The Pour House Music Hall in Raleigh. The band will perform at Saint Vitus Bar in Brooklyn on April 26th, the Ottobar (with High on Fire and Eyehategod) in Baltimore on April 27th, and wrap the month up with a show at Café 611 in Frederick (MD) on April 28th.
Formed in Raleigh, North Carolina in 1982, the Decibel Magazine Hall of Famers CORROSION OF CONFORMITY helped transform heavy music. The band has influenced countless bands and today remains humble about their accomplishments.
http://www.facebook.com/corrosionofconformity