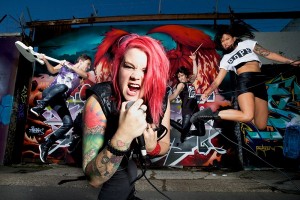 Carving out a name for themselves in Sydney's beer-soaked, lipstick-smeared rock n' roll scene are Bonney Read, a powerhouse (almost) all-girl quartet hailing from Sydney's inner-west. Recently featured in the The Sydney Morning Herald around the discussions on saving Sydney's live music scene, and fresh-off exceeding their target in their recent Pozible campaign, Bonney Read have released their latest single "Runaway" (available for free download HERE), taken from their forthcoming EP Live to Tell.
"Runaway":
"Runaway" is the lead single from the band's forthcoming EP Live to Tell. Due for release on the 5th June 2014, Live to Tell features production and engineering from industry legendsMark Opitz and Colin Wynne (Rose Tattoo, AC/DC, Hoodoo Gurus, Cold Chisel, KISS), with mixing credits going to David Hemming (Harry Vanda & George Young, Bruce Brown and Russell Dunlop, Elvis Costello, Icehouse). Written by the band, "Runaway" is a hard-hitting rock tune, driven by lead-singer Jess Cooper's raw, husky vocals.
The three-minute music video for "Runaway" packs a high energy punch. Produced byImmersion Imagery the video places the band at the forefront, giving viewers a taste of what to expect from Bonney Read's live shows.
"We really wanted people to see and get to know the band. The four of us are very proud of our energetic live shows and so it just made sense to do a clip where we were performing the single just like we would at any show – with every ounce of energy and heart!" – Jess Cooper
THE FUTURE:
Comprised of four passionate musicians – Jess Cooper (vocals), Kat Ayala (guitar), Astrid Holz (drums) and Jeremy Goldfinch (bass), Bonney Read are set to shake up the rock scene with their infectious brand of punk-tinged rock.
 "Bonney Read is an amalgamation of each of her member's musical passions. Combine the hard hitting vocals of Pink or The Distillers, the guitar licks of The Used or Anberlin, the bass lines of the Chilli Peppers or Muse and the drumming of Paramore or Foo Fighters and perhaps, just perhaps you will get an idea of what she sounds like." – Jess Cooper
With a new single/video released, a new EP due for release on the 5th June, and a headlining show with Battle of the Bands Australia on the 12th June, fans and rock lovers are set to see much of Bonney Read in the future.
"Bonney Read is a force to be reckoned with. She empowers four passionate musicians to blast out the power/pop/rock music that they shamelessly love. She is neither judging nor prejudiced, and she stands for the people who dare to be different. As a band we are united by our love for performing and expressing ourselves through music, and the ethos of Bonney Read strengthens this connection. Our message is: do what inspires you, do it with everything you've got and be true to yourself." – Jess Cooper
Bonney Read's new single "Runway" is out now and available for
free download HERE.
Their new EP Live to Tell is due for release on 5th June 2014.
Details for their up-coming EP-release Tour will be announced soon.
Watch the official "Runaway" video on YouTube HERE
Download "Runaway" for free HERE
BONNEY READ – LINKS: