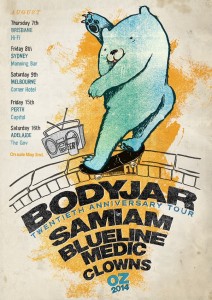 What is punk? Goddamn that's a question that causes some fights eh!? For some, its the clothes you wear. For others, the clothes you avoid wearing. Straight Edge, Hardcore, Crust, the dreaded Pop Punk – who gives a fuck! For me it was always and will always be about living life. Seeing your country and weird lands that abound overseas.  It was a way of getting paid (haha well, some times) to travel and drink, with your best friends in the world. Singing songs about why that girl doesn't dig you the way you dig her, and just having a crowd, or even just one person singing along. Making that connection with strangers who become friends.
I have shared tour buses, shitty vans, hotel room floors, and even couches in my own house with Bodyjar. I remember once standing around with them and realizing we were all wearing Dickies shorts, band tee's, Vans sneakers and wallet chains while of course drinking slab after slab of beer. That was the 90's. That magical, mythical, barely-just-memorable decade where everything just seemed to fall into place. Small bands got bigger, got to record with their heroes and even play along side them.
For the guys I shared a floor with so many times, Bodyjar went on to sell hundreds of thousands of records worldwide (including the gold selling How It Works album) tour the world countless times and live out all of their boyhood dreams. And they did it all while being themselves and not conforming. They still to this day play their shows like it's a party – friends are always welcome to share a beer from their riders and their loyal following doesn't need to be asked more than once to join in the party with Bodyjar as the iconic Australian punk rock soundtrack.
For every generation that grows up, their music was listened to as they started to drink, make friends and go out to see punk rock shows. This has become inexorably linked to some of the most crucial parts of their lives.
Bodyjar's first show (to the best of Mr Baines' memory) was at the Great Britain Hotel in Richmond in August of 1994. This was the first of thousands of shows around the globe, gathering countless fans along the way.
It's 20 years later, they are all a little greyer, maybe a little fatter, but it's still band tee's and Vans. (The wallet chains have gone by the wayside, but never say never!)
To celebrate their 20th anniversary, Bodyjar are bringing the party to you, and couldn't do this without asking some of their best mates to join them and form one of the best punk rock line ups seen in Australia for a long time!
Samiam from Berkley, California, have been long time friends of the guys in Bodyjar. They are punk royalty, and everyone will be stoked that they are heading down under to join the party.
Blueline Medic are also dusting off their guitars and jumping in the tour van for a very rare lap of the country, to celebrate the Jar's 20th Birthday!
Last but not least Melbourne young guns Clowns are rounding off this awesome line up and I'm sure will pick up many bad habits from the iconic bands on after them!
I'm a 42 year old teenager and I still don't want to grow up! This tour with such an amazing line up is sure to be one of the biggest parties I will ever go to. Still wearing the same clothes, still singing along with some of my favorite choruses, and still drinking beer with mates in a sweaty room full of people that are there for the same reason as me. Listening to a familiar soundtrack that takes us to the place we all want to be at, happy in the knowledge that punk rock still lives and is always there when you need it!
Happy 20th Anniversary dudes!
– James Straker
Australian Punk Rock Fan
Bombshellzine and Unified present
BODYJAR 20th ANNIVERSARY TOUR
WITH VERY SPECIAL GUESTS SAMIAM, BLUELINE MEDIC and CLOWNS
Thursday August 7th – Hi Fi, Brisbane
Friday August 8th – Manning Bar, Sydney
Saturday August 9th – Corner Hotel, Melbourne
Friday August  15th – Capitol, Perth
Saturday August 16th – The Gov, Adelaide