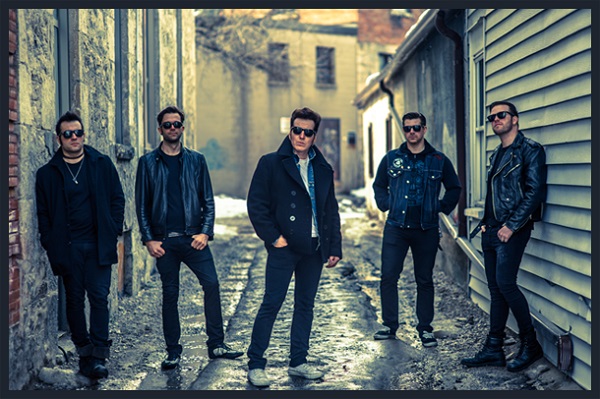 "We are beyond trying to write great songs for ourselves. We feel sometimes when you gift something unselfishly to someone else, there is magic attached to it. If you can make one person happy it's infectious."
Bio: Girls and rock n roll go together like sugar and cream. USA!X3 is a living, breathing celebration of girls. USA!X3 started when Ken Susi of legendary Boston metal band Unearth started thinking about what got him into music in the first place, and it all came back to him in a rush of memories: girls. Ken wrote his first song at 12 for a girl in his class. He recalled her happiness at hearing a simple song written specifically for her, and after years of writing and playing intense metal, Ken wanted to get that feeling back. He had a vision of the perfect American rock band: clean vocals, catchy hooks and riffs, big guitars. And all the songs would be for and about girls the band knew.
USA x 3 boiled rock n roll down to it's classic, primal Beatles, Elvis & Ritchie Valens DNA – guitars, bass, drums, songs about girls – written with the same feeling as notes slipped into lockers, left on windshields outside the fast food joint where she work or a serenade outside her window.
With the chemistry firing on all cylinders, the band rushed into the studio and knocked out five songs – all titled with girl's names – and a supercharged cover of "Girls Just Wanna Have Fun" that has become their anthem. The result is the purest American Art Form: hook heavy, harmony-laden, driving guitar rock propelled by rocket fuel energy from five guys who love and respect girls (including their moms).
We had Ken Susi of USA! USA! USA! Answer some questions for us about the band and without question why they are one of the Best Things You've Never Heard!
Let's start with the basics; how did you decide on the name of the band?
It's very common in America when people get together to just start chanting USA! USA! USA! I say fuck it…. Name the band that!! People are already huge fans of the band and just don't know it yet!!!
Can you now please introduce each band member and give us a rock 'n' roll fact or myth about each of you?
Bang USA – Has a late 80's corvette with the license plate (Danger Zone)
Pat USA – is the most rock 'n roll in the band… loves to hang out with biker chicks
Frank Pino – is most likely to get arrested for drugs.
Ken Susi "me" – I Love to instigate and intimidate any or all opposition. I am what you call a very bad boy!
If you had to give us your best door to door sales pitch to convince someone to listen to your amazing album release 'What's Your Name?' before they slam the door in your face, what do you say to them?
USA! USA! USA! Is the world's very first band to gift songs to girls/woman one at a time! The band rule is….
1. Write a song for someone
2. Gift it to the girl personally
3.Record it
4.Play it live
People have written songs for girls before but no one or band has exclusively done it and for every song. If you are a girl that wants a song about you…. Get in touch with one of us and maybe we will play it for you when we come to town!
In terms of your song writing, what do you consider to be the most important ingredients that make up a USA! X 3 song?
Girls!!!!! Any and all experiences with them and the need to tell that story
Obviously there's somewhat of a theme here with the girl's names, was this something you set out to do from the get go or did it just end up playing out that way?
Yes!! 100%, we know that in this day and age, every band is either writing to come off as introverted or trying to copy another band. USA! USA! USA! Is going to live and die by being original and doing cool things with our music. We are beyond trying to write great songs for ourselves. We feel sometimes when you gift something unselfishly to someone else, there is magic attached to it. If you can make one person happy it's infectious.
Both lyrically and musically, what or who inspires/influences your music the most?
Eddie Money, Rick Springfield, 38 special, Colin Hay, The Beatles, Elvis, Weezer, Michel Jackson, Jimmy Eat World
Your video for 'Marissa' is just amazing, tell us about how that came together and how much fun it was to make…
It was an awesome experience!! Marissa isn't by any means our flagship song. It was actually the most "childish" sounding tune that we have. I just wanted to do something fun to make it translate correctly for us. Plus, we are a little bit older than the average pop band so we didn't want to sound or look stupid singing that song. Band wise, we consider ourselves seniors that are cooler things, better advice, awesome experiences and better advice vs. the freshman bands that still sing about PlayStation, holding hands, love letters in school… you know, every warped tour band that will only be big for 1.5 years. Back to this video, this song is about infidelity. Telling a married Marissa to break her commitment to her husband and their commitment god to be with USA! The best way to make a serious topic seem fun was to put it in puppet show form. Everything looks innocent being portrayed by puppets!
We all made our own puppets together and built the set with lights and things that we had at the time laying around our jam space. We made our video for under $100. Beat that!!! Plus, the cameo by ETID's Andy Williams was the icing on the cake. We wanted a bully that looked like (Andy) from Pee Wee's big Adventure. You know Andy, the hillbilly who dates the waitress Simone. She took Pee Wee in that big dinosaur!?!? LOL Anyway, Andy Williams nailed it!!
So, tell us about your live show and what people can expect if they come to see you play…
Our shows make girls very cummy. Frank pulls chicks onstage and sings directly into their mouths. Face to face interaction is his thing. Sometimes I honestly don't think he cares if there is an audience in front of him. He's always focused on the girl at hand. Plus, each dude usually spots a chick in the front row and focuses on them for the entire gig. Lots of girls know there is "a chance" with each member, so the cat and mouse game gets interesting at every show.
I'm not sure if you're familiar with our 'Aussie, Aussie, Aussie, Oi, Oi, Oi' chant? Obviously as mentioned above, you already had a chant for your name, so do you think we could ever see you in Australia so we can have duelling chants?
I'm extremely familiar with that! I've been to Australia with my other band 12 times. I love it when people scream that! I'm sure if we get big enough, people will yell both! Hell, Bang our bass player is from Canada! He's into the chant! Trust me, if you knew us as a band we didn't name our band after the country. If anything, it's just one of those things that sounds cool when you hit the stage and everyone knows how to yell it!
For a bit of fun, say you get the chance to open for any artist or band in the world, who would they be and why?
Foo Fighters, because they fucking rock and Dave is legit!
Fun the sequel, if you wish you could've written one song throughout musical history that isn't yours, which would you choose and why?
That's a great question… But I would say 'Jessie's Girl' over and over and over!!! I try to write that song every time I go in the studio!
Lastly, here's a chance to gaze into your magic mirror. Let's predict the future, so in 2014, USA! USA! USA! will:
1. Get signed
2. Go on tour
3. Win over that girl!
Essential Information
From: USA!
Sounds like: Rock!
Band members: Frank, Romeo, Dave, Bang, Pat
Current release: 'What's Your Name?'
Website: http://usa-usa-usa.bandcamp.com