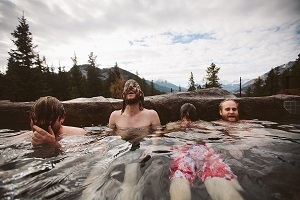 With only one week remaining until The Smith Street Band kick off their Australian tour with The Menzingers (USA), the band have unveiled a new film clip for the song "Don't F*ck With Our Dreams." Shot by friend Andy Johnson over three months while on tour all over Europe & North America, take a five minute glance into the hectic touring schedule TSSB never let up on.
Kicking off in Brisbane next week, the 15-date Australian tour has already seen sold out signs in Melbourne, Brisbane & Sydney, with all other shows not far behind.
This will be your last chance to catch The Smith Street Band live in the near future, unless you're planning on heading to Europe, where the band will return to in April for a 34-date tour alongside Philadelphia's Restorations and a spot on Belgium's huge Groezrock Festival.
The Smith Street Band and The Menzingers tour starts March 13. For all show and ticket info visit: www.thesmithstreetband.com
Check out the brand new clip for "Don't F*ck With Our Dreams"
The Smith Street Band & The Menzingers (USA)
Australian Tour March 2014
With guests GRIM FANDANGO
MON MARCH 10 • PUSH ON FEST • MELBOURNE (AA)**
THU MARCH 13 • CROWBAR • BRISBANE (NEW SHOW ADDED)
FRI MARCH 14 • THE ZOO • BRISBANE (SOLD OUT)
SAT MARCH 15 • CORNER HOTEL • MELBOURNE (SOLD OUT)
SUN MARCH 16 • CORNER HOTEL • MELBOURNE
WED MARCH 19 • PRINCE OF WALES • BUNBURY
THU MARCH 20 • HQ • PERTH (AA)
FRI MARCH 21 • ROSEMOUNT HOTEL • PERTH
SAT MARCH 22 • UNI BAR • ADELAIDE
SUN MARCH 23 • KAROVA LOUNGE • BALLARAT
WED MARCH 26 • BRISBANE HOTEL • HOBART
THU MARCH 27 • THE PAV • LAUNCESTON
FRI MARCH 28 • THE SMALL BALLROOM • NEWCASTLE
SAT MARCH 29 • THE LAIR • SYDNEY (AA)
SAT MARCH 29 • THE LAIR • SYDNEY (18+) (SOLD OUT)
SUN MARCH 30 • TRANSIT BAR • CANBERRA
**The Menzingers & Grim Fandango not appearing
Comments
comments