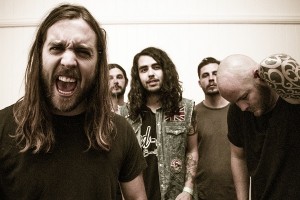 Following their recent stint in NY, The Lazys are ALL FIRED UP about returning to what they do best, playing live.
Taking the opportunity to road test their new material from their forthcoming album 'ALL FIRED UP', recorded late last year in New York with producers Gus Van Go and Werner F. (The Grates, Monster Truck, The Stills, Hollerado, The Trews, Priestess), the NSW Central Coast rock 5-piece will undertake a series of pub and club shows throughout NSW from February to April before they head over to North America.
With a reputation for pumping out a kick-arse live show, The Lazys are keen to film a kick-arse live clip for the new single, title track 'ALL FIRED UP, and would like for their supporters to get actively involved at these shows. The band are asking punters to film 'ALL FIRED UP from the crowd and send on to the band where footage will be used as the official clip for the song. The band will credit punters names on their Facebook page and tail at the end of the clip for any footage used. Send your clips to the band via their Facebook page: 
www.facebook.com/thelazys
Catch The Lazy's live at the following shows and look out for the debut album 'All Fired Up' later this year.
Get ALL FIRED UP in 2014 with The Lazys at the following shows:

FRIDAY 21st MARCH: THE LANSDOWNE – SYDNEY
www.thelansdownehotel.com.au
SATURDAY 22nd MARCH: FITZROY HOTEL – WINDSOR
www.fitzroyhotel.com.au
THURSDAY 27th MARCH: FRANKIE'S PIZZA – SYDNEY
www.frankiespizzabytheslice.com
FRIDAY 28th MARCH: TATTERSALLS HOTEL – PENRITH
www.tattersallshotelpenrith.com.au
SATURDAY 29th MARCH: COLLECTOR HOTEL – PARRAMATTA
www.collectorhotel.com.au
FRIDAY 4th APRIL: WOODPORT INN – ERINA CENTRAL COAST
www.woodportinn.com.au
SATURDAY 5th APRIL: LEWISHAM HOTEL – LEWISHAM
www.lewishamhotel.com.au
FRIDAY 11th APRIL: STUDIO 6 – SUTHERLAND
www.facebook.com/Studio6sutherland
THURSDAY 17th APRIL: FITZROY HOTEL – WINDSOR
www.fitzroyhotel.com.au
FRIDAY 18th APRIL: THE LANSDOWNE – SYDNEY
www.thelansdownehotel.com.au
SATURDAY 19th APRIL: TATTERSALLS HOTEL – PENRITH
www.tattersallshotelpenrith.com.au
SUNDAY 20th APRIL: FRANKIE'S PIZZA – SYDNEY
www.frankiespizzabytheslice.com