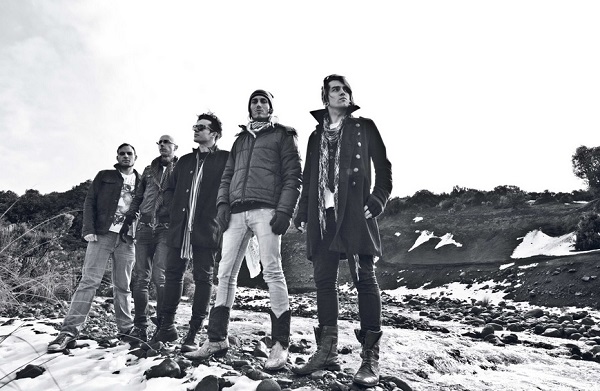 "I think we're just doing our thing and lyrically there's a lot of messages in the lyrics, and for me I think the most important thing is that to just live your life to the absolute fullest and have fun and enjoy everything and not take life too seriously, and I think our music covers a lot of different things, it covers the positive side and the negative side but always in a positive way…"
From Bio: Fresh from supporting Aerosmith and Van Halen at the Stone Music Festival and recently writing and recording at Birdland studios with legendary Australian producer Lindsay Gravina (The Living End, Jet, Shihad, Eskimo Joe), Ten Thousand are gearing up to take their explosive live show back on the road for their upcoming tour. Armed with a string of new singles the band has further developed its sound, straddling new territory and fusing together razor sharp rock n roll riffs, echoing spaced out melodies, a thunderous fuzzed out rhythm section and soaring melodic vocals. With influences as varied as Motley Crue, Muse & 30 Seconds To Mars, Ten Thousand destroy the barriers between progressive and classic rock n roll.
We chatted to Marty of Ten Thousand to help introduce the band and fill us in on all you need to know about them. They're one to look out for and most certainly one of the best things you've never heard…
Let's start with the basics; for those that haven't heard of you, can you please give us the abridged version of the Ten Thousand story, how you all came to be and the decision on the name of the band?
It's going back a little while now, maybe about three years ago, basically I just put up an ad looking to start a new rock project and Brandon the other guitarist came on board, and it took about a year for everybody to get together, but we just started working on the sound and trying to come up with some songs. Before we knew it, we'd recorded an EP and started playing shows around town and doing a few tours and things, and basically it was just a group of guys that came together and we wanted to create something that hasn't been out there at the moment, like a sound that was interesting and a little different, so that was how we all came to be. A few line-up changes over the last couple of years, but it's now these guys, and as for the band name it's going back a long way and I can't really remember how we came up with the name but I'm sure there's a story in there and maybe one of the other guys will be able to fill you in on that. There is a story, but I'll leave that for another time maybe…
For those that may not have heard you before how would you best describe your sound?
At the moment, basically it's a mix between something like Muse, Thirty Seconds To Mars, Queens Of The Stone Age, there are some experimental guitar effects and I've started using drum machines and samplers and stuff like that, so when we first started playing it was based around arena rock, like the big guitar band with guitar harmonies and that kind of thing, but over the last couple of years we've really started pushing sounds and rather than focusing on the instrument more of a seventies type vibe with experimental electronic type thing, so really there isn't so much a sound we're going for, were just trying to create a sound we like and that we're not hearing out there if that makes sense at all.
You've just signed an International management deal with Unbreakable Global, what is this amazing opportunity going to bring to the band?
Oh look, for us it's kind of all we've been looking for, we've been hanging to go overseas and travel around the world and try and get our music out there and hopefully with these guys it's gonna open the doorway to that and give us the opportunity to do so. We've been working on an album for the last year or so and it's pretty much finished and ready to record, at the moment we're just in the middle of pre-production, I think we've got like two tracks left to finish off and then we're ready to start recording. Yeah, with the management deal hopefully it opens the doors to bigger and better things, I mean it's been good so far and I'm sure there are plenty more things that are there to offer. They're awesome guys, awesome people and to be working with them, for us it's like a dream come true to get this opportunity. We first met Mark at Stone Festival last year when we were put on as one of the Australian acts, and to finally get the deal almost a year later now is pretty exciting.
With your 'Tales From The Wasteland' EP and a couple of singles out previously, how have you seen the band grow musically in your time together?
I think we've learned how everybody else plays and it's a feel thing, like when you play with people for a long time it starts to become intuitive, you know the parts they're going to write and the bass lines that Luke's gonna come up with and the kind of vocal that Jay will do and so it's really gelled. When we first started it was like everybody brought their influences to the table and sometimes it's a little difficult to make it all work, and over time you really start to start to understand where everyone's coming from and what we're trying to get out of it. It just becomes seamless, like song writing now is just so much easier because we all understand how we play and what we're all into, and it all just happens very naturally and very organically. We're not a band where one person writes everything and other people then learn them, the way we write songs is literally in a rehearsal room and literally it will be a drum part a bass part or a guitar part and we just jam it out until we get a song and just fine tune it. Basically since say 2011 when we used to do that it could be quite a long process to get something that was cool and was sometimes a little disjointed here and there and now it's really like we've started to hit our stride, and in the last twelve to fifteen months it's been just becoming so much easier, it's great. Even just adding more and more sounds, like I was saying, I've started using a bit of synth and samplers and stuff like that and sort of opened up more sonic opportunities with the band and the sounds we can create you know?
Musically, what or who inspires/influences your music the most that you have brought to the band?
Yeah definitely, for me a lot of it comes from the guitar side of things, I grew up listening to stuff like Pink Floyd and Zeppelin and things like that, so a lot of the influences for me are the old school rock bands like Deep Purple and that kind of style. I also listen to a lot of blues and that kind of Cream, all those kind of bands. With the electronic style with a lot of the samples and the loops, a lot of that comes from bands like Nine Inch Nails or Chemical Brothers, Prodigy, a lot of the electronica acts that are using sampling and synths and creating really interesting sounds and for me it's always been about trying to mix those two worlds together. I think it's important if you're going to do something with a seventies type of vibe that you need to take that sound and push it further as that was done in the seventies, so while I say bands like Zeppelin and that influence me a lot, I always try and approach it in a more modern way and do it a little more interesting than just sort of copying an old style you know what I mean.
Live, you've had the opportunity to play with some amazing bands and have played a number of shows over the last few years, how would you describe the live version of the band?
I think that's where it's at, we've always tried to be a crazy live band and put on a great show, we spend a lot of time putting our shows together, with the lighting and making sure the whole show flows. It's a lot of energy, if anyone's ever come to see us play it gets a little crazy and a little manic and I just think that's where it's at, not just for us but for any band I think that's where the core is, to be able to play your stuff live. The recording is a fair bit tamer than an actual live show and we've had people say that where they listen to the song on the record and then come to a show and be like 'shit man, you're a lot heavier than we thought you were' *laughs* but playing with amazing bands, you just get to learn from them you know.
OK so who stands out as the kick me band you've played with so far?
Oh for sure Aerosmith, to be on that bill, and we actually got to watch the side stage, for the first few songs we were sitting literally on the side of the stage, I had friends in the crowd that could see us then the big head of security came along and said 'what the hell are you guys doing here?' *laughs* They were amazing, then we went around to the front, and Steven Tyler is just the most incredible front-man and singer and it was incredible, absolutely incredible, those guys are amazing and I think for all of us, that was a real turning moment to sort of experience from the other side and being on a festival like that, and to then watch that band… those guys are like sixty five and it was one of the most incredible performances, so it was amazing. You can't describe it in words, just when you're there and watching it, it was wicked.
Can we expect to see you out on tour soon?
Yes, we are actually playing a surprise gig this Saturday at The Espy front bar, it's a free show, but we'll be doing a few shows throughout April, May and June, so should be heading up to Sydney, and Adelaide and a few more Melbourne shows, so like I said, we're currently in the middle of this album, so next month we'll be looking into trying to get that recorded but we'll definitely be doing a few more shows around in the next couple of months.
For a bit of fun, say you get the chance to open for any artist or band in the world (that you haven't already), who would they be and why?
For me personally, it would be Nine Inch Nails, for me that band is always pushing the limits of technology, I saw them a few weeks ago when they were touring with Queens Of The Stone Age as well, and just in terms of lighting and innovation and just the show they put on is incredible, it's just so well put together and just crazy, so that would be the one for me for sure.
If you could cover one song in your live set that no one would ever expect, what would it be and why?
*laughs* let me think… I don't know… I tell you what, I think it would be amazing to cover 'Comfortably Numb' by Pink Floyd at absolutely nail that solo at the end of that song, I think that would blow people's minds if you could pull that off *laughs* I don't know if I'll ever be able to achieve that, but that would be pretty cool.
In terms of a message you want to get across to people with Ten Thousand, what would that be?
Look man, I think we're just doing our thing and lyrically there's a lot of messages in the lyrics, and for me I think the most important thing is that to just live your life to the absolute fullest and have fun and enjoy everything and not take life too seriously, and I think our music covers a lot of different things, it covers the positive side and the negative side but always in a positive way, even though you go through things and bad stuff happens, things will get better, and a lot of the lyrics and content and music that we've made lately is about really living a life that's less ordinary and trying to make something amazing and that applies to everybody and to just enjoy life for what it is while you can.
Lastly, with 2014 well on its way now, here's a chance to jump in the DeLorean and check out the future.  So, finish this sentence for me, in 2014 Ten Thousand will…
Have been touring Europe and released their debut album to rave reviews, how's that? *laughs* hopefully *laughs* this is the year, I can feel it.
Essential Information
From: Melbourne, Australia
Sounds like: Rock / Progressive / Alternative
Band members: Jay Bowen – Vocals, Brandon Valentine – Lead guitar/BVs, Jason Beardsley – Drums/BVs , Marty K – Lead/Rhythm Guitars/Synth , Luke McKenzie – Bass/BVs
Website: http://tenthousandofficial.com