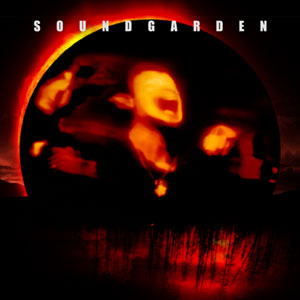 SOUNDGARDEN to Celebrate 20th Anniversary of Superunknown LP
Superunknown Reissue Package out May 30, 2014 via A&M Records/USM
Two Deluxe Editions including Rare Demos and Rehearsal Recordings and More
Limited Edition Five 10-inch Vinyl Set of Superunknown: The Singles Available on Record Store Day – April 19
"The best albums define their time, then transcend it. Superunknown is an honest monument to its era and birthplace. Superunknown is also a heavy masterpiece of vision and backbone, a classic of American, progressive hard rock made by a band that, from the start, always aimed higher and farther than its scene, peers and competition." — David Fricke
On March 8, 1994, Seattle rock band Soundgarden released their critically acclaimed fourth full length album, Superunknown, on A&M Records. An immediate No. 1 in Australia (and achieving double platinum accreditation here) and the U.S., it earned the band two Grammy® Awards, and sold millions of records worldwide. The record yielded such iconic tracks as "Black Hole Sun," "Spoonman," and "Fell on Black Days." The LP that was often considered Soundgarden's "masterpiece" helped redefine alternative rock and influenced the course of music history.
This year, the band celebrates the 20th anniversary of this groundbreaking album with a special reissue in two deluxe versions outlined below and available on May 30, 2014 via A&M Records/USM.
The Deluxe Edition is a 2-CD package featuring the remastered album along with disc two consisting of demos, rehearsals, B-sides and more. The Super Deluxe Edition is a 5-CD package featuring the remastered album, additional demos, rehearsals and B-sides and the fifth disc is the album mixed in Blu-ray ™ Audio 5.1 Surround Sound. The Super Deluxe Edition is lovingly packaged in a hardbound book with a lenticular cover, liner notes by David Fricke and newly reimagined album artwork designed by Josh Graham. It also features never before seen band photography by Kevin Westerberg.
A 2-LP gatefold of the original 16 vinyl tracks remastered on 180-gram vinyl in a gatefold jacket will also be made available.
In addition, the Superunknown singles and associated b-sides with newly interpreted artwork sleeves by Josh Graham will be reissued on Record Store Day, April 19th, as a set of five limited edition 10″ vinyl records.
Last night, the band – Chris Cornell, Kim Thayil, Ben Shepherd and Matt Cameron – made available a never-before-heard rehearsal version of album track "The Day I Tried To Live." Listen to the track on Soundcloud and YouTube.
"Black Hole Sun" and "Spoonman" won Grammy® Awards in 1995, when the album was also nominated for Best Rock Album. The album has also been certified five times platinum by the RIAA in the United States and has sold around 9 million copies worldwide, making it the band's most commercially successful album. In 2003, Rolling Stone ranked the album as one of the 500 Greatest Albums of All Time and the 100 Greatest Albums of the Nineties. Superunknown debuted at number one on the Billboard 200, selling 310,000 copies in its opening week and reached high positions on charts worldwide.
The band released their first studio album in 16 years, King Animal, in November of 2012 to widespread critical acclaim and it debuted as the No. 1 Rock Album in the U.S. Co-produced by the band and Adam Kasper at Studio X in Seattle, it was released on via Loma Vista/Republic. The first single, "Been Away Too Long," reached No. 1 on both Active and Rock format charts. PRESS HERE to watch the video for the band's second single from the album, "By Crooked Steps," directed by friend and fan Dave Grohl. This year, the band announced that they will be headlining the Sasquatch Festival in the U.S.'s Pacific Northwest over July 4th weekend.
Stay tuned for more news and announcements surrounding Superunknown 20.
It's going to be a very loud year.
What the critics said about Superuknown in `94:
"Demonstrates far greater range than many bands manage in an entire career. At its best, Superunknown offers a more harrowing depiction of alienation and despair than anything on In Utero." (5 Stars)- Rolling Stone ( J.D. Considine)
"Soundgarden dealt in unreconstructed heavy rock: a heavy guitar sound, depth-charge drumming" (5 stars)- Q Magazine
"stands as Soundgarden's masterpiece." –Blender (Ann Powers)
"Superunknown actually tries to broaden its audience by breaking heavy-metal genre barriers that Soundgarden used to accept. Soundgarden…want[s] something different from standard heavy metal." – The New York Times (Jon Pareles)
"hard-rock milestone-a boiling vat of volcanic power, record-making smarts, and '90s anomie and anxiety that sets a new standard for anything called metal." (A)- Entertainment Weekly (David Browne)
"It's obvious that Superunknown was consciously styled as a masterwork, and it fulfills every ambition." (5 stars) – Allmusic (Steve Huey)
SUPERUNKNOWN – DELUXE EDITION 2CD TRACK LISTING:
CD ONE – REMASTERED ALBUM
1. Let Me Drown
2. My Wave
3. Fell on Black Days
4. Mailman
5. Superunknown
6. Head Down
7. Black Hole Sun
8. Spoonman
9. Limo Wreck
10. The Day I Tried to Live
11. Kickstand
12. Fresh Tendrils
13. 4th of July
14. Half
15. Like Suicide
16. She Likes Surprises
CD TWO – Demos, Rehearsals, B-Sides & More
1. Let Me Drown (Demo)^
2. Black Hole Sun (Demo)^
3. Half (Demo)^
4. Head Down (Rehearsal)^
5. Limo Wreck (Rehearsal)^
6. The Day I Tried to Live (Rehearsal)^
7. Like Suicide (Acoustic)
8. Black Days III*
9. Birth Ritual (Original Demo Version)
10. Exit Stonehenge
11. Kyle Petty, Son of Richard
12. Jerry Garcia's Finger
13. Spoonman (Alternate Steve Fisk Remix)^
14. The Day I Tried To Live (Scott Litt Mix)^
15. 4th of July (Instrumental)^
16. Superunknown (Instrumental)^
SUPERUNKNOWN – SUPER DELUXE TRACK LISTING:
CD ONE – REMASTERED ALBUM
1. Let Me Drown
2. My Wave
3. Fell on Black Days
4. Mailman
5. Superunknown
6. Head Down
7. Black Hole Sun
8. Spoonman
9. Limo Wreck
10. The Day I Tried to Live
11. Kickstand
12. Fresh Tendrils
13. 4th of July
14. Half
15. Like Suicide
16. She Likes Surprises
CD TWO – B-SIDES & MORE
1. The Day I Tried To Live (Alternate Mix)^
2. Spoonman (Alternate Steve Fisk Remix)^
3. Beyond The Wheel (Live)
4. Fell On Black Days (Live)
5. Birth Ritual (Original Demo Version)
6. Jesus Christ Pose (Live)
7. Like Suicide (Acoustic Version)
8. Kickstand (Live)
9. My Wave (Live)
10. Spoonman (Steve Fisk Remix)
11. Exit Stonehenge
12. Kyle Petty, Son of Richard
13. Black Days III*
14. Ghostmotorfinger**
15. Jerry Garcia's Finger
16. Fell On Black Days (Video Version)
CD THREE – THE DEMOS (unreleased)
1. Let Me Drown (Demo)
2. Fell On Black Days (Demo)
3. Superunknown (Demo)
4. Black Hole Sun (Demo)
5. Spoonman (Demo)
6. Fresh Tendrils (Demo)
7. 4th of July (Demo)
8. Half (Demo)
9. Like Suicide (Demo)
CD FOUR – THE REHEARSALS (unreleased)
1. Black Hole Sun (Rehearsal)
2. Bing Bing Goes To Church (Rehearsal)
3. Half (Instrumental)
4. Head Down (Rehearsal)
5. Kyle Petty, Son Of Richard (Rehearsal)
6. Let Me Drown (Rehearsal)
7. Limo Wreck (Rehearsal)
8. My Wave (Rehearsal)
9. Fresh Tendrils (Rehearsal)
10. Like Suicide (Rehearsal)
11. Ruff Riff-Raff (Rehearsal)
12. Spoonman (Rehearsal)
13. The Date I Tried To Leave (Rehearsal)
14. The Day I Tried To Live (Rehearsal)
DISC FIVE – BLU-RAY AUDIO 5.1 MIX
1. Let Me Drown (5.1 Mix)
2. My Wave (5.1 Mix)
3. Fell On Black Days (5.1 Mix)
4. Mailman (5.1 Mix)
5. Superunknown (5.1 Mix)
6. Head Down (5.1 Mix)
7. Black Hole Sun (5.1 Mix)
8. Spoonman (5.1 Mix)
9. Limo Wreck (5.1 Mix)
10. The Day I Tried To Live (5.1 Mix)
11. Kickstand (5.1 Mix)
12. Fresh Tendrils (5.1 Mix)
13. 4th Of July (5.1 Mix)
14. Half (5.1 Mix)
15. Like Suicide (5.1 Mix)
16. She Likes Surprises (Int'l Vers & Us 12″) (5.1 Mix)
SUPERUNKNOWN: THE SINGLES – FIVE 10-INCH VINYL SET
1.       SPOONMAN
Fresh Tendrils
Cold Bitch
Exit Stonehenge
2.       THE DAY I TRIED TO LIVE
Like Suicide (Acoustic Version)
Kickstand (Live)
Limo Wreck
3.       BLACK HOLE SUN
Jesus Christ Pose (Live)
Beyond The Wheel (Live)
Fell On Black Days (Live)
4.       MY WAVE
Spoonman (Steve Fisk Remix)
Birth Ritual (Original Demo Version)
My Wave (Live)
5.       FELL ON BLACK DAYS
Kyle Petty, Son of Richard
Ghostmotorfinger**
Fell On Black Days (Video Version)
Girl U Want
Black Days III*
* Originally titled "Fell On Black Days (Demo – Early Version)"
**Originally titled "Motorcycle Loop (Short Version)"
^ Previously Unreleased
#superunknown20