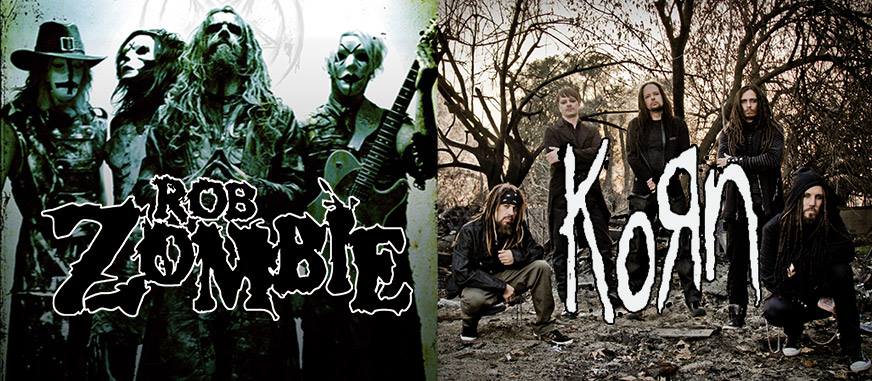 Tonight is going to be fun!
I arrive what I thought was early, but find Mushroomhead already halfway through their set, but in watching this band, they are the perfect choice to open tonight's show and as per their set at Soundwave they are getting the crowd going early and are heavy as all hell. This almost rap rock metal is brutal and we are ready to keep the horns held high.
Even before Korn start their set there is a buzz in the air, the band that hasn't been back to Australia in a number of years and their first time back with returning guitarist Brian 'Head' Welch so this is sure to be a set that will impress. As Jon Davis' signature HR Geiger style microphone is revealed there are cheers and as the intro plays, this is anticipation. As 'Falling Away From Me' starts and I'm pushed about ten people to the left by a barrage of guys darting to the front, I now have a better spot anyway so thanks for that and I'll send you the chiro bill later, but back to the band, they sound amazing. Cookie Monster came out early today and the crowd went nuts but not as much as when that opening drumbeat of 'Got The Life' hit and lyrics being screamed toward the stage from all sides I fear for my safety for the rest of the evening! To the new album with 'Love & Meth' which killed it and a talk box comes out for what I can only assume is a cover of 'Livin' on a prayer' oh wait, I'm wrong… Way wrong. 'Dead Bodies Everywhere' sees a new wave of front pushers make their way stampeding past which was expected. Then the keyboard driven 'Spike In My Veins' and 'Good God' took things to a new level. Then the heaviness of 'Get Up!' then a set of bagpipes appears and Jonathan Davis attached to them and the nursery rhyme ridden track 'Shoots and Ladders' but when er got to knick knack paddy whack shit got real. Fists were pumping for 'Somebody Someone' then 'Coming Undone' was a standout of this already amazing show. I have to say how surprised I am, I thought they'd be good but not this good. 'Here To Stay' keeps the energy levels up. Back to the new album with 'Never Never' which was received so well but nowhere near as well as 'Freak on a Leash' to be expected "GO" and the place goes nuts!! 'Blind' was one of the best of the night but the rifftastic opening of 'Clown' killed it as it built and built to have the floor in mosh heaven when it kicked into 'Right Now' owned it and as the band spent the last few minutes of their set throwing out drumsticks and picks the crowd are happy! Thank you Korn!
Rob Zombie bathed in red lighting takes the stage with band and 'Theme For The Rat Vendor' starts us off and well, but with a 'hey yeah…' 'Superbeast' is up up and away! and with more dreadlock head banging than humanly possible 'Scum of the Earth'' is loud and aggressive. John 5 gets the crowd pumped and Rob gets in on the act getting many ladies up on some shoulders and kicks off 'Living Dead Girl' which went off. The bluesy riff of 'Pussy Liquor' is sleazy and rockin' as you want! A drum solo four songs in is a little odd but when 'More Human than Human' is up next you don't give a fuck what the last thing was. This was my introduction to Rob Zombie as it would have been for many here and he's taking it to the people, literally as he's just gone down into the crowd and making his way across the front and they are loving it. As we're currently chanting 'Rock' and the other side 'mother fucker' starts off the song we're chanting and the so very metal giant balloons come out which does make me laugh. But this song also shows us just how good a player John 5 is, man there's some talent there. Throwing in one with the admission of not playing it for a while 'Demonoid Phenomenon' as Zombie lovingly 'pooms' John 5 with a balloon mid solo he doesn't miss a note which is quality work.
Slowing it down a little 'House of 1000 Corpses' has an almost boot scooting Zombie making his way across the stage and this one although the pace has slowed and the distortion lower, it still rocked the place. No sooner was it down it's back up with one of the many songs used for the WWE as 'Never Gonna Stop' kicks more ass than an actual WWE main event tonight, this one is wild!! "scream if you want it" indeed.
Our one ever chance of a mini White zombie reunion was shot when John Tempesta didn't make it to the stage. So no White Zombie tonight instead he's currently busting out 'Enter Sandman' by Metallica and did a kick ass version of it but back to a white zombie track in 'Thunder Kiss '65' sounded killer and now as John 5 is showing off and showing just how good he is as he shredded one hell of a guitar solo as Rob made his way through the crowd to the pleasure of many! The band leave the stage only to return with a heavy riff and a tasselled jacket for 'Dragula' and the place goes nuts. A 'zombie' chant takes us out and with that what a night.
With so many sidewaves in town on the same night, sometimes you're extremely happy when you make the right choice… tonight. Win!!
Essential Information
Venue: The Big Top, Luna Park – Sydney
Date: February 24, 2014
Website: www.robzombie.com & www.korn.com
Presented by: Soundwave Touring