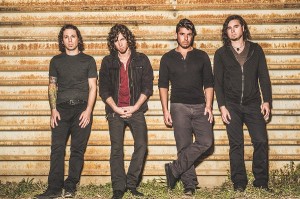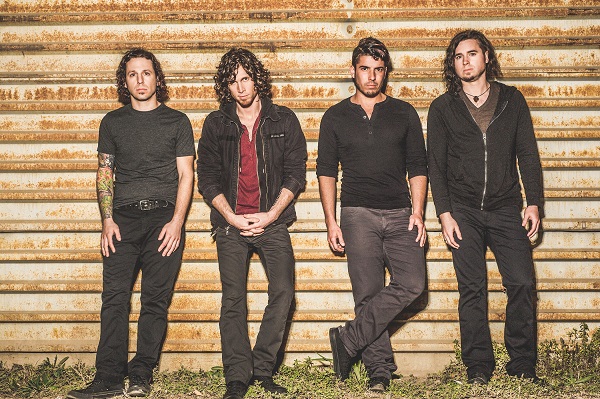 THE WHOLE WORLD IS TALKING ABOUT NOTHING MORE
HIGHLY SOUGHT AFTER BAND SIGN GLOBALLY TO ELEVEN SEVEN MUSIC GROUP
New York, NY – Allen Kovac's Eleven Seven Music Group is proud to announce the signing of San Antonio, TX alt-rockers, NOTHING MORE.
With soaring vocal melodies, meticulous atypical rhythmic structures, huge anthemic choruses and lyrical content that restores the art of storytelling, NOTHING MORE is set to take over the airwaves with the upcoming, self-titled Eleven Seven Music debut album.  With tracks like "This Is The Time (Ballast)" – released worldwide on March 10, 2014 – they are ready to raise the standard for contemporary rock music.
The hotly pursued band was thrilled to sign their deal with Eleven Seven Music Group "The day has finally come that we are partnering with a label that feels as passionately as we do about conquering the world through music;" says vocalist Jonny Hawkins.  "We couldn't be prouder to be working with the amazing people at Eleven Seven!"  Danny Wimmer from Armsdivsion Management adds  "While most labels in todays new music business are chasing pop culture and radio trends, Eleven Seven Music has stayed true to the rock genre and continues to double down on expanding their reach in the genre. I couldn't be more excited to have Nothing More join the Eleven Seven Music family."
Eleven Seven Music Group CEO, Allen Kovac adds "Every 10 years or so there is a band that sonically and lyrically shakes things up and cuts through the clutter.  For true rock fans that moment has arrived with Nothing More. That is why we signed them to a 5 album guaranteed contract," he says.   The whole world is buzzing about this band, with everyone from radio programmers to promoters to music magazines agreeing that a special band has arrived.
The debut single, "This Is The Time (Ballast)" is available for purchase athttp://smarturl.it/NMThisIsTheTime
"Let me open by saying I'M BLOWN AWAY !  Starting with Ballast I was hooked…  Christ Copyright kept me there and then this Mr. MTV track made me think that Gavin Rossdale (Bush) and Geddy Lee (Rush) merged to become the singer.  The sequence of this album is perfect although I'd move Jenny (#13) up to earlier as it kills as well.  Gyre was stunning / acoustic and really was perfectly placed as a track.  Also loved The Matthew Effect and Here's To The Heartache, especially #10, If I Were.  In summary no filler and from the second I heard the words (Holding each other like ransom notes) I was lyrically hooked as well."  – Randy Lennox – CEO, Universal Music (Canada)
"Nothing More's brand new sensitivity and style make any comparisons with the past irrelevant.  Their crawling heaviness and beautiful melodies match perfectly, as if to announce the arrival of a new era of rock music scene. Everything about Nothing More is revolutionary! " – Masa Itoh, (Power Rock Today/ FM Fuji, Rock City/TVK TV) (Japan)
"It's rare for me to play something out of the box that hasn't been released, however when I heard Nothing More, I knew I had to be the first to play them!" – Nikki Sixx, Host – Sixx Sense Radio (Syndicated on over 100 radio stations, 7pm-midnight) (USA)
"Once in a generation comes a band who change perceptions on what can be achieved. The last one was Linkin Park, the next one is Nothing More."  – Chris Ingham, Publisher, Metal Hammer (UK)
"Nothing More are a breath of fresh air to the rock scene. Their style is unique, hard-hitting and up to date – perfect for everybody who is into modern song-orientated rock music. Cannot wait to see them live!" – Thorsten Zahn, Publisher, Metal Hammer (Germany)
"Instantly addictive. It's a wall of sound crafted with catchy riffs and anthemic choruses. HUGE." – Higgo – Host of Distortion, Triple M Network (Australia)
"When 30 SECONDS TO MARS meeting LINKIN PARK and KILLSWITCH ENGAGE, it gives NOTHING MORE! The harmonies between singing and rhythmic blend to give a musical atmosphere that is both melodic and powerful. "Nothing more" is not the proper appreciation for this album, quite the contrary!"  – Christophe Droit (Hard Force / Metal XS) (France)
"It's like lying in a new lovers arms. Feels familiar and yet so new and refreshing. Nothing More fills the void you didn't even know existed."  Theres Bjork, Editor In Chief- Rock Sverige (Sweden)
"This amazing band rocks bigtime. Nothing More really stand out with their well crafted rock songs."  – Aardschok (Netherlands)
"Were you looking for the next big thing in rock music? You have it now! Nothing More will blow you away. They will be the hottest name of 2014, and probably also of the next years." –Francesca Legnani –  Rock Hard Magazine (Italy)
"There are moments that echo NIN, Placebo and even Rage – interesting mix." – Riccardo Ball, music director, The Rock radio (New Zealand)
"I can hear things of Evanescence, industrial with some bites of Korn but elevated to a next level. I think this is the perfect mix between modern hard rock and songwriting.  Would love to have them playing live down here in Argentina."  – Juan José Rodríguez Molas, MTS PRODUCCIONES – EL TEATRO FLORES, TEATRO VORTERIX, THE ROXY LIVE (ARGENTINA)
"This Texan quartet sound like a 100 bands jamming at the same time, from System Of A Down to Linkin Park to The Mars Volta, but they never forget  to write anthemic songs on the way." – Zona Zero (Spain)
"It's easy to pick up on—and become engrossed with—the commercial aspects of Nothing More: the climactic choruses, the quasi-emo song titles, the melodies that seep into your ears like honey gliding down a sore throat. That's just tapping the surface. The bigger picture is singer Jonny Hawkins' sometimes desperate vocals soaring against a far-flung backdrop that takes cues from disparate sources like Korn, Linkin Park, the Mars Volta, Incubus and Karnivool. The band's jagged, compelling rhythms and celestial ambience is bracketed by the group's adventurous spirit and well-deserved confidence. Despite being quite young, Nothing More bears the hallmarks of very old musical souls." –Christa Titus, Billboard (USA)
"With technical precision bone-crushing riffs and undeniable songs, Nothing More deliver THE 'Hard Rock Album of the Year'! A band who's skills belie their young age, Nothing More possess that rare combination of hard edgy progressive rock and accessibility which very few young or even established bands have. From the first blast to the last, the album never disappoints  First single "This Is The Time (ballast)" is already off to a great start and performing like a future #1 Rock Song should and I guarantee the album will do the same on June 24th." – Bob Morelli, CEO RED, a division of SONY Music (USA)
"Nothing More is one of those few bands that stops you in your tracks for a second, third and fourth look. They have the entire package of talent, content, meaning and let's not forget…entertainment. I'm excited for them." – Kevin Churko, Producer (Ozzy Osbourne, Five Finger Death Punch, In This Moment) (Canada)
"At a time when so many bands seem to stand for so little, Nothing More feel like a genuine breath of fresh air.  Hard rocking, profoundly compelling and ferociously intelligent, expect big things from this lot in the very near future." – Tom Doyle, Thrash Hits (UK)
"Great band. A fresh breeze in an otherwise stale genre. Very exciting!"  – Metalfan.nl (Netherlands)
"Nothing More give a fuck about genre. They are simply outstanding and show in an impressive manner that both aggression and melodies are compatible. Forget melting pots. Forget boring records. Nothing More are the epiphany!" – Peter Kupfer at EMP (Germany)
"With the ability to mix heavy, brutal, melodic music with strong and emotive vocals and get it to a dynamic entity, makes "Nothing More" for the most interesting rock act that the U.S. has delivered on the last ten years" – Sven Mören, Music-writer, rocknytt.net(Sweden)
"Nothing More offer an exciting take on modern metal with great dynamics and hooks, unpredictible twists and electronic flourishes that could take them to the top of the world." – Rockzone (Spain)
"Nothing More demonstrate all the progressive and heavy rock moments that Australian fans are sure to connect with!  Fans of Tool, 10 Years, Karnivool and The Mars Volta will revel in this record with anthemic tracks such as 'First Punch', 'The Matthew Effect', 'If I Were' and 'This Is The Time (Ballast)'"  – John Parker, General Manager Marketing & Promotions, Sony Music (Australia / New Zealand)
"Their melody sense is very unique and their performance is so steady and skillful that I can't believe this band is just a newcomer. They are very promising. I'd love to see their live show. "- Kaz Hirose/BURRN! (Japan)
 "Wow, Nothing More sounds truly convincing. It's a cool promising band we just can't get enough of."   –Rocktribune (Belgium)
"The perfect combination of chugging thudding groovy heaviness and melodic infectious addictive catchiness without falling in all those annoying nu metal traps!" – Espen Nørvåg Slapgård Metal Hammer (Norway)
"…a raucous blast of chunky riffs and unrestrained, fist-in-the-air glory." – Alternative Press Magazine's 100 Bands You Need To Know for 2014 / 22 New Bands You Need To See at SXSW (USA)
"High energy new act with some amazing songwriting skills defining a new era of metal and the future of aggressive heavy rock music " – Joe Rambock, Promoter, MLK (Germany)
"This is a really solid record.  (Nothing More) has matured to the next level and will challenge for the lead in the genre." – Rick Franks, President, Live Nation (USA)
"Nothing More? Who? Well, the Heavy Music community is about to be shaken & awoken by this new powerhouse group! Think, emotive grooves, rokkin heavy hooks, ethereal vocals, think Nothing More!" – Andrew Haug AndrewHaug.com 24/7 Radio. (Australia)
"Everything has been said and done before: A statement that nowadays much too often rings awfully true. But every once in a while something comes along that gets outside the box, reinstating your belief that there's still enough room left for creativity and the inventive power of the human mind.
And what can I say? Finally another one of those "somethings" came along! It goes by the name of Nothing More, a sensational band definitely destined for greatness. Listen to "Christ Copyright" – and within seconds you will become a believer! Or to put it differently: Nothing More's sound is like sex for the eardrums. Hey, what more can you ask for?" – Heinz Lackner, chief editor of PENTHOUSE MAG (Germany)
"NOTHING MORE are one of the best new bands I've heard to come out of the U.S. Big things are ahead of them for sure…look out for them!" – Andy Copping, VP of Music UK at Live Nation (UK)
"Makes one want to play a guitar loud. NOTHING MORE's sound brings about that first impulse of rock music" – Shinya Ueda/Young Guitar (Japan)
"Nothing More is an awesome band with very catchy yet heavy tunes that will stick in your head for days. " – UP Magazine (Netherlands)
"Nothing More could easily be the rockin´ bastard child of Deftones and At The Drive In. Aggressive and addictive." – Nicklas Muller-Hansson- Metalshrine.se, Rocksverige.se, RockIT FM (Sweden)
"If this band's live show is anywhere as intense as their debut album, then I'll be picking my jaw up off the floor. " – Chris Gonda, Pure Grain Audio (Canada)
"Not since Pantera has Texas produced such a vulgar display of aggression, ambition and virtuosity."—Jeff Kitts, Editor of Guitar World magazine (USA)
"Nothing More is definitely a band that everyone who loves great music should check out. They have their own distinct sound." – Lords Of Metal (Netherlands)
"AlterBridge & Avenged Sevenfold have been leading the way for hard rock in America.
Nothing More gathers some of the best elements of the genre to be one of the new bands to become one of the best in that path." – Gonzalo Vazquez – Music Director & Producer at Vorterix Radio and Vorterix.com (Argentina)
"A very interesting album for fans of modern rock who have grown bored of Linkin Park."  – Michael Rensen, Editor In Chief, ROCK HARD Magazine (Germany)
"Finally a new band worthy of taking the genre of Rock by the horns and giving it the shake-up it deserves! This will plain and simply blow people away, and there's Nothing More that needs to be said!" – Troy Culpan, www.maytherockbewithyou.com  (Australia)
"Nothing More is alight and filled with what metal music should be in the 21st century. So Texas is a metal prosperous area. It is the right band that came out of an appropriate place." – Hiro Arishima / Grind House Magazine (Japan)
"I like the progression of the song – he can actually sing and right now in our format, that's hard to find.  I've been out for something of substance. I try my hardest to break bands on ALT and I want to do the same on Active Rock so, you've got me on this one!" – Gabriella D'Agostino, Music Choice (USA)
"Nothing More is definitely something for Rock.  Each song is diverse and in the pocket. I will not be surprised to see Nothing More topping the Charts this year, in fact I expect it. " – Joe Bevilacqua Senior Vice President of Programming at Clear Channel (USA)
"On a very rare occasion a new rock band comes into my world that has the goods.  Nothing More delivers on all fronts. Their live show stands up against any new band out there. They demand to be seen and to be heard." – Marsha Vlasic, Sr VP of Concerts/Head of Contemporary Rock at ICM Partners (USA)
"An ambitious effort from this young, talented band.  Nothing More amazed me at their ability to deliver their technically advanced sound as good or better than on the record.  THIS is the band to watch in rock in the years to come!" – Jave Patterson, Program Director at KDOT/Reno (USA)
"Nothing More's relentless multifaceted brute-force sonic brutality catches you up, and keeps you spellbound with their mesmerizing melodic riffs. The perfect balance of melody and aggression, fans of Avenged Sevenfold and Mars Volta have found their new favorite band." – Heather Smith, Drumhead Magazine (USA)
"A supersonic blast of pure hard rock! Nothing More brings a refreshing new sound to the spectrum of Rock N Roll!" – Vincent Usuriello?Program Director, Sirius XM Satellite Radio
"Amazing songwriters. Epic performers. Superb people. That's the greatest band you want on a roster.  I wish this world had more of them. I remember when music inspired me. This is the kind of band that can inspire a generation." – Frank Pain, KEYJ  (USA)
"The new single, "This Is The Time (Ballast)" rocks! Nothing More leaves quite a first impression, I am excited to hear more from this new signing." – Jordan Davidoff, Artist Relations, Bop.fm (USA)
"Nothing More delivers everything a new rock band should – intensity, hard rocking guitar riffs and melodic vocals. They are adding a new sound to a familiar genre that we all love! I need nothing more."  – Andrew Schiffman, VP Music Programming & Artist Relations at ZUUS Media (USA)
"Nothing More has an anthemic intensity and rock solid groove combined with a crystalline vocal delivery that should propel them far into the future." – Jeff Kent, Curator, Music Aficianado (USA)
"Last night's Nothing More show blew me away…like I haven't been in a long time…so great…I can't say enough how great they were!" – Scott Burton, VP Radio Promotion at SONY RED (USA)