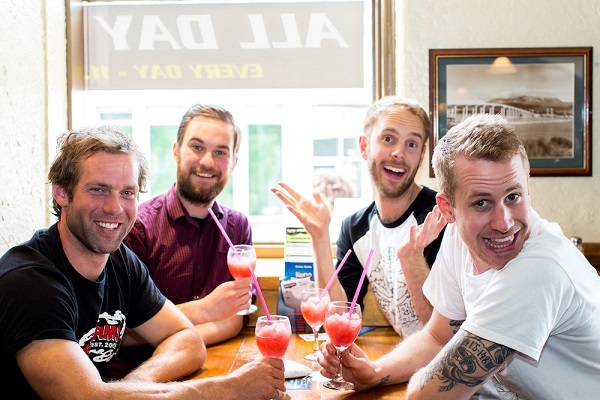 "We spent a lot of time writing and demoing this album, trying to craft the guitar parts while keeping some big chorus hooks in there at the same time. We hope that people are into what we've tried to pull off."
From Bio: Luca Brasi have toured Australia relentlessly, with a sense of youthful abandon, infectious enthusiasm and undeniable dedication to good times. Their sharp live performances and big smiles have won over peers and crowds alike. The band scored an unlikely slot on the 2012 Falls Festival, have overtaken Melbourne's Corner Hotel with a gutful of bile at the Poison City Weekender, and toured with certified pop punk legends Bodyjar and celebrated US punkers Title Fight this year. 
Patrick from Luca Brasi answered some questions for us about the band and their new album 'By A Thread' so check out these punk rockers from Tassie!
Let's start with the basics; for those that haven't heard of you, can you please give us the abridged version of the Luca Brasi story, how you all came to be and the decision on the name of the band?
The original line-up formed back in 2009 when all the guys from the East Coast were living in Launceston. Tyler and Busby had been kicking around ideas for a while before getting the band together for some house shows. I joined the band in early 2012, after having helped out a little on the first record with backing vox. The current line-up was complete mid last year, when our great mate Danny joined on the drums. All members of the band grew up and went to school together on the East Coast of Tas. The name is pretty self-explanatory, comes from the great Mario Puzo novel.
Can you now please introduce each band member including yourself, and give us a rock 'n' roll fact or myth about each of you?
My name is Patrick, I was lucky enough to join Luca Brasi in 2012 as the third guitarist at that stage. I enjoy nothing more than an ice cold daiquiri with my 3 best mates in the world, da boiz from the Brasi.
Tyler is our singer / bass player. He writes the majority of the lyrics for Luca Brasi and can party harder than anyone I've ever met before, it can be painful trying to keep up.
Tom is our shoe gazing, noodling guitar player. He was voted the greatest guitarist in the world ever in the local newspaper in Launceston.
Danny is our drummer, he has the biggest pectoral muscles you'll see on a drummer anywhere. Also he is a spud.
You have just released your second album 'By A Thread, so instead of giving us a standard review, let's say if you had to give us your best door to door sales pitch to try and convince someone to listen to it before they slam the door in your face, what do you say to them?
Please listen to our new album, it has wah pedal guitar solos, gang vocals and clever song titles. It was also mixed by Matt Bayles who has worked with Pearl Jam! We tried our very best with this album so please give it a red hot dip.
What does the title 'By A Thread' mean to you specifically?
By A Thread is the title that Tyler came up with for the album. It's a loose theme for the lyrics of the album. He was working away from home for the majority of the time the album was written. I think due to the fact he was flying home for little stints and trying to fit in shows, demoing, writing and having a home life made it feel like everything was literally hanging by a thread.
In putting this new album together, did you intentionally set out to do anything differently compared to your debut?We definitely just wanted to take a step up with the song writing. People seemed to really like the anthemic songs on Extended Family but we wanted to push the boundaries a little more and create something more complex. We spent a lot of time writing and demoing this album, trying to craft the guitar parts while keeping some big chorus hooks in there at the same time. We hope that people are into what we've tried to pull off. There are a few slower / quieter songs on the album too, which makes for a much more varied listen than the first album.
In terms of your song writing, what do you consider to be the most important ingredients that make up one of your songs?
We seem to have two distinct parts to our song writing. Tom or I will come up with some guitar parts and Tyler separately writes lyrics all the time and has a lot of material to choose from. So when we have the bones of a song together we look at trying to fit some words to the tune and try to flesh out the melodies. Quite often Tom or I will demo a song at our own place and then we can work with Tyler and his vocals at a later stage.
Both lyrically and musically, what or who inspires/influences your music the most?
Me personally, and I think the rest of the band would agree, but we have always been heavily influenced by Hot Water Music, although the guitar parts we are playing these days aren't that similar anymore. In terms of lyrics, I can't really speak for Tyler, but I really love John K Sampson and the Weakerthans. I'm sure Tyler would agree. He can just paint the clearest picture in your mind with his song writing.
It seems the punk scene is alive and well in Australia at the moment and with you guys flying the flag down there in Tasmania, how do you see the scene now compared to when you started the band back in 2009?
Back in 2009, Luca Brasi were obviously one of the youngest bands in the scene in Tasmania. The main band killing it at that stage was Ride the Tiger, and they were kind enough to put us on some shows when we were starting out. The scene is pretty strong in Tassie at the moment, local and touring bands are getting good crowds in Hobart in Launceston, especially bands like The Smith St Band and The Bennies who keep going from strength to strength. In terms of local bands Speech Patterns are really killing it in Hobart at the moment. They play super-fast, technical melodic punk rock in the vein of Lungs. Its killer stuff.
You're currently out playing some shows, give us three words that you feel sum up a Luca Brasi show perfectly…
Sing-alongs, sweat and smiles.
After this run that finishes in April, can we expect some further dates in 2014?
Yeah definitely. We'll definitely be back over to the mainland during the year, we'll try to fit in a few more shows in Tassie as well, and we don't play there as much as we probably should. We are also planning a trip to Europe later in the year which is super exciting.
For a bit of fun, say you get the chance to open for any artist or band in the world, who would they be and why?
This is totally ridiculous but I'm going to say Queen back in the day when Freddie was healthy. Imagine hanging with those guys and their haircuts and their sweet four part harmonies. Maybe Freddie could sing a song with us and his half mic stand, ah……
If you could cover one song in your live set that no one would ever expect, what would it be and why?
We've got a couple of songs we're dreaming about covering at the moment. The first is Santa Monica by Everclear. We have also been talking for a while about starting a Thin Lizzy cover band, I've got so much practise to do before that is possible though.
Lastly, with 2014 well on its way now, here's a chance to gaze into your crystal ball and see the future.  So, by the end of 2014, Luca Brasi will:
1. Have toured overseas
2. Have made a bunch of new friends
3. Have had the best time of our lives

Essential Information
From: Tasmania, Australia
Sounds like: Punk / Rock
Band members: Tom Busby (Guitar), Danny Flood (Drums), Patrick Marshall (Guitar, Vocals), Tyler Richardson (Bass, Vocals)
Current release: 'By A Thread' (Poison City Records) Out Now!
Website: http://www.lucabrasi.com.au
Catch Luca Brasi on tour at these dates: