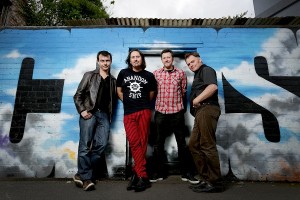 Twenty-five years ago a rag-tag bunch of folkies got together and formed a band called Things of Stone and Wood that went on to define Melbourne in the early 90s. Today the band's original lineup announce a celebration for fans as they re-form for the first time since 1997 for a limited run of anniversary shows.
Off the back of their top 10 single 'Happy Birthday Helen', the band achieved national success, international tours, a gold album The Yearning and even a Late Show parody, kicking off a career that would place them as one of Australia's most loved Folk-Rock bands.
Described as "Melbourne's most inspired and inspiring acoustic band" (Michael Dwyer), their imaginative use of organic instruments set off an acoustic/folk movement that paved the way for the likes of John Butler, The Waifs and Angus & Julia Stone.
Their live show has always been full of energy and passion and whilst they've won many an industry award, including an ARIA and APRA Songwriter of the Yearfor singer/songwriter Greg Arnold, it's on stage that demonstrates why they're so loved.
To celebrate their 25th anniversary, Things of Stone and Wood are touring once again in their original lineup, for the first time since 1997 for a limited run of special shows, playing favorites from across their multi-decade career.
International troubadour Carus Thompson will open, making this a folk-rock double bill not to miss.
THINGS OF STONE AND WOOD 
The 25th Anniversary Tour
with special guest CARUS THOMPSON

Friday 9 May
The Powerhouse Visy Theatre,  Brisbane
Saturday 10 May
The Gov, Adelaide
Friday 23 May
The Vanguard, Sydney
Saturday 24 May
The Northcote Social Club
Sunday 25 May
The Northcote Social Club (matinee)