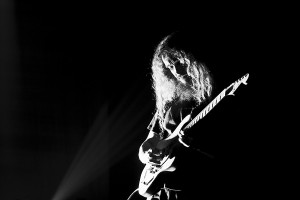 Thump Music would like to welcome you to a once in a lifetime opportunity to attend a never before seen Masterclass by Guthrie Govan in Australia. With over 2 hours of solid teaching, Q&A, playing and empowering you as a guitarist and musician.
ABOUT GUTHRIE
Guthrie Govan has been playing guitar for as long as he can remember. He played his first gig at the age of five and appeared on UK national TV four years later and subsequently went on to win the 1993 "Guitarist of the Year" contest sponsored by the leading UK magazine Guitarist. (More recently, the July 2011 issue of Guitar Player magazine ran a cover story on Guthrie's playing.) He has recorded and toured extensively with acts ranging all the way from melodic rock (Asia) to jazz fusion (The Fellowship) and electronica (The Young Punx.)
Guthrie has worked as a transcriber for Guitar Techniques magazine since 1994, covering the playing of pretty much everyone from Hank Marvin to Shawn Lane. He has also taught at various noted guitar schools in the UK, such as ACM and BIMM, and his clinic tours have taken him to all manner of unusual locations. (He's particularly proud of the Kazakhstan work permit in his passport…)
Guthrie's debut solo album Erotic Cakes was released in 2006. This eclectic collection of guitar instrumentals was widely acclaimed – inspiring Joe Satriani to deliver the verdict "freakin' awesome!"
He regularly works with the sample recreation company Replay Heaven, as a result of which his guitar and bass work has graced hit singles by the likes of Sonny J, the Sugababes, Cee Lo Green and Dizzee Rascal. He has also toured extensively with Dizzee, performing in arenas and festivals throughout the UK.
Guthrie was invited to appear on Lee Ritenour's Grammy-nominated Six String Theory project: his re-working of the track Fives (featuring Vinnie Colaiuta, Tal Wilkenfeld and Larry Goldings) is featured alongside contributions from the likes of Steve Lukather, George Benson and B.B. King.
Guthrie spent much of 2013 on the road with Steven Wilson, promoting the critically acclaimed album The Raven That Refused To Sing: more recently he has been touring extensively with the Aristocrats, an instrumental rock-fusion power trio which also features bassist Bryan Beller (Mike Keneally, Steve Vai, Dethklok, Joe Satriani) and drummer Marco Minnemann (UKZ, Paul Gilbert, Adrian Belew, Necrophagist, Kreator, Steven Wilson, Joe Satriani…)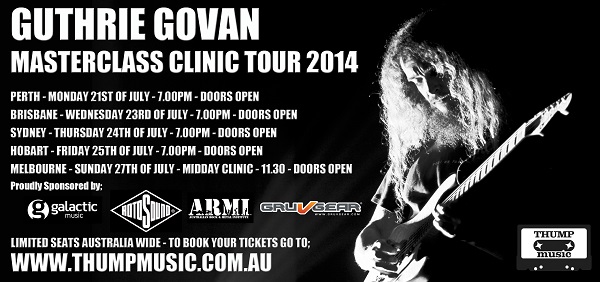 CLINIC DATES
Saturday, July 19 – Adelaide International Guitar Festival **
Monday, July 21- Hale School (John Inverarity Music & Drama Centre) Perth 7.00pm
Wednesday, July 23 – The Princess Theatre, Brisbane  7.00pm
Thursday, July 24 – Wesley Mission Theatre, Sydney 7.00pm
Friday, July 25 – Claremont College Theatre, Hobart 7.00pm
Sunday, July 27 – Gas Works Theatre, Melbourne 11.30am
**South Australia will not have the clinic format. Adelaide International Guitar Festival is working with Thump Music and having Guthrie perform at their Festival. See www.adelaideguitarfestival.com.au for the Adelaide appearances.
TICKET OPTIONS
General Admission $49.95
GA ticket enables you to enter into the venue when doors open. There are no allocated seats and its your preference on where you wish to sit (not in VIP area) or what time you arrive at the clinic.
VIP Admission $89.95
Early entry into the venue – 6.30 / 6.45 or 11.00 for midday clinic
Thump Music / Govan Gift & Seat in the first 3 rows at the venue
VIP ticket enables many various options for the customer for this specific tour. Priority question section when Q&A is opened up between customers and the Artist
– Meet & Greet with the artist after the clinic (Signing will be limited so if you are a die hard fan this is the best option)
This tour will be set in the format of Thump's standard clinic layout. The artist will change each clinic depending on how they are feeling and crowd interaction however this is a true clinic and we believe that you will leave as you did with Satriani, Gilbert, Vai, Wooten & Miller excited about music and your instrument.
thumpmusic.com.au / www.guthriegovan.co.uk