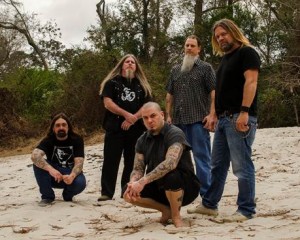 Metal legends Down will release their new EP Down IV – Part Two on May 9, 2014 via Down Records/Roadrunner Records. Tracked at Nodferatu's Lair – iconic vocalist Philip H. Anselmo's home studio – and produced by Michael Thompson, Anselmo and Down, the new EP is the eagerly anticipated sequel to Down IV – Part One. The new offering from Down is packed with the quintet's signature gargantuan riffs, swamp blues leads, crashing drums and hypnotic howls, upholding a certain tradition that countless fans celebrate, expanding their own musical mythos as they leave its pillars intact and untouched.
With a collective resume encompassing Pantera, Corrosion of Conformity, and Eyehategod, Down puffed out its first haze of sonic smoke from the belly of gritty old New Orleans on their 1995 platinum-selling classic, Nola. At that moment, they naturally summoned something akin to a ritual, continually partaking in it with critically revered offerings – Down II: A Bustle In Your Hedgerow in 2002, Down III: Over the Under in 2007, Diary of a Mad Band live CD/DVD in 2010 and Down IV – Part One in 2012. Their shows built a certain live lore with unforgettable runs alongside Metallica and Heaven & Hell as well as coveted spots on Download, Soundwave, and OZZfest. On 2014's Down IV – Part Two, the boys once again deliver passionate, powerful, and pure heavy music.
When Anselmo, Pepper Keenan, Jimmy Bower, Pat Bruders, and Bobby Landgraf retreated to "Nodferatu's Lair" at Anselmo's Lousiana home in the fall of 2013, things had changed a bit. For the first time in the band's storied career, Kirk Windstein wouldn't be handling guitar duties alongside Keenan. Instead, longtime "family" member, stage manager, and Honky guitarist Landgraf took the reins.
"He was immediately at home," affirms Anselmo. "Bobby had always been that guy in case of anything. Knowing his personality, he really locked in with what we do and took it to heart. He made himself belong. Honestly, the first day he came down he contributed a very strong riff to a key song. There's that Southern element, which is imperative. I also catch a real old heavy metal vibe from this record. I can't stress this enough. He took it all on, and he did a fucking awesome job."
Keenan adds, "Even with the lineup differences, it's interesting how the songs still sound very Down. Bobby and I have always locked in. It's not just physically either, but mentally as well. We see eye-to-eye, and he's been watching for a long time."
"It was a big deal for me," beams Landgraf. "I drove ten hours up from Texas that first day, cracked a beer, and plugged in. We jumped right into the room, and I played this part. They all smiled. That was the moment for me. I'm a longtime fan, and I knew we were friends, but being a part of the writing and working towards something together was just incredible. As a guitar player, one of my goals was to be in a group like this. I want to make everyone proud."
The fans will undoubtedly take pride in this collection as well. Making good on Down's promise of a series of EPs, the second installment sees a pronounced progression amongst the individuals themselves as well.
"We wanted to back up our word as far as releasing these EPs," Anselmo goes on. "Everybody was fixated on that. This is the shortest period of time between our releases, and everyone stepped it up and upped his game. Keenan, Bower, Bruders and Landgraf all contributed some excellent riffs. Having all of this fresh input makes for a different listen and a new perspective on what Down should and does sound like. All of that yields a unique record off the bat."
FOLLOW DOWN
OFFICIAL WEBSITE | FACEBOOK | TWITTER | YOUTUBE | INSTAGRAM