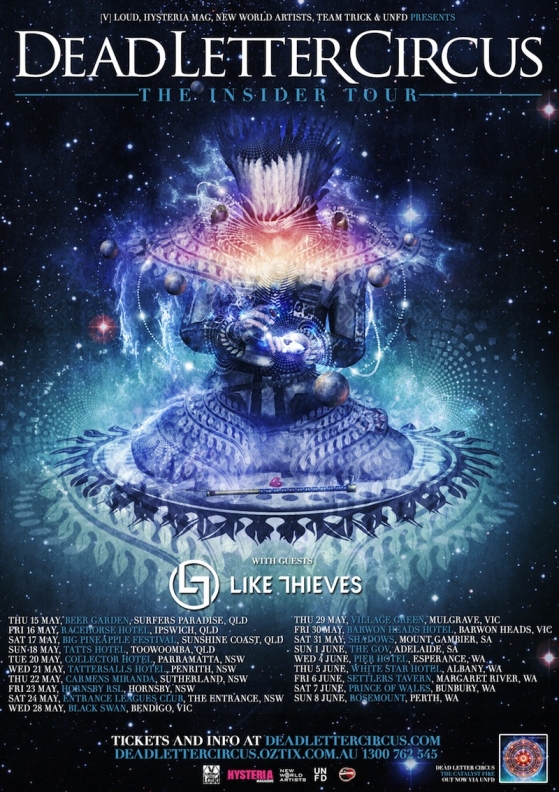 Dead Letter Circus are pleased to announce The Insider Tour, with 19 shows sweeping across all points of regional Australia. After spending January co-headlining capital city dates with old friends Karnivool, Dead Letter Circus can't wait to get back in the van and take their high impact, powerfully emotive performances to their loyal regional fans.
'Insider' is the latest single off the band's sophomore album, The Catalyst Fire, which debuted at number 2 on the ARIA charts and was a triple j Feature Album.
Vocalist Kim Benzie described 'Insider' as "That song you recognize from the first beat. Spacious and massively epic. We love playing this live."
The band has criss-crossed the globe over the past 3 years, catapulting them to the forefront of the alternative-progressive rock world. The Insider Tour will see Dead Letter Circus bring Brisbane mates Like Thieves along for the ride, and they'll be joined by hand-picked local supports. Tickets are sure to sell out fast, don't miss out.
DEAD LETTER CIRCUS
THE INSIDER REGIONAL TOUR
with guests LIKE THIEVES
Tickets on sale Monday 17th of March
Thursday 15th May 2014
Beer Garden
Cnr Cavill & Orchid Ave, Surfers Paradise, QLD
w/ Like Thieves and Guards of May
Friday 16th May 2014
Racehorse Hotel
215 Brisbane Rd, Booval, Ipswich, QLD
w/ Like Thieves and Guards of May
Saturday 17th May 2014
Big Pineapple Festival
76 Nambour Connection Rd, Woombye, Sunshine Coast, QLD
Sunday 18th May 2014
Tatts Hotel
178-180 Margaret St, Toowoomba, QLD
w/ Like Thieves and Guards of May
Tuesday 20th May 2014
Collector Hotel
100 George St, Parramatta, NSW
w/ Like Thieves and Self Is A Seed
Wednesday 21st May 2014
Tattersalls Hotel
Station St, Penrith, NSW
w/ Like Thieves and Self Is A Seed
Thursday 22nd May 2014
Carmens Miranda
590 Kingsway, Miranda, Sutherland, NSW
w/ Like Thieves and Self Is A Seed
Friday 23rd May 2014
Hornsby RSL
4 High St, Hornsby, NSW
w/ Like Thieves and Self Is A Seed
Saturday 24th May 2014
Entrance Leagues Club
3 Bay Village Rd, Bateau Bay, The Entrance, NSW
w/ Like Thieves and Self Is A Seed
Wednesday 28th May 2014
Black Swan
117/119 McCrae St, Bendigo, VIC
w/ Like Thieves and The Khyber Belt
Thursday 29th May 2014
Village Green
Springvale Rd, Mulgrave, VIC
w/ Like Thieves and The Khyber Belt
Friday 30th May 2014
Barwon Heads Hotel
1 Bridge Rd, Barwon Heads, VIC
w/ Like Thieves and The Khyber Belt
Saturday 31st May 2014
Shadows
5 Penola Rd, Mount Gambier, SA
w/ Like Thieves
Sunday 1st June 2014
The Gov
59 Port Rd, Hindmarsh, Adelaide, SA
w/ Like Thieves and guests
Wednesday 4th June 2014
Pier Hotel
The Esplanade, Esperance, WA
w/ Like Thieves
Thursday 5th June 2014
White Star Hotel
7 Stirling Terrace, Albany, WA
w/ Like Thieves
Friday 6th June 2014
Settlers Tavern
114 Bussell Hwy, Margaret River, WA
w/ Like Thieves
Saturday 7th June 2014
Prince of Wales
41 Stephen St, Bunbury, WA
w/ Like Thieves
Sunday 8th June 2014
Rosemount Hotel
459 Fitzgerald St, North Perth, WA
w/ Like Thieves and guests
For supports, venue and ticket information, head to:
deadlettercircus.oztix.com.au