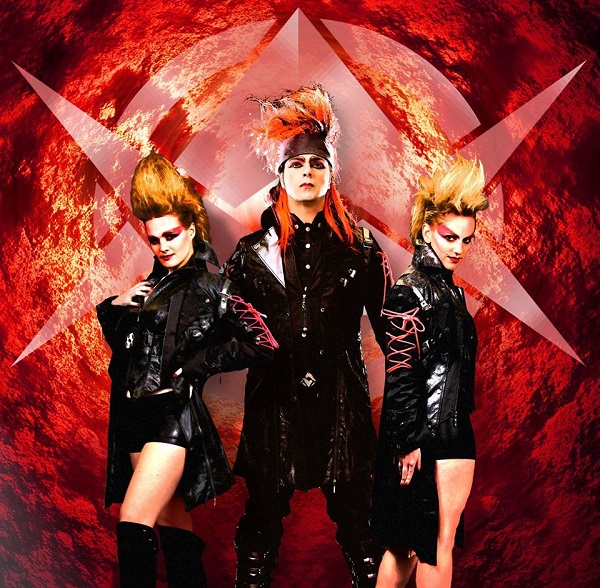 "The future of our planet is dominated by 'Boy Bands' and 'Hip Hop Artists" and CROSSON has been sent back in time from Earth's decadent future to save the future of Rock and Metal. Our goal – to Spread The Rock N Roll Disease."
From Bio: Transported back in time from our decedent future, post apocalyptic rock warriors CROSSON, have arrived in the 21st century to save the future of Rock & Metal. Their quest….. to 'Spread The Rock n Roll Disease!!'
Fusing melodic heavy rock and big harmonies with a tongue-in-cheek attitude, reminiscent of The Darkness, Steel Panther and KISS, CROSSON's brand of catchy rock anthems is enticing on their new EP "Spreading The Rock n Roll Disease"
Nothing can prepare you for the visual onslaught CROSSON delivers in its live show. Numerous costume changes, blended with high- energy choreography, smoke, sirens, and catchy tunes makes the CROSSON live show a "seen- to- be- believed" entertaining experience.
Join the CROSSON revolution and start "Spreading The Rock N Roll Disease"!!!
We had Crosson answer some questions for us about the band, their music, the future and spreading the Rock N Roll disease…
Let's start with the basics; for those that aren't aware of you, can you please give us the abridged version of the Crosson story, how you all came to be and the decision on the name of the band?
The future of our planet is dominated by 'Boy Bands' and 'Hip Hop Artists" and CROSSON has been sent back in time from Earth's decadent future to save the future of Rock and Metal. Our goal – to Spread The Rock N Roll Disease.
As for the name, well if its good enough for Bon Jovi, DIO, Dokken, Van Halen etc its good enough for us.
Can you now please introduce each band member including yourself, and give us a rock 'n' roll fact or myth about each of you?
CROSSON (moi) – The reason the Tribunal Of Rock sent me back to the 21st century was because all acts with any musical talent were unavailable or imprisoned for converting to Hip Hop. My only request is that I had 2 x Rock N Roll Goddesses accompany me.
Ms Devine & Electra Love – CROSSON's two seductresses whose titillating stage moves bring to life the whole CROSSON experience . These two are the Rock N Roll wenches from hell….and of course, they are constantly busting my chops!!!
When recording in your century, we have had the pleasure of using Australia's finest rock musicians – Joel McDonald (Guitars), Jordon McDonald (Drums), John Kater on bass and the amazing Amanda Easton on bv's.
You have just released your new EP 'Spreading The Rock N Roll Disease', so instead of giving us a standard review, let's say if you had to give us your best door to door sales pitch to try and convince someone to listen to it before they slam the door in your face, what do you say to them?
I'll let the music critics do the talking on this one:
" If you like the of idea of KISS and Motley Crue crossed with The Darkness and Steel Panther, your gonna love CROSSON……. this EP is a delight, full of catchy, infectious, anthemic, sing-it shout-it rock tunes" – Xavier Russell – Classic Rock Magazine AOR
"Spreading the Rock 'n' Roll Disease is definitely one hell of an infectious EP. But not to worry, all you will catch from this CD is an addiction to the music!! …..Think Sex Pistols merged with The Darkness and you're only about half way there…. this EP should be on everyone's "guilty pleasure" list." – Mark Lloyd – Room Thirteen
In terms of your song writing, what do you consider to be the most important ingredients that make up one of your songs?
As Roy Thomas Baker (Queen's producer) once said "More is More". What we strive for is catchy anthemic songs with huge harmonies, rockin' guitars and ripping solos. The aim with every Crosson song is that by the time you hit the 2nd chorus you are singing along and banging their head at same time while painfully trying to hit the high harmonies!
Both lyrically and musically, what or who inspires/influences your music the most?
Ahhh so many. Paul Stanley, Michael Sweet, Nikki Sixx, Klaude Schnell & Rudi Schenker, Jon Bon Jovi. I could ramble all night on this one.   As for what comes out lyrically, I guess it depends on what I've been surrounding myself with. I've been reading lots of inspirational material of late hence 'Take Another Shot' and 'All About The Music'. On the other spectrum 'Taxman' was written after receiving a large land bill!!
The video to 'All About The Music' is a great concept, tell us a bit about how you came up with it…
We wanted to show CROSSON in our futuristic world, being transported back in time to 'spread our rock n roll disease' to the 21 century.  As with our last 2 videos The CROSSON logo is the portal between our two worlds.
You worked with some great names in making the EP, in particular Duane Baron who's worked with the likes of Ozzy and Motley Crue, why was he the right choice for your debut EP?
Some of my favourite albums were, mixed / engineered/ produced by Duane including Ozzy's' No More Tears',' Motley Crue's "Theatre of Pain" & "Girls Girls Girls" Poison's "Open Up and Say Ahh" just to name a few. As I grew up listening and loving these records it was an honour to have Duane on board. Plus more importantly he said Yes!!
When mixing the title track I noticed he had put one reverse cymbal in there as he had done in Poison's 'Nothin But A Good Time". I said "Dude, this is your trade mark , just go for it"
We also had Mikko Karmilla mix 3 x tracks for us. The reasoning was "If he can mix Nightwish (with their amazing choirs and harmonies), then mixing  CROSSON will be a no brianer!! Plus he said Yes also!
Not to jump the gun, but are there already plans for future releases?
Funny you should ask. Yes we head back into the studio on the 24th Feb to lay down another 4 tracks which will appear an on Special Japanese release of "Spreading The Rock N Roll Disease". Duane Baron is back on board for these 4 tracks.  The great thing about digital sales is you can just download those tracks if you already have the EP.
There are also 5 songs fully demoed for the next album, which will probably see the light of day sometime in mid 2015.
Do you have any gigs on the horizon, and if so, where can people come and catch you play?
If you want to see the CROSSON rock n roll extravaganza, please like our us at www.facebook.com/crossonrock   and we'll keep you updated as to when we are next in your area.
For a bit of fun, say you get the chance to open for any artist or band in the world, who would they be and why?
Opening for KISS at Tokyo Dome would be neat!! KISS set the bar, and still continue to do so, as far as an amazing live show. Iron Maiden and Motley Crue come a close second. If you are going to play live, be the band that you want to see.
If you could cover one song in your live set that no one would ever expect, what would it be and why?
A flash back from the 70's that I think would work is Pilot's "Sky High" done with big guitars, crashing drums and harmonies. I haven't heard a heavy remake of that!!
Give us one word that you feel sums up Crosson as a whole…
Anthemic!!
Lastly, with 2014 just begun, here's a chance to gaze into your magic mirror and see the future.  So, by the end of 2014, Crosson will:
1. Secure licensing in Japan and Europe
2. Start our international tour
3. "Spreading The Rock N Roll Disease" around the globe!!
Thanks for your time today and May the Rock be with You!
And also with you!!
Essential Information
From: Sydney, Australia
Sounds like: Theatrical Rock
Band members: Crosson, Ms Devine & Electra Love
Current release: 'Spreading The Rock N Roll Disease'
Website: http://www.crosson.com.au