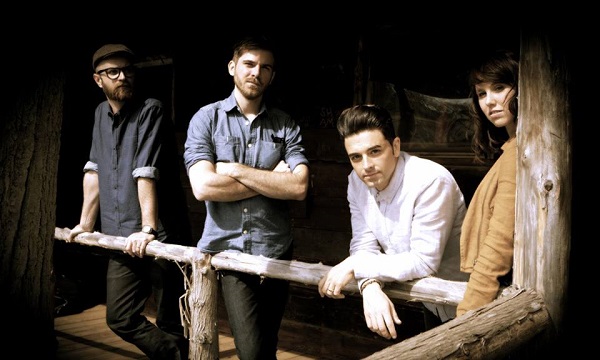 "My reservation was always that that was a pretty fulfilled musical genre and what could I add new to that, and the answer was I guess, my own perspective. I was excited to work within the parameters of the music that I love so much and still try to excel."
From release: Having spent more than a decade baring his musical soul as leader of beloved alt-rock trailblazers Dashboard Confessional, Chris Carrabba knows quite a bit about creating music that speaks directly to listeners' hearts.  Now, with his rootsy new foursome Twin Forks, the singer-guitarist-songwriter and his bandmates—mandolinist/vocalist Suzie Zeldin, also a member of The Narrative, bassist Jonathan Clark and Bad Books drummer Ben Homola—take a slightly different route to musical transcendence.  On its self-titled debut album, the fresh foursome delivers a dozen effortlessly uplifting, life-affirming tunes that combine resonant acoustic textures with catchy, celebratory songcraft.
We chatted with Chris Carrabba of Twin Forks about his new band, nerves and new songs and the future of that other band you may know him for…
Twin Forks is different from what we all know you for, that being Dashboard, so I guess for those unaware, how did Twin Forks come about?
Well, it was a long process of discovery, I started it out as a really simple finger picking thing, well not simple finger picking, really intricate but with simple melodies and it was just going to be very light instrumentation. Something like Lee Murdock or Iron & Wine, something like that, maybe slightly fancier finger picking, not like Tommy Emmanuel, but trying to be like that *laughs* but at some point with the people that I've assembled to help me make the record, there's too much of an identity in our friendship that wasn't represented in the music and so one of the things that would occur was that we'd spend a lot of time just playing music, on the patio, or outside of the garage where we were recording and we'd play a lot of folk music, that's kind of what I'll play whenever I'm left to my own devices. Jonathan my bass player who produced the record he really just coerced me to follow that lead, he understood that was a big influence of mine and I had decided a long time ago not to explore and not to chase too hard and so, he encouraged me to bravely follow that. My reservation was always that that was a pretty fulfilled musical genre and what could I add new to that, and the answer was I guess, my own perspective. I was excited to work within the parameters of the music that I love so much and still try to excel.
The songs are just so amazingly 'happy' for lack of a better word, how did these come together?
Well I assembled some of the happiest people I know to be in this band, and then in addition to that one of the things I always loved about Dashboard was the crowd participation that was always very effusive and unrestrained and we thought it would be great that we start with that rather than that being the end result of the music.
What inspires you these days?
I think it's like a call back to what I was saying before, I think it's a combination of stuff I listened to growing up, Paul Simon, Pete Seeger, Dylan and Woody Guthrie and Townes Van Zandt and Steve Earle, even Willie Nelson, a lot of the outlaw country guys, Kris Kristofferson. I never really stopped listening to that music, it was just an area I never really explored as a writer, there's some modern bands doing some incredible work in the same kind of vein, like The Milk Carton Kids, The Lost Brothers to name a couple and then of course in the interim between starting the record and putting it out, there was the fantastic emergence of these few bands like The Lumineers and Mumford & Sons and The Avett Brothers and what I love about them and beyond what I just described with that style of music, specifically Mumford & Sons they suit any style of music to arrange their songs in. Their songs are just hits, it wouldn't have mattered how they dressed them, it's sort of lucky for me as a fan, number one, that they chose the type of instrumentation that I like so much and that I like to play so much, and then really lucky for me as I never hear this kind of music, and I don't know if you agree with this, Troy? But before these bands got on popular radio you might hear say a banjo for example and it would be a put off and would immediately make them think of something old-timey or country or something that's not for me and change the channel to something heavier or poppier. Now I think people won't immediately change the channel but will give us a chance. I didn't expect that when we began working on this, if you would've told me three years ago when I was working on Twin Forks that that this kind of music that we're maybe on the fringe of would be something that is massively accepted I would've been shocked, I thought I was once again firmly establishing myself in a niche.
You were here in Australia with City and Colour last year, what was it like being back in Australia with Twin Forks?
Oh you know, everybody loves Australia, everybody you speak to says they'd move there in a heartbeat, right? There's a reason for it, it's just such an inviting populous and a beautiful place to be. We went to people's houses for dinner every night *laughs*, we met these two young lawyers who took us to their horse farm out in the country and we drank wine all night and had a beautiful meal cooked for us and visited the countryside in a manner that is unusual considering that generally we inside the inside of a dank arena for most of our time *laughs*. I wish we had been able to do every show of that City and Colour tour but some of those dates have union rules and said that shows have a limited time to play and of course City and Colour deserve to play and Husky is so great and they were on the whole tour. We were really happy to be back there and happy to be back with Dallas, he's an old friend of mine and it's a wonderful thing, I gave him some help, I shouldn't say help, I was a fan and I gave him shows very early on before anybody else was, big arena and amphitheatre shows, and now playing arenas and amphitheatres and he's turned around and given me a first shot. It's incredible.
I know this may sound silly, but are there nerves when you're practically introducing a new band to a live audience?
Of course, I get nervous anyway, but yeah there's even more nerves now, we're about to go out on tour with an artist who's an arena sized artist and very nervous about it. He's got an established fan base, it's up to us to go out there and win them over, I won't know until the first show. Bands have one of two types of audiences, real inquisitive audiences about other bands or real die hard for just that one band. I'm speaking from a Dashboard point of view, with my band, my audience generally speaking was really interested in our openers because it was clear I was putting my own fandom of those bands out on display, so I was sharing that part of my show with the audience and they were curious because they figured we have similar taste I think, so you either get that, and that's real lucky for an opener *laughs* or you get that thing where we're going to hear you while we wait… that kind of thing. *laughs*
I do have to ask about Australia, a place that seems to just 'get you' if you know what I mean, do you have a great memory of Australia you can share with us?
Firstly, this last tour we did, we did these sideshows when we did The Oxford Arts in Sydney, I just honestly didn't expect so many people to come, I didn't expect them to sing along and I didn't expect them to stand and talk with us for so late and so long, it was really wonderful. I'll tell you, with Dashboard one of my great memories was we played this big open, it was so big it was cavernous and black, and until the lights came on I didn't know if anyone had shown up or not, but the thing was they cheered like people have a specific thing, you often hear 'Dashboard, Dashboard…' you know? Kinda like your normal rock and roll chant, and then there's what I call the hockey chant which is like 'Dassshhhhboardddd… Dassshhhhboardddd…' and I'll never forget that, it sounded like so glorious and unique and I was scrambling asking if anyone had a recorder as it was right before the iPhone came out and it sounded so great and would've been the best little audio track to have to open a record.
Can we expect to see you back Down Under anytime soon?
Hopefully before the year is up, same time as the year as we were there last with City and Colour, but if I could get there sooner, I sure would love that.
So I have to ask, is Dashboard Confessional done?
Oh no, no… I'm not finished with that, I'm not sure I'll ever be, but I'm not ready for it yet. So Twin Forks is very much my band it's not a side project at all. We just miss each other's company too much and the band is too important to us as people, and the relationship with our audience is important to us. Doing it strictly to pay the bills doesn't feel quite right, my accountant thinks differently *laughs*. We only really get to have the career that we have because we've been chasing a muse, and I think it's important to give things a chance to redevelop, to recharge.
We're already a couple of months in, but let's predict the future, so I want you to finish this sentence for me… In 2014, Twin Forks will…
Open for Skrillex… I have no idea *laughs* let's see, in 2014 Twin Forks will establish ourselves as a fan dedicated band… one that people would like to share with their friends.
Essential information
From: Boca Raton, FL, USA
Band members:  Suzie Zeldin, Jonathan Clark, Ben Homola, Chris Carrabba
Latest Release: Twin Forks LP (Dine Alone Records) Out Now
Website:  http://www.twinforksmusic.com