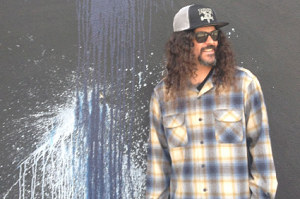 Brant Bjork. The Low Desert Punk has again put together a band of serious rock players. His most "ideal" unit yet. Featuring Dave Dinsmore on bass (Che, Bl'ast), Bubba Dupree on guitar (Void, Hater) and Tont Tornay on drums (Fatso Jetson, Chuck Dukowski). A new band with old school, heavy, calssic punk and rock roots but also a band with a fresh attitude of fire and urgency. Nightmare Music is proud to bring this new band to Australia for the first time this May/June for their debut tour.
Brant Bjork will headline shows in Brisbane, Byron Bay, Adelaide and Melbourne and will join US icons Meat Puppets to co-headline 'Astor Rocks' in Perth on Western Australia Day, Monday 2nd June 2014.
In 2010, BB's Kyuss brother, singer, John Garcia, asked him if he was interested in putting the legendary Kyuss back together for a European tour. BB jumped at the chance to bring the music to the new generation of Kyuss fans. The appropriately re-titled, Kyuss Lives did indeed tour Europe and was such a sold out success that the demand snowballed to Earth size.
Returning from a magical South American tour and landing a undeniable record deal, the party was interrupted by a couple past band members who didn't make the event and weren't too keen on the results. They're bitterness formed a lawsuit that settled with Kyuss Lives being unable to use the name Kyuss. (a name Brant Bjork conceived) Brant Bjork responded to the bitter adversaries by taking the "high" road, changing the name of Kyuss Lives to Vista Chino (a street name in the desert from where Kyuss originated) built and assembled an all analogue sound studio out in the middle of the desert of Joshua Tree and produced the Vista Chino debut, tastefully titled, Peace. Already being considered a classic rock release, the celebration of the sweet victory wasn't long before Brant Bjork decided to return to his most beloved passion, his solo music.
Brant Bjork has been around the block and he's ready and willing to go around again. This is the time and this is the band. This is the band that will no doubt move people to smoke pot and listen to The Stooges and Black Sabbath…Jimi and Jim.
Nightmare Music, 123 Agency, Tone Deaf and RiSH Presents…
BRANT BJORK 'Live & In Concert; Low Desert Punks'
Friday 23rd May 2014
BRISBANE, The Zoo – QLD
$50+BF Tix: www.thezoo.com.au
Saturday 24th May 2014
BYRON BAY, Great Northern Hotel – NSW
$40+BF Tix: www.oztix.com.au
Wednesday 28th May 2014
ADELAIDE, Enigma Bar – SA
$50+BF Tix: www.oztix.com.au
Thursday, 29th May 2014
MELBOURNE, Ding Dong Lounge – VIC
$50+BF Tix: www.oztix.com.au
Monday 2nd June 2014
"ASTOR ROCKS" – 2 STAGES OF LIVE MUSIC!
PERTH, The Astor Theatre – WA
Doors 5PM – 11PM, $65+BF
w/ Meat Puppets, Brant Bjork, The Love Junkies, The Shakies, Axe Girl and more.
TiX: http://www.liveattheastor.com.au
* Ltd Tickets For 'Astor Rock' Event and Meat Puppets Art Show and Meet & Greet only available from: www.nightmaremusic.com.au (Ltd to 70 tickets only)