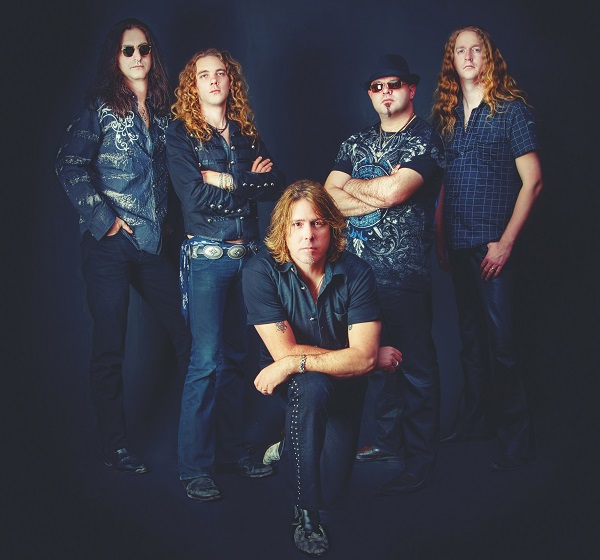 AMENDMENT – CANCELLATION NOTICE
At the 11th hour a critical impasse culminated between the parties involved with the Royal Hunt tour. This irreconcilable impasse made the tour and the shows itself untenable, as such, the tour is cancelled.
We are disappointed in light of these events all the while remaining steadfast in the fact that we did everything to try and make the tour happen.
We advise all ticket holders to return their purchased tickets from the place of purchase for a full refund.
Below is the interview, but please note as per above, this tour has been cancelled.
"Of course we're always playing the new songs for at least the last two new albums, our newest albums, so we'll at least sing a few songs from each one of them. Then we go backwards and there's kind of a greatest hits so to speak, so we try and pick at least one song from each album and put it in our set."
From tour release: Royal Hunt will tour Australia for the very first time in their history. Royal Hunt are one of the most acclaimed acts of the melodic metal movement of all time having sold more than one million albums worldwide.
Royal Hunt will perform tracks off their breathtaking and exceptionally recent new release 'A Life To Die For', they will also perform a comprehensive selection of Royal Hunt tracks across their discography with an emphasis on the bands and the fans most popular tracks. Fans will be treated to a non-stop barrage of constant Royal Hunt classics all the while the band will give it everything they have with every single ounce of energy being left on the stage to make these shows last a lifetime in the memory banks of all that attend. After all, Royal Hunt moved heaven and hell to make sure that they finally get to perform in Australia so these will be shows to savour for all connected and for those witnessing the shows.
Just coming off a six show run over three countries, we caught Andre and D.C. on a day off in Italy to chat about their upcoming tour of Australia as well as changes over the years and what the future holds…
This is going to be your first tour to Australia, are you excited to finally be heading Down Under?
Andre: Oh yeah…
D.C.: Absolutely, it's going to be great.
How did it come about that now was the right time?
Andre: We heard about Australia, and we wanted to go to Australia for a bunch of years but it's quite costly, and every time it just didn't work out for some reason, as you can understand we're based in Europe and it's quite a costly affair to come from Europe and fly all the way over there to Australia, this time it worked out for some reason and we're happy about that.
This is always fun to ask, but what are you most looking forward to about Australia?
D.C.: Definitely not the plane ride *both laugh* that right there we're not looking forward to, but you know, it's just new, from what we see it's a beautiful country, I have good friends there, Danny from Voyager and the whole band, I'm looking forward to seeing those guys and a couple of their friends. It's just whenever you get to go somewhere new it's always fantastic. We'll be in China and Taiwan for the first time this year and we're going to the Ukraine for the first time too, so we're looking forward to coming down.
What can people expect should they come out to a Royal Hunt show?
D.C.: Going to sleep, being bored and no… I'm sorry…
Andre: Energetic show…
D.C.: Very energetic, you know we put a lot of energy into it, and by the time we get to Australia, we're doing this Central Europe tour right now and we're doing some of the smaller venues, we're refining the show, we're nit picking it and saying let's do this and let's do that, so once we get on the plane it gets completely different.
With twelve albums under your belt now, when coming to a country for the first time, how do you put a set list together?
Andre: It's been a process as everybody has their favourites, but we have some kind of a system when we are assembling one. Of course we're always playing the new songs for at least the last two new albums, our newest albums, so we'll at least sing a few songs from each one of them. Then we go backwards and there's kind of a greatest hits so to speak, so we try and pick at least one song from each album and put it in our set.
In terms of evolution within the band, what do you see as the biggest?
Andre: Whoa… that's twenty years we're talking about… if I had to go into it that would take a couple of hours. I think for every one of us personally there's a couple of things, they would be when the first album got released, when you have the first CD in your hands, that's probably the coolest thing. Then the first world tour, and then the first whatever, now it will be the first time in Australia, it's always something for the first time and it's the greatest feeling.
D.C.: There's tonnes of memorable things, being in Osaka five or six days after the Kobe Osaka earthquake in '96, being in Japan after the tsunami just being in certain places at certain times just marks your memory. Being on tour with Gotthard is one of my favourite things, I mean there are so many different things, we say it'd be a couple of hours to talk, but it would actually be a couple of days in terms of stuff that was momentous for us in our careers, but yeah, there's a lot of them.
Andre: Twenty years is a long time.
And Andre you've been there since the start and seen all the changes, with band members and just music in general, is where the band is now perfect and where you need it to be?
Andre: What's perfect? It's up to you to decide. I mean everybody in the band feels comfortable, we have this great working relationship and spirit happening, everybody's happy doing what they're doing, so it's up to you to decide if this is the ultimate thing, or whatever suits you, but we're pleased at the situation we're in at the moment.
D.C., in coming back in 2011, what was it like stepping back in after being away for quite some time?
D.C.: You know it was awesome, it was kinda neat, Andre and I started talking and it was like we made a decision that this was the best thing to do at the time and we actually tried it out on the reunion tour to see how it would go, so we booked a couple of shows before we ventured into anything and it was kinda cool, I remember after the third song the first time we got together and rehearsed we all stopped and looked at each other and started laughing and said 'holy shit it's almost like we never left each other' it's just twenty years later and we're all just older and fatter now it all. It was a really good moment for me and since then we keep a level head about us and we do what we're here to do, we're professionals and we've been doing this for years and that's what you need to show to the fans and they don't have to pay money to come see us live, they don't have to buy our albums or anything like that, but they do because they keep coming out and obviously like it, so the best thing we can do for them is give them the best that we can possibly do.
With 'A Life to Die For' released last year, has the creative process for Royal Hunt albums changed over the years?
Andre: I'll say yes, because the last one was the first time we included a large group of classical musicians in the recording, we did that before but it was more effect like, a little bit of cello on an intro of one song and now they're almost like a part of the band playing alongside the band all the time and it was a little bit different. That's the major difference I'd say, you can tell because on our last album you can tell that it's a little bit organic but at the same time larger sounding.
You've been releasing albums every couple of years for as long as you've been a band, what is it that still inspires you these days?
Andre: Anything and everything, it could be anything, a book, a movie, a line someone says on a train when you're riding the train or a headline in the newspaper, it doesn't matter, it could be anything.
Also, Andre, since the band's inception in 1989, music has changed significantly, has this ever been of any concern to the band in the way of change or to follow the trends?
Andre: You know what? Good music didn't change *laughs* it's still good music, so it doesn't matter. I'll be very surprised if D.C. started growling *laughs* because we're doing what we do best and it's up to you to decide if you like it or don't. I guess we're doing something right.
What's the best thing about being a part of this band?
D.C.: Right now, being in a bed in a hotel is the greatest thing in the world… no, it's a good combination of people, we're good friends and we enjoy each other's company most of the time, but you have your moments when you're on tour when it's like cabin fever, but that's getting away from the questions… I mean right now we have a day off in Verona, Italy, and that's the best part about being in this band right now. *laughs*
Andre: You enjoy the moment, that's the whole thing. Right now we have a day off in Verona and it's sunny outside, and you probably don't care *laughs* as it's summer over there, but it's a great seventeen degrees and we'll go and see sights, that's a cool thing.
It terms of ultimate moments, is there one that sticks with you over your time in the band?
D.C.: There's tonnes of them, I guess there's a couple that stand out, Kokaido Hall in Tokyo in Japan in the Paradox tour, the place was four or five thousand people all on their feet and hands in the air singing every word to every song, that's just another that we could just sit and talk for hours… You know, being on stage with Gotthard and hanging out with them, it's endless.
Andre: It's very easy to ask what is the brightest and shiniest moment of your career, but it's hard as there's so many things, some of them little and silly and some of them massive but they mean the same to you because they're all great in some way.
Do you have a message for your Australian fans down here?
Andre: I'll say that we are doing well this tour, the set list is great and the reception so far has been excellent, so we'll be firing all cylinders by the time we're in Australia, so I'm sure you're going to look forward to a very energetic set and all the so called greatest hits and some new material and were looking forward to play for you.
D.C.: For me I wanted to thank everybody in Australia for hanging on for so long, and just supporting us, because I do get messages from people from time to time on facebook and all that stuff and I just want to thank everybody and I'm really looking forward to being down there. From what I understand, the day we get there we're just going to be able to chill out which is great because usually when we land we get on a tour bus and play a show that day and leave that night, so we do have a couple of days there which is going to be enjoyable, so I'm looking forward to meeting everybody.
Let's predict the future, finish this sentence for me… In 2014 Royal Hunt will…
D.C.: Play the United States *both hysterically laugh*
Andre: It's been a while…
D.C.: I haven't even done a performance, actually last year I sang a song in Pittsburgh with Voyager, just for one song, but I haven't done a full performance since 2001, 2002 with Silent Force. So my family hasn't seen anything, I want my sons to see me on stage just one time, and I'm hoping that's going to happen soon.
Essential information
From: Copenhagen, Denmark
Band members:  Andre Andersen, D.C. Cooper, Allan Sorensen, Andreas Passmark, Jonas Larsen
Latest Release: A Life To Die For
Website:  http://www.royalhunt.com
Australian Tour Dates:

Wednesday 2nd April – The Northcote Social Club, MELBOURNE (18+)
Tix: www.metalmassacre.com.au  / www.cornerhotel.com
w/ VANISHING POINT
Friday 4th April – The Factory Floor (Factory Theatre), SYDNEY (18+)
Tickets from www.metalmassacre.com.au  / www.factorytheatre.com.au
w/ VANISHING POINT