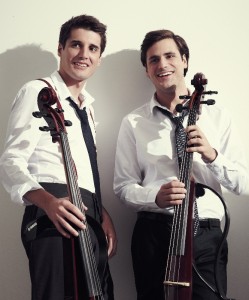 Soundworks Touring & KillRockStar Big Dog Entertainment present the genre-breaking instrumental pyrotechnics of the incredible 2CELLOS live in Australia.
Young Croatian cellists Luka Sulic and Stjepan Hauser, together known as 2CELLOS, have achieved sensational success by taking the cello to a new level. Their playing style has broken down the boundaries between different genres of music, from classical and film music to pop and rock. 2CELLOS have no limits when it comes to performing live and are equally as impressive when playing Bach and Vivaldi as they are when rocking out, as evidenced in the recent mind-blowing clip of their version of the AC/DC track Thunderstruck.
2CELLOS rose to fame in 2011 when their version of Michael Jackson's "Smooth Criminal" took the world by storm. The YouTube video became a massive viral sensation leading to a record deal with Sony Masterworks  and an invitation to join Sir Elton John on his worldwide tour. Aside from their huge online following where they continue to amaze with new YouTube hits, 2CELLOS main focus has always been playing live. Together with the Chinese classical superstar pianist Lang Lang, they appeared at the CCTV New Year's Gala for more than 1 billion viewers.
Performing with Sir Elton John on his tour, they have travelled around the globe several times playing with him and opening the shows in massive stadiums and appearing at prestigious venues and events such as Madison Square Garden, Paris Olympia, Queen's Diamond Jubilee, and the Emmys in L.A. In addition to touring with Sir Elton, 2CELLOS collaborated with the Red Hot Chili Peppers, Queens of the Stone Age and George Michael. They have also collaborated on various projects with winning producers T-Bone Burnett and Humberto Gatica and with the legendary film composer James Newton Howard.
Sulic and Hauser have played the cello since childhood; Sulic graduated from the acclaimed Royal Academy of Music in London, and Hauser from the Royal Northern College of Music in Manchester, both in 2011. Sulic has won a series of top prizes at numerous prestigious international music competitions including First and Special Prize at the VII Lutoslawski International Cello Competition in Warsaw (2009), First Prize at the European Broadcasting Union "New Talent" Competition (2006) and First Prize at the Royal Academy of Music Patron's Award in Wigmore Hall (2011) among others. Hauser has worked with acclaimed classical artists such as Mstislav Rostropovich, Bernard Greenhouse, Mennahem Pressler and Ivry Gitlis, to mention a few. He has collected no less than twenty-one first prizes at national and international music competitions.
2CELLOS released their second album IN2ITION in January 2013. The album was produced by the legendary Bob Ezrin (Pink Floyd, Alice Cooper, Kiss, Deep Purple) and features an eclectic group of vocal and instrumental guests including Elton John, Steve Vai, Lang Lang, Naya Rivera and Zucherro.
2CELLOS IN2ITION is out now through Sony Masterworks, 2CELLOS Thunderstruck Now Available via All Digital Service Providers
For more information on 2CELLOS (Sulic & Hauser) visit: 2CELLOS.com – facebook.com/2cellos  – twitter.com/2cellos
Check out @2CELLOS  Thunderstruck video below:

Soundworks Touring & KillRockStar Big Dog Entertainment In Association with The Agency Group Present:
2CELLOS 'IN2ITION' AUSTRALIA MAY 2014 
Tickets on sale Thursday 27 March @ noon
Friday 16 May 
Forum Theatre. Melbourne (seated mode)
www.ticketmaster.com.au
Sunday 18 May
Eatons Hill. Brisbane (seated mode)
www.oztix.com.au
Monday 19 May
York Theatre, Seymour Centre. Sydney
www.seymourcentre.com