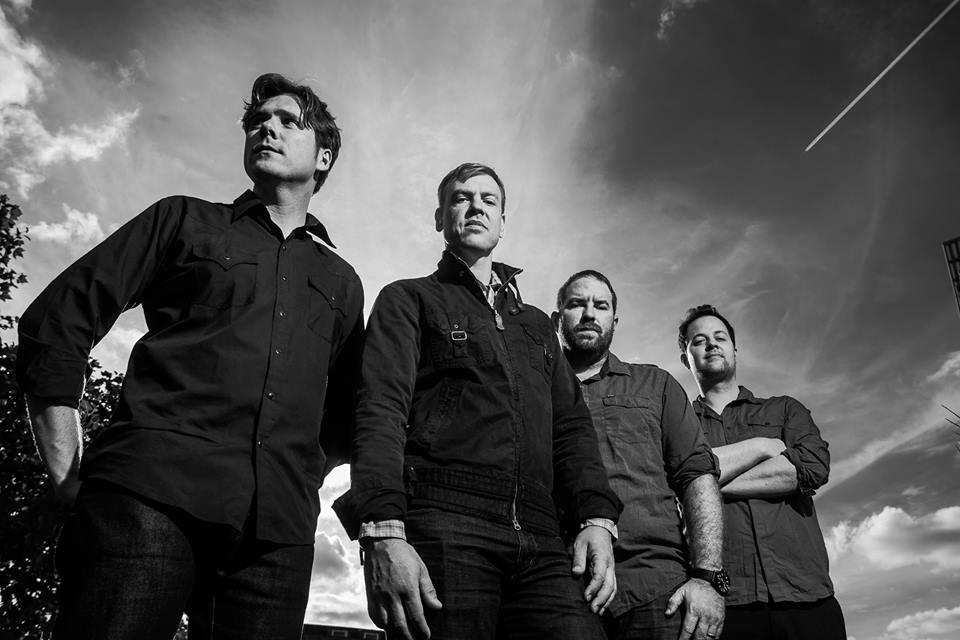 "… I think Jim is an authentic, honest front man who isn't full of shit and he gives off a lot of energy and I think it starts with him and everyone in the band just wants to play the best show possible and I think it's just the mentality of wanting to play the best show that we can."
From Bio: Once a trailblazing name in the mid-'90s 'emocore' scene, JIMMY EAT WORLD eventually found a larger audience by embracing a blend of alternative rock and power pop that targeted the heart as well as the head. The band's influence widened considerably with 1999's 'Clarity' — an album that has since emerged as a landmark of the emo genre — it was the band's follow-up 'Bleed American'(specifically the infectious single 'The Middle') that crowned them as major figures in commercial rock… With subsequent albums following, including newest release 'Damage', Jimmy Eat World have managed to stay true to just who they are and with a live show that is one to witness, they aren't going anywhere anytime soon.
Zach from Jimmy Eat World called in for a chat with us, and filled us in on their upcoming Soundwave shows as well as what it was like at the height of 'Bleed American' and a look back at the last twenty years…
You're heading back to Australia for the Soundwave festival, how do you choose a set these days and what can fans expect to hear on this run of shows?
You know I think what we'll probably do is try and figure out what we played last time we were in Australia and switch it up a little bit we'll probably do a few new songs and probably play a cross section of stuff we've put out over the years, but yeah we try and switch it up a little bit and try and make sure we're not playing the exact same thing we played last time we were in Australia.
Playing the festival before, do you have a great memory of playing Soundwave you can share with us?
Yeah the last time we did Soundwave, we sort of joined in at the last minute, it was My Chemical Romance dropped out at the last minute and we filled in and it was just a lot of fun, it was sort of like a surprising trip, we weren't expecting to make the trip and then two weeks before we were supposed to leave we found out we were going to go and it was an awesome bill, bands that we grew up looking up to, Jane's Addiction and Faith No More, and we were played in between those bands and it was just a bazaar experience to be playing with those bands considering that we grew up with them and they were such big influences on us.
The line-up is somewhat huge, is there anyone you're excited or surprised to be sharing the bill with?
We're really big Rocket From The Crypt fans, they were a band we all listened to when we started and they were a band that sort of brought us together in a way because there weren't a lot of high school kids in Arizona in the mid 90's listening to Rocket From The Crypt, so we really like them a lot and are excited to be playing at the same festival as they are. We're also big Green Day fans, we've done a lot of touring with them and have a lot of respect for them and are excited to watch them play as they always put on a really great show.
I actually remember seeing you perform with Green Day and My Chemical Romance here in Sydney at the Football stadium a number of years back, how was that run of shows for you?
Right! That was really cool actually, that was great, Green Day's been very kind to us over the years and we've enjoyed opening up for them and playing with them and I remember that show, it was really great.
Not only have you been here for Soundwave but you have now visited our shores more than a few times, always to packed out crowds, what do you think it is about the music of Jimmy Eat World that attracts Australian audiences?
You know, I'm not sure, hopefully they're connecting to the songs, that's what we try to do is make good records and write good songs and I'm not exactly sure if there's a single element or what it is about us, but yeah, we've always enjoyed our Australian fans and we're really looking forward to going back there and playing.
I've had the pleasure of seeing you more than a handful of times and your show is always spot on, how do you prepare for a show to give of the level of energy and intensity that comes across?
I think it's for us the focus of every day when we're on tour is to play a good show, I think it just starts with going on tour and having a singular purpose and that's our job, that's the most important part of why we do what we do is to deliver the best show we can and play music for our fans. I think it just starts with that I think Jim is an authentic, honest front man who isn't full of shit and he gives off a lot of energy and I think it starts with him and everyone in the band just wants to play the best show possible and I think it's just the mentality of wanting to play the best show that we can.
This may be a tough one, but do you have a favourite song of yours to play live?
You know, it changes, right now I would say my favourite song is a song called 'Appreciation' which is a song off our newest album, there's something about that song, I don't know what it is but I really enjoy playing it, it's a fun drum song. Yeah it kinda goes back and forth 'Goodbye Sky Harbour' is a song I always like to play, 'Sweetness' is always a fun song, but it all depends on my mood.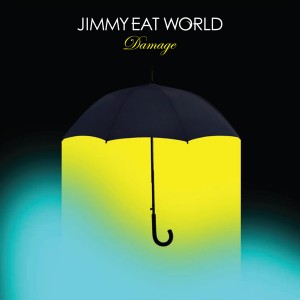 'Damage' was released last year and followed your three year album cycle nicely, in the time since 'Invented', what inspired what became the album?
I think lyrically I think a theme that Jim was working within, he set a lyric theme and I think sometimes the limitation of a singular lyric theme something helps him be creative and write lyrics, but musically I think we just wanted the record to be very authentic and honest and real, we wanted it to sound like four guys just making a record over a weekend, you know? So we used two inch tape, we used a lot of analogue in the recording and we avoided any type of digital editing or anything like that and tried to make it something that sounds very human and approachable and that was kind of our approach to the sound of the music.
I love 'I Will Steal You Back' in fact I feel it's one of the best songs you've written in a long time, is there a story behind that song you can share with us?
Oh thank you, and you know, that was a tough song actually, it was a little harder, some songs come easy and some harder, but I think eventually we figured it out, but it's a cool tune, it's a little bit different for what we've done in the past, but we're really proud of it and I think we did a pretty good job in the studio on that one. We try not to place ourselves too much, if we do something different that we haven't done we usually roll with it, unless someone says something like this is too far, but usually when you're doing that stuff, you're doing the best stuff.
With an album like 'Clarity' and then to follow that up with 'Bleed American' an album that catapulted you to new heights, and as far as I'm concerned, one of the greatest albums of all time, what is your best memory from when it all started to take off for the band?
That's a tough one, we were on tour for maybe two years as there were so many memories, but before the record even came out we actually went to Australia, it was like the first place we went to, we'd never been there before and we opened up for Jebediah and that was really fun, and that was before the record had even come out and had the success that it had. There are a lot of great memories, playing at SNL was really fun, I'm a huge fan of that show so that was great, but just being able to travel to all the places we've never been before. That record opened up a lot of doors for us all over the world for us to travel and enjoy, so there's just too many to choose from really.
Also a little controversial a little later on after 9/11 when you changed the name to simply 'Jimmy Eat World' was that something that was hard to do at the time?
It wasn't really hard to do, it wasn't really something that bothered us, I think we were a little frustrated as people were misunderstanding the title and the lyrics but at the end of the day we didn't really change any lyrics or music, it was just calling the album something different and at that point in time it didn't really bother us and it's not really something we think about or regret at all, it's just opportunity for us more than anything it was easier to change the name of record than to explain to everyone where you're coming from in a certain way, and when it's there there are always going to be people who misunderstand it so for us it was just easier to remove that from the equation.
It also let me buy another copy of it with a different title and different song name on it, so thank you for that…
*laughs* Yeah I guess so…
As a band for over twenty years now, what has been the most notable change you've seen taken place musically for the band over that time?
Hmm… I think we've just gotten a lot better at playing our instruments and probably the most noticeable change for us is how we work is different, we have our own studio, we have our own practice space, we can record and write and demo that we couldn't do when we first started, so I feel like musically I think that as we get older I think we're just trying to keep ourselves interested and follow our nose a little bit, we don't want to make certain types of albums we just want to make music that we find that's something we'd listen to. I think we've changed a little bit, I don't think we've changed a tonne, I think it's been a big drastic change from one record to the next, it's also not been overthought, we try not to over think it, so there's just more of a natural gradual change over the years, but the biggest change is just how we work and how we put songs together it's just totally different as to how it was before.
2014 has just begun, let's predict the future, so if you can finish this sentence for me… In 2014 Jimmy Eat World will…
Celebrate our twenty years as a band…
Essential information
From: Mesa, Arizona, USA
Band members:  Jim Adkins – Vocals, guitars, Tom Linton – Guitars, vocals, Rick Burch – Bass, Zach Lind – Drums
Current Release: Damage (Sony Music Australia) Out Now!
Website:  http://www.jimmyeatworld.com
Catch Jimmy Eat World at SOUNDWAVE FESTIVAL 2014 
SATURDAY 22 FEBRUARY – BRISBANE, RNA SHOWGROUNDS
SUNDAY 23 FEBRUARY – SYDNEY, OLYMPIC PARK
FRIDAY 28 FEBRUARY – MELBOURNE, FLEMINGTON RACECOURSE
SATURDAY 1 MARCH – ADELAIDE, BONYTHON PARK
MONDAY 3 MARCH – PERTH, ARENA JOONDALUP