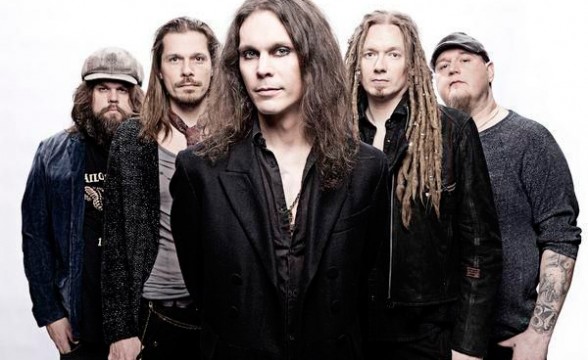 "…when we came the first time we didn't have any idea whatsoever and all of a sudden the clubs and a few other places were sold out and we didn't know why and we were like kids in a candy store, we were so giddy about it, and that's the cool thing about music, you never know how it's going to resonate or translate on the other end of the world…"
From Bio: Every generation has its icons, and – from Johnny Cash to Black Sabbath – our decades are defined by the sounds they produce. HIS INFERNAL MAJESTY is no different. Since 1992 these veteran songsmiths have peddled their unique fusion of forlorn balladry and heavy, synth-laden sounds to create a uniquely potent brew.  Their trademark Heartagram has left its indelible stamp on the globe. If love metal can be seen as a subgenre of heavy music's serpentine family tree, then HIM are both its creators and foremost proponents, and their latest offering 'Tears On Tape' is perhaps that melancholic style's ultimate expression.
On a lovely cold winter morning in Helsinki and eager to get down to Australia for a glimpse of sun and some tanning, we had an amusing chat with Ville of HIM including a three minute dropout where he told me he kept talking but we sorted it out and talked about Soundwave, the band's presence in Australia and cover songs…
You're heading back to Australia for the Soundwave festival, what can fans expect to hear on this run of shows?
The thing with festivals is that you have always cut your set a bit short, our set I think is for about sixty minutes, so after being together for twenty years and having eight albums under our belts I'll say it will be problematic, but I'll say that it's a good problem to have as a lot of bands don't have the songs to play for sixty minutes and we've got plenty, so we're just out there and will kill it.
Playing the festival before, do you have a great memory of playing Soundwave you can share with us?
well you know as we all know it's the festivals festival as the line-up is so extensive, it's humungous and the quality of the music is ridiculously good, and the bands keep travelling within the country the conditions are very unique as we have the opportunity to see other bands play and especially the sideshows, when we have a day off I wouldn't mind seeing Rob Zombie and Korn, and then you have the opportunity of hanging out with different bands way more than you would at a normal festival. I remember before we shared a lot of busses and we shared a lot of plane trips with a gazillion different bands from around the world and let's say the level of body odour can be horrendous, but the level of humour is pretty good.
The line-up is somewhat huge, is there anyone you're excited to be sharing the bill with?
I was actually just checking out the line-up as I mentioned it is so massive, Alice In Chains are great, Avenged Sevenfold I've never seen them live, we toured we did festival dates in North America together in September, but I never had the opportunity to shake their hands and thank them for the opportunity, so it would be great to see them. I like Mastodon, I really like Placebo, and there a lot of bands we have met in the past and a lot of bands we don't have the slightest idea of and that's what's great about the festival as you get excited about new bands for us. Like Uncle Acid & The Deadbeats, I'm not sure if they've toured Australia before, but they're fucking awesome, they're wonderful. They've got a Sabbath vibe going on; it's really special, like the stoner rock or whatever genre you want to put them in, you can hum along to it.
Not only Soundwave but you have now visited our shores more than a few times, always to packed out crowds, what do you think it is about the music of HIM that attracts Australian audiences?
I don't know because when we came the first time we didn't have any idea whatsoever and all of a sudden the clubs and a few other places were sold out and we didn't know why and we were like kids in a candy store, we were so giddy about it, and that's the cool thing about music, you never know how it's going to resonate or translate on the other end of the world, so to speak, so I don't know, you must be miserable bastards at heart… *laughs*
I'll tell you what, I was miserable at one of your shows in Sydney, I lost my keys that night and it cost be about $170 to replace them the next day but it was worth it…
Oh fuck, I'm sorry to hear that but glad at the same time, that's a good combo, but at least it made a little less of a mark in your life you know… *laughs*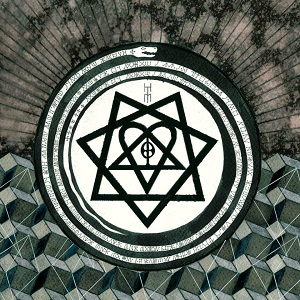 You released 'Tears On Tape' last year, it was your first album of all new studio material in three years, when putting it together did you have a clear vision of how you wanted it to sound or did it evolve into the album it became?
I think it's a little bit of both, I usually work on the skeletal structure of a song back home on an acoustic guitar or whatever and the ideas always get horribly abused and mutilated and raped along the way, but again it's about editing the ideas down and when I take the structures to the rest of the guys and lay them out, everybody in the band has their own way of playing their instruments and we can't realty get rid of it and don't really want to, I guess that's the identity of the band, and that dictates more or less the way the album is going to sound.
Looking back to Greatest Love Songs vol 666 in 1997, what do you feel has been the most notable change that has taken place for you as a band in this time?
Not much really, I think we've grown with the band being so much of our lives it's hard to say how much the personal stuff has influenced and how much it has affected us to be able to buy apartments and be these old miserable bastards that we are, so it's tough to say how much life in general has influenced the music and how much the music has influenced life in general percentage wise. Musically speaking I think we're pretty much the same, just heading over to the rehearsal space and sweating it all out and banging or heads against the wall and curse the fact that we don't have Tony Iommi worth riffs.
Why not ask him to come and play on one of your records?
*laughs* Maybe we should… he's a gentleman and we should ask him to join us, definitely.
At over twenty years in the band now, has there been one moment that stands out for you as the best and can't be beaten?
I think there has to be mistakes to get better and to learn… so I think the biggest moment like for any band is getting our first record deal and so forth, that's kind of the day that like you've made it and then the next day you realise that it takes a lot of work and it's not as simple as you think, so it's an ongoing journey and it's like obstacle racing, there are a thousand obstacles that you just have to learn how to deal with.
I wanted to ask about your cover of 'Wicked Game' which I actually prefer to the original version…
*laughs*
What was it about this song that made you want to record it for your debut?
When we started out we didn't know where were going to go music wise, we knew that it was going to be melodic and rocking, but so very boring as it was, it was terrible when we started out and we didn't have a lot of our own ideas of material, so we did end up doing cover tunes in rehearsal just to figure out where we fit musically where things click with the band. I had just seen 'Wild at Heart' the David Lynch movie and I fell in love with the song because 'Wicked Game' was on the soundtrack and then it was played on the radio quite a bit. It's just a quintessential HIM song in a way, it's very melancholy, it's very pretty and brooding, it's positive yet dark at the same time, so it hit a nerve, all the stuff we really enjoy when we're making a song and obviously we just wanted to make it louder, we weren't thinking about it too much and then at the end of the day it's only got three chords so it's very easy to play. So we started playing that on our first gigs and people really gravitated towards it, so we recorded it, but we did shittonnes of covers, we did 'Live To Tell' by Madonna and all sorts of stuff in the past, for us it just seemed like a way that when a new band is touring and playing songs for an audience for the first time, that it's good to include a couple of songs that they know to make it a bit more interesting and hopefully memorable as well, so that's what we did when we started out.
I have to talk about the Heartagram, a symbol that would have to be close to the most tattooed ever, how does it feel when you see so many fans with your symbol on them?
Well I feel extremely proud, for me the symbol the Heartagram has become way bigger and way more influential than our band or the music has, and I think it's great that it means more than just a band and also something that people feel they can share. I don't feel like it's my property in that sense, and I always thought that it describes our music way better than the name HIM or any words, like when you see the symbol you get the whole thing, the tongue in cheek play within the light and the shade. I'm just super proud of it and I'm still amazed that people still want to ruin their beautiful skin with such a morose symbol.
2014 has just begun, let's predict the future, so if you can finish this sentence for me… In 2014 HIM will…
Hopefully not bore you to death… *laughs* it would be a start.
Essential information
From: Helsinki, Finland
Band members:  Ville Valo – Vocals, Mikko Lindström – Guitar, Mikko Paananen – Bass / Vocals, Mika Karppinen – Drums / Percussion, Janne Puurtinen – Keyboards / Vocals
Current Release: Tears On Tape (Universal Music Australia) Out Now!
Website:  http://www.heartagram.com
Catch HIM at SOUNDWAVE FESTIVAL 2014 
SATURDAY 22 FEBRUARY – BRISBANE, RNA SHOWGROUNDS
SUNDAY 23 FEBRUARY – SYDNEY, OLYMPIC PARK
FRIDAY 28 FEBRUARY – MELBOURNE, FLEMINGTON RACECOURSE
SATURDAY 1 MARCH – ADELAIDE, BONYTHON PARK
MONDAY 3 MARCH – PERTH, ARENA JOONDALUP
And at their Sidewave shows with Nostalghia and The Defiled
TUESDAY 25 FEBRUARY- SYDNEY, THE METRO – Licensed All Ages www.ticketek.com.au
WEDNESDAY 26 FEBRUARY – MELBOURNE, 170 Russell (formerly Billboard) – 18+ www.oztix.com.au / www.cornerhotel.com/